How To Make McDonald's French Fries At Home
Note- This post may contain affiliate links, we earn from qualifying purchases made on our website. If you make a purchase through links from this website, we may get a small share of the sale from Amazon and other similar affiliate programs.
McDonald's French fries are world famous and we finally have the secret recipe to make the perfect fries. Once you try this recipe, I am sure you will never go back to making fries the same old way. Get the knockoff McDonald's French fries at home with us.
Making authentic McDonald's French fries requires a secret ingredient that is brine. Other than that, you need potatoes, vegetable oil, and some salt for taste. Peel the potatoes and rinse them in brine. Slice them and place them under cold brine.
Finally, pat dry the fries and double fry using vegetable shortening and vegetable oil. The copycat McDonald's French fries will be ready. Achieve the perfect crispy and crunchy texture just like McDonald's in your kitchen.
Be with me till the end of the post, the guide will help you to make the perfect brine so that your fries are better than McDonald's. But before getting the instructions, check out our other copycat recipes below.
1. McDonald's Caramel Frappe – McDonald's caramel frappe is prepared with coffee, caramel syrup, lashing whipped cream, granulated sugar, vanilla ice cream, and coffee ice cubes. Just blend and you are good to go.
2. McDonald's Special Sauce (Big Mac Sauce) – This sauce is one of the most selling sauces of McDonald's. The reason why McDonald's special sauce is so popular is that it is affordable and can be prepared in a jiffy.
3. McDonald's Strawberry Banana Smoothie – McDonald's strawberry banana smoothie is a refreshing drink prepared with fresh strawberries and banana. Make this refreshing drink right in your kitchen.
4. McDonald's McRib Sandwich – McDonald's McRib sandwich is a delectable sandwich prepared with pork, spareribs meat, sandwich rolls, barbecue sauce, dill pickle, white onion, and salt. It is a full-fledged meal.
What Equipment Will You Need To Make McDonald's French Fries?
Frying Pan – Use frying pan to fry the batches of potato fries.
Perforated Ladle – Remove the fries using a perforated ladle. It helps you to remove excess oil.
Saucepan – Take a saucepan to prepare the brine and soak the potatoe fries.
How Much Time Will You Need To Make McDonald's French Fries?
| Preparation Time | Resting Time | Cooking Time | Total Time |
| --- | --- | --- | --- |
| 5 minutes | 40 Minutes | 15 Minutes | 1 Hour |
What Ingredients Will You Need To Make McDonald's French Fries?
For Fries
Russet Potatoes – Take russet potatoes for making French fries.
Vegetable Shortening – Fry the batches of fries by adding vegetable shortening. It will help in achveing flaky and crispy texture.
Vegetable Oil – Add a few tablespoons of vegetable oil to fry the French fries.
Salt – Add salt to your taste.
For Brine
Cold Water – Rinse the russet potatoes by dipping them in cold water.
Salt – Sprinkle a generous amount of salt as per your taste,
Corn Syrup – Prepare the brine by adding a tablespoon of corn syrup.
White Vinegar – Add a teaspoon of white vinegar to the brine. It is a secret for the crispy textire of the fries.
Sugar – Adding sugar will promote in browning of fries.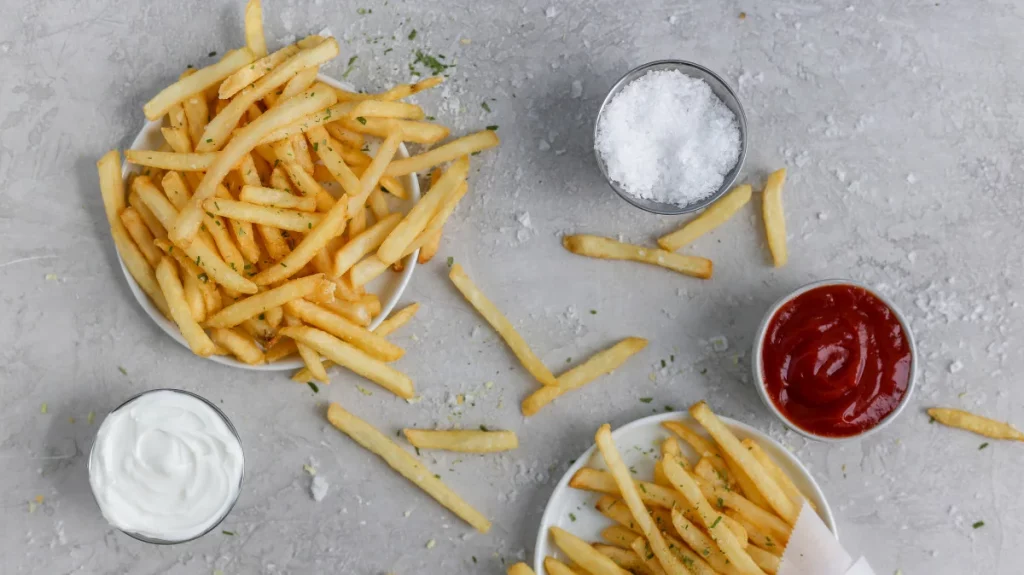 Steps To Make McDonald's French Fries
1. Soak And Rinse
First, peel and rinse the potatoes with cold water. Then soak them in the brine. The brine is prepared by adding corn syrup, salt, vinegar, and sugar. Soaking will help you to get rid of the starch. Take them out of the brine after 1 hour and put them in the fridge for 40 minutes or 2 hours. We kept it for 40 minutes.
2. Advanced Frying
Remove the French fries from the fridge and put them in the frying pan to fry. In a frying pan preheat vegetable oil and vegetable shortening for enhanced flavors. Fry the batches and remove the fries on a wire rack to get rid of excess oil. Sprinkle salt and serve hot!
Nutritional Information
| | |
| --- | --- |
| Calories | 490 kcal |
| Carbohydrates | 66 g |
| Iron | 2 mg |
| Protein | 7 g |
| Fat | 23 g |
| Sodium | 400 mg |
| Dietary Fiber | 6 g |
| Calcium | 20 mg |
How Will McDonald's French Fries Look And Taste Like?
McDonald's French fries look amazingly crispy and taste even better. If you follow the proper guide the homemade version will satiate your cravings. Feel the excellence of crunch with each bite. Serve these French fries with ketchup or any sauce of your choice.
Recipe Card
McDonald's French Fries Recipe
McDonald's French fries are world famous and we finally have the secret recipe to make the perfect fries. Check out the full recipe and prepare perfectly crispy French fries in your kitchen.
Make the brine by combining all the ingredients (8 cups, ½ cup corn syrup, 3 tbsp salt, 1 tsp white vinegar, sugar).

Peel and rinse the potatoes in cold water. Then, slice the potatoes.

Place them in cold brine while you slice them and make sure they are completely submerged.

Cover them and put them in the fridge for 40 minutes or 2 hours

Dry them completely and preheat oil to 300 degrees.

Fry them in batches for 5 minutes and let them be soft when fries for the first time.

Remove them on paper towels.

Fry the potato fries using vegetable shortening

Remove and place them on paper towels to absorb the oil.

Sprinkle a generous amount of salt and serve it with a dip of your choice.
Frequently Asked Questions (FAQs)
What does McDonald's fry their French fries in?
McDonald's fry their French Fries in vegetable oil mixed with vegetable shortening.
What oil is used in McDonald's fries?
McDonald's uses canola oil for frying the French fries. The canola oil has a high smoking point and is well suited for frying.
What does Mcdonald's soak their fries in?
McDonald's soak their fries in the brine prepared by adding dextrose and sodium acid pyrophosphate.
How often do they change the oil at McDonald's?
McDonald's changes its oil twice a day after frying the batches of fries.
So, what are you waiting for? Go and make these McDonald's French fries right away! Don't forget to share your experience in the comment section below. Till then, stay tuned to our site for more such recipes.