How To Make McDonald's Chicken Wraps At Home
Easy, hearty, and delightful! McDonald's chicken wraps are appetizing. They are prepared with crunchy chicken tenders, fresh veggies, and flavorful ranch dressing. Amp up your snack game with a satiating chicken wrap made in a jiffy. 
The chicken wrap consists of white meat chicken tenders, iceberg lettuce, shredded cheddar cheese, ranch dressing, and ketchup. To achieve a nice crunch, use frozen chicken tenders and bake them nicely. 
Hit the McDonald's flavors with your homemade version of chicken wraps right away! Try to achieve the perfect flavors of McDonald's. 
Let me walk you through the step-by-step copycat snack wrap recipe. Seek out the notable list of ingredients, equipment, nutritional facts, and instructions. 
1. McDonald's Pancakes – McDonald's pancakes are fluffy, soft, and flavorful. The homemade version can surely hit the spot if you follow the guide.
2. McDonald's Southwest Salad – McDonald's southwest salad is prepared with lettuce, lime juice, honey, cilantro, lime zest, chicken, avocado, tortilla strips, and a blend of rich spices. 
3. McDonald's Mocha Frappe – McDonald's mocha frappe needs brewed coffee, half and half, whipping cream, chocolate syrup, and sugar. Whip up the elements and it will be ready!
4. McDonald's Big Mac – McDonald's big mac is loaded with double beef patties and three buns, this towering burger will satiate your hunger.
What Equipment Will You Need To Make McDonald's Chicken Wraps?
Spoon – Slather the ranch dressing with a spoon.
Frying Pan – Fry the chicken tenders using a frying pan. 
Tong – Use a tong to flip the tenders and cook on both sides. 
How Much Time Will You Need To Make McDonald's Chicken Wraps?
| Preparation Time | Cooking Time | Total Time |
| --- | --- | --- |
| 5 Minutes | 10 Minutes | 15 Minutes |
What Ingredients Will You Need To Make McDonald's Chicken Wraps?
Chicken Breast Tenders – Take some breaded frozen chicken breasts tenders. Bake or fry them to perfection. 
Flour Tortillas – Wrap the chicken with veggies into thin tortillas. 
Canola Oil – For frying the chicken tenders, take some canola oil, as it has a high smoking point. 
Tomatoes – We have added tomato slices for an extra tangy touch. You can add the veggies of your choice as well. 
IceBerg Lettuce – Make the chicken wrap by adding fresh iceberg lettuce. It is long, thick, and crunchy lettuce.
Cheddar Cheese – Add some shredded cheddar cheese for extra cheesy flavors to the wrap. 
Ranch Dressing – Ranch dressing will enhance the aromatic, garlicky, and buttery flavors. 
Tomato Ketchup – Slather a teaspoon of tomato ketchup for sweet and savory flavors.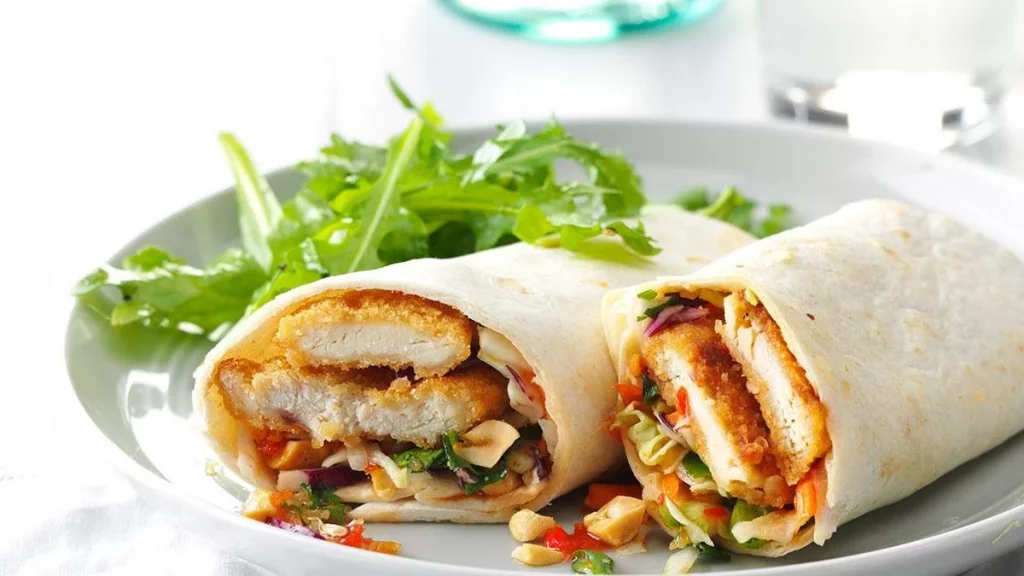 Steps To Make McDonald's Chicken Wraps 
1. Initial Step 
Take some frozen breaded chicken tenders. It is completely your choice to either bake or fry them. Here, we deep-fried the frozen chicken tenders nicely. Fry the tenders until crisp and golden brown. 
2. Put Together 
Begin to assemble the wrap. First, slather ranch dressing and ketchup on the tortilla, add lettuce, shredded cheddar cheese, and chicken tender. Place the tomatoes on the top. Drizzle some more ranch dressing or ketchup. Fold the wraps and serve with your favorite sauces. 
Nutritional Information 
| | |
| --- | --- |
| Calories | 434 kcal |
| Carbohydrates | 40 g |
| Protein | 24 g |
| Fat | 8 g |
| Sodium | 1490 mg |
How Will McDonald's Chicken Wraps Look And Taste Like?
McDonald's chicken wraps are delicious and appetizing. Prepared with fresh veggies, cheese, and ranch flavors, these wraps are satiating. The chicken tenders and lettuce will bring out the right blend of crunchiness and freshness. 
Recipe Card
McDonald's Chicken Wraps Recipe
McDonald's chicken wraps are healthy and appetizing. Fried chicken wrapped in a tortilla with fresh veggies tastes amazingly delicious. Just bake or fry the chicken, fill it with freshness, and the chicken wrap will be ready.
½

pound

Chicken Breast Tenders

2

Flour Tortillas

½

cup

Canola Oil

2

Tomatoes

2

Iceberg Lettuce

½

cup

Cheddar Cheese

1

tablespoon

Ranch Dressing

1

tablespoon

Tomato Ketchup
Place the frozen chicken tenders into the frying pan.

Fry until the chicken is crispy and golden brown.

Slather a teaspoon of ranch dressing on a flour tortilla.

Place the cooked chicken tenders onto each tortilla.

Next, add cheese, lettuce, and tomato slices.

Drizzle a teaspoon of ranch dressing and tomato ketchup on the top.

Fold the chicken wrap around the corners and serve with your favorite dippings.
Frequently Asked Questions (FAQs)
What's in McDonald's chicken wrap?
McDonald's chicken wraps are prepared with chicken tenders, fresh lettuce, cheddar cheese, tomatoes, and flour tortillas. The chicken and veggies wrapped in a tortilla are what make the best chicken wrap. 
Are Mcdonald's chicken wraps healthy?
McDonald's chicken wraps are healthier than other menu items. The wrap is a combination of the right nutritional value.
What ranch does McDonald's use?
McDonald's uses Newman's own dressing in their wraps and burgers. Newman's dressings are used in McDonald's menu items. 
Is a wrap better for you than bread?
Generally, wraps have less fiber and more carbs in comparison with bread. The wraps are much better and healthier than the bread. 
Prepare the amazing copycat chicken wraps at home. Refer to the above article for all the details. Let us know how it goes in the comment section below!