How To Make Marbled Pumpkin Cheesecake At Home
Decorate your Thanksgiving dessert tray with marbled pumpkin cheesecake. Trust me! These dreamy creamy bites will never fail to tempt your eyes. That's because it looks as good as it tastes. This cake has a crunchy buttery crust wrapped around intensely flavored cream cheese filling. For me, marbled pumpkin cheesecake is a dessert for all ages. Well! You gotta taste it to believe it.
The crispy base of marbled pumpkin cheesecake has crunchy pecans and crumbled gingersnap cookies. It has the finest cream cheese filling flavored with pumpkin and vanilla. While trying this recipe, I want you to keep a few things in mind. Add the eggs into the cream cheese filling one by one while blending the mixture and not all at once. Add batter to the crust when it's cool. Also, refrigerate it for at least 4 hours before serving. 
Ready for the recipe? To make marbled pumpkin cheesecake, to need to know what equipment and ingredients you'll need. So, have a look at the lists below. Read the instructions carefully and try out this recipe for the Thanksgiving feast. But before you read out the entire recipe, check out other appetizing desserts from our blog.
1. Salted Nut Roll Bars– Salted nut roll bars are salted, crunchy, and chewy candy dessert. It has marshmallows and condensed milk filled with crunchy roasted peanuts. These bars are slightly salted and are flooded with the sweetness of marshmallows, along with the nutty flavor of peanuts.  
2. Bubblegum Cake– Bubblegum cake has artificial fruit flavors infused with vanilla extract. This cake has butter and eggs in it to keep it moist and soft. It's whipped with bubblegum flavor to have a beautiful color. It looks appealing and is tastier than the ones you might've tried.
3. Apple Pie Cookies- Apple pie cookies is an amazing combination of apple pie and cookies. The filling is made with cinnamon and sugar-flavored apples. These scrumptious dessert cookies can be enjoyed as pie and cookies. 
4. Smoked Apple Pie– Smoked apple pie is a healthy dessert. It has a smoky flavor with a crispy golden crust. This pie has dense apple filling. It's flavored with cinnamon, vanilla, and nutmeg. It has the sweet taste of sugar and vanilla with a twist of lemon juice and orange zest. Smoked apple pie is coated with butter and sugar to have a crispy sweet outer crust.
What Equipment Will You Need For Marbled Pumpkin Cheesecake?
Bowl- Use a medium-sized bowl to prepare the crust and to make the pumpkin-flavored filling for the cake. 
Springform pan- Use a nine-inches springform pan to make the cheesecake.
Spatula- Use a spatula to spread the crust in the pan or to spread the cream cheese filling in the pan. Also, you can use a spatula to mix the ingredients in the bowl.
Spoon- Use a spoon to add plain batter to the pumpkin-flavored filling. 
Whisk- Use a whisk to mix the ingredients for the plain batter. 
Blender- Use a blender to mix the eggs into the batter and to combine other ingredients in it. 
How Much Time Do You Need To Make Marbled Pumpkin Cheesecake?
| Preparation Time | Cooking Time | Additional Time | Total Time |
| --- | --- | --- | --- |
| 15 Minutes | 1 Hour 10 Minutes | 6 Hours | 7 Hours 25 Minutes |
What Ingredients Will You Need For Marbled Pumpkin Cheesecake?
Gingersnap cookies- One and a half cups of crushed gingersnap cookies are used in place of all-purpose flour. Make sure the cookies are evenly and properly crushed.
Pecans- Add a half cup of finely chopped pecans to add a slightly sweet and nutty flavor.
Butter- Add melted butter to give a soft and fluffy texture to the cake crust and to add more flavor to it.
Cream cheese- Use two packages of softened cream cheese for the pumpkin-flavored filling. 
Sugar- Add white sugar to the cake to add sweetness to it. 
Vanilla extract- Add a teaspoon to vanilla extract to give vanilla to the cake. 
Eggs- Eggs give a nice lift and smooth texture to the cheesecake filling. Use three large eggs for this recipe. 
Pumpkin- Add a cup of canned pumpkin to add pumpkin flavor to the salad. 
Cinnamon- Ground cinnamon to give a sweet, spicy touch to the salad. 
Nutmeg- Add ground nutmeg to add more flavor and to give a nice texture to the pumpkin-flavored filling in the cheesecake.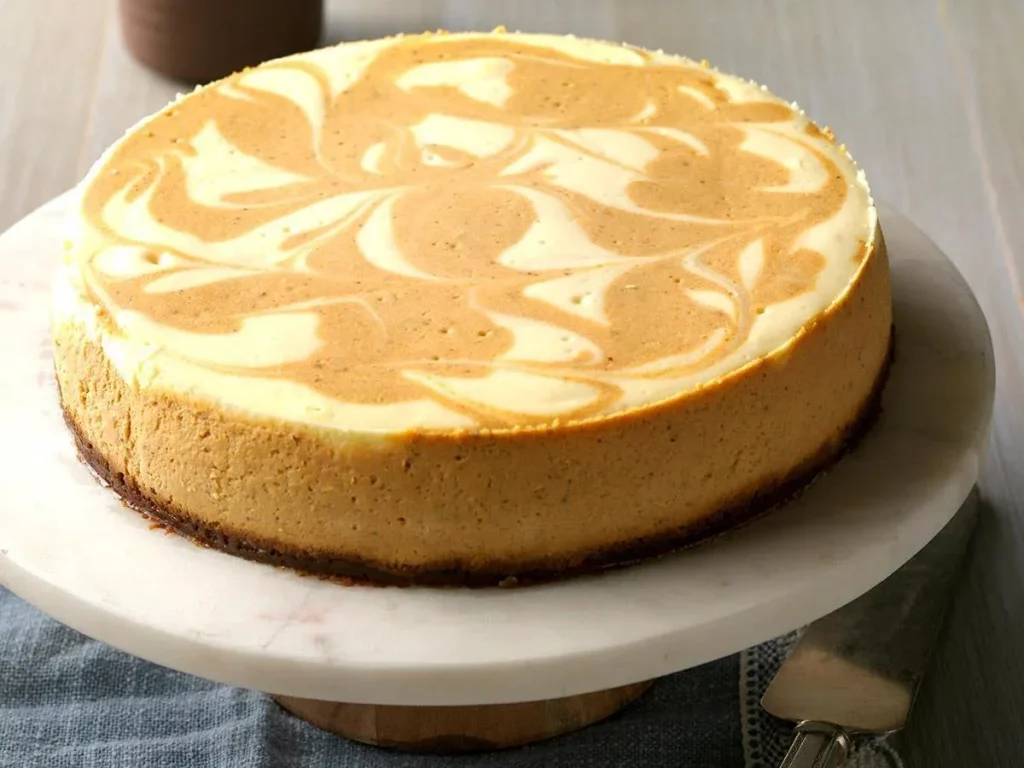 Steps To Make Marbled Pumpkin Cheesecake
1. Prep the crust
Add crushed gingersnap cookies along with pecans and butter in a medium-sized bowl. Mix them together and transfer this mixture into a springform pan. Press this mixture at the bottom and sides of the pan. Bake it for about 10 minutes in a preheated oven (350 F). Remove from the oven and keep it aside to cool for a few minutes.
2. Prep the batter
Take a medium-sized bowl and combine cream cheese, vanilla, and sugar in it. Blend one egg at a time in the bowl. Take out a cup of this mixture and set it aside. Now, add sugar, cinnamon, nutmeg, and pumpkin to the bowl and blend them into a smooth batter. Transfer the batter to the crust and spread it. Spoon some plain batter on top and swirl it using a knife to create a marbled effect.
3. Bake and serve
Bake the cheesecake for about 55 minutes until the filling is firm. Run a knife along the edges of the pan and let it sit until it cools. Remove from the pan and chill for at least 4 hours before serving. 
Nutritional Information
| | |
| --- | --- |
| Calories | 350 kcal |
| Carbohydrates | 32 g |
| Protein | 5 g |
| Fat | 24 g |
| Saturated Fat | 12 g |
| Polyunsaturated Fat | 2 g |
| Monounsaturated Fat | 7 g |
| Trans Fat | 1 g |
| Cholesterol | 96 mg |
| Sodium | 300 mg |
| Potassium | 167 mg |
| Fiber | 3 g |
| Sugar | 17 g |
| Vitamin A | 2595 IU |
| Vitamin C | 1 mg |
| Calcium | 68 mg |
| Iron | 2 mg |
How Will Marbled Pumpkin Cheesecake Look and Taste?
So finally, our Thanksgiving dessert is ready! Marbled pumpkin cheesecake has creamy smooth filling loaded with the flavors of cream cheese, pumpkin, and vanilla. It's sweetened with sugar and looks amazing. The crunchy crust has finely chopped pecans to give you a crunchy delight with the flavors of crumbled gingersnap cookies. Try it and amaze your guests with this culinary masterpiece on the Thanksgiving feast!
Recipe Card
Marbled Pumpkin Cheesecake Recipe
Marbled pumpkin cheesecake is a beautiful and delicious cheesecake. It has crispy crust with crunchy pecans and crumbled gingersnap cookies. The cream cheese filling in the cake is flavored with pumpkin, vanilla and cream cheese. This thick and smooth filling is sweetened by adding sugar. It's a scrumptious Thanksgiving dessert to be enjoyed at the family feast.
Bowl

9-inches Springform Pan

Spatula

Whisk

Blender

spoon
1.5

cup

Gingersnap Cookies (crushed)

1/2

cup

Pecans (finely chopped)

3/4

cup

Sugar

3

Eggs

3/4

teaspoon

Ground Cinnamon

1/4

teaspoon

Nutmeg

1

cup

Pumpkin (canned)

1/3

cup

Butter (melted)

16

ounces

Cream Cheese
Take a medium bowl and add crushed gingersnap cookies, pecans, and butter to it. Mix them together and transfer the mixture into the springform pan. Press the mixture at the bottom and the sides of the pan using a spoon and bake it in a preheated oven (350 F) for about 10 minutes.

Now, take a medium-sized bowl and whisk cream cheese, sugar, and vanilla in it. Blend in one egg at a time and make a smooth batter. Reserve one cup of batter for later and add cinnamon, pumpkin, and nutmeg to it. Now, blend the mixture into a smooth batter.

Transfer the batter into the crust and spread it. Spoon some of the plain better (reserved batter) and create the marble effect using a knife. Bake it for about 55 minutes until the filling gets firm. Cool it in the refrigerator for at least 4 to 6 hours before serving.
Did you try this cheesecake? Tell me in the comments below. Try other holiday recipes too.