How to Make Mannish Water at Home
The best recipe makes you feel its taste and the flavors it has in it. And what can be better than a meal with an ingredient that all non-vegan food lovers love? What would be better than a Jamaican cuisine if we talked about the natural flavors and the richness of the taste? Jamaican recipes are known for their great taste and the natural flavors they have in them.
The benefits of the ingredients that we are going to use in this Goat Soup, also known as Mannish Water are essential for the body, and that's one reason why the Jamaican population is so strong and healthy. The secret is the food they eat.
So today, I have got you guys' a special recipe straight from Jamaica that will make your taste buds realize how lucky they were to have it. If you ever visit any Jamaican family, they will serve you this recipe as they love it and make it very often.
This recipe is quite nutritious for your health and tastes superb. The benefits of the nutritional elements present in this recipe are for the various body ailments as well. You will love the feeling after you have this recipe with your loved ones. Try it and tell me what do you think about it?
And to try it at home, you will need the best recipe. Well, then I think you don't have any excuse to deny making this recipe at home because I have one such recipe that you cannot resist. But here are some other amazing recipes that you should definitely try.
1. Umami Powder– The recipe is an ancient Japanese savory called Umami Powder and is full of nature in its every pinch. The recipe is a powder that you can use with any meal, food or even drink to detoxify your body.
2. Saffron Oil- Making Saffron Oil at home is certainly economical and helpful considering its wide uses. You may be wondering it must be a hectic process requiring a lot of stuff. But to your relief, its major ingredients are dry white wine, olive oil and saffron threads.
3. Mixed Peel– Homemade Mixed Peel is so much more flavourful than supermarket bought. It isn't as bitter and has a more fully rounded flavour that captures the essence of citrus season.
4. Poi– It is a traditional Hawaiian staple that is made from a starch dish by boiling taro roots and water. Taro is one of the most nutritious starches proved scientifically. You can make poi with salt, sugar, malahini, kalua pork, salmon.
Ingredients for Mannish Water
| Ingredients | Amount |
| --- | --- |
| Goat head, organs and feet | 2 pounds |
| Water | 1 ½ gallons |
| Yams | 1 pound |
| Christophenes seeds removed | 1 ½ pc |
| Taro root | ½ pound |
| Carrots | ½ pound |
| Turnips | ½ pounds |
| Scallions | 1 ½ bunches |
| Scotch bonnets | 2 pc |
| Fresh thyme | 3 sprigs |
| Salt | To taste |
So the ingredients list is done and you can get them from the nearest grocery or supermarket or even order some of them online.
The timing is the part which I guess you will not like much. This recipe will make you wait for a while until it gets completely cooked. But the wait is worth and you will get a delicious reward in return.
How Much Time It Will Take?
| | | |
| --- | --- | --- |
| Preparation time | Cooking time | Total time |
| 20 minutes | 3 hours | 3 hours 20 minutes |
Now you know all the required ingredients and the time you need to have while making this recipe. I think now we are ready to make this recipe at home.
The best part of this mannish water is that you don't have to do much to cook this recipe. The cooking is the easiest part of this recipe and I can bet you on that. Here is the complete procedure.
Mannish Water Recipe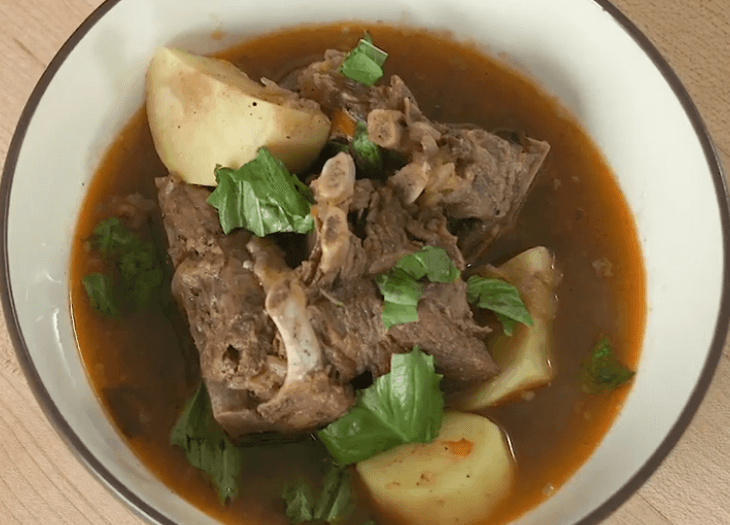 Bring the meat, wash and rinse it thoroughly and chop into small pieces.
Take a large stockpot, add water in it, and the pieces of meat and start boiling this mixture.
Boil this water and meat stuff for about 3 hours and wait until the meat is tender.
After you check the meat if its tender or not, add all the other ingredients and wait for the vegetables to get soft.
After everything is soft and tender, remove the pot from heat and serve immediately.
Garnish with some fresh mint leaves or coriander and make it the best Mannish Water Soup you could ever have.
Nutritional Breakdown of Mannish Water
This recipe is highly nutritious and perfect for your health as well. Please check the nutritional details of this recipe that we find very useful for all of you guys.
| | |
| --- | --- |
| Calories | 140 |
| Carbohydrates | 9 gm |
| Fat | 6 gm |
| Protein | 14 gm |
| Sugar | 4 gm |
| Cholesterol | 50 mg |
| Fiber | 3 gm |
If you like this recipe, then I am sure you will love some other amazing recipes as well. Here are some other recipes that you should check and try at your place for a great dinner menu.
French Onion Soup Recipe: A perfect combination of sweet and salty taste of onions along with loads of cheese. This soup is a master class.
Black Soup Recipe: A great blend of Nigerian leaves and spices together which will leave you mesmerized with its taste.
Hot Dog Soup Recipe: A great soup with all veggies and different spices which makes it a perfect match for any dinner.
How to Make Mannish Water at Home | Video
This soup is easy to make, but if you have any doubts, you can watch the video that I've added below.
I hope you will like them and will make them in your kitchen someday. Don't forget to respond with any suggestion or review regarding any of these recipes in the box below. We would love to hear from you guys and reply to all your queries and questions. Till then, have a great day and keep cooking!