How to Make Macaron Cake at Home
Note- This post may contain affiliate links, we earn from qualifying purchases made on our website. If you make a purchase through links from this website, we may get a small share of the sale from Amazon and other similar affiliate programs.
What is the best cake that you have ever tried? I am sure you will have many answers regarding the flavour and taste of those beautifully crafted cakes. But today we are about to make a cake which I must say is the legacy of French baking. You will like the sweet and sour combination of the raspberries and the lemon juice that are assorted together and makes your taste buds go crazy.
Now you may be wondering what this recipe is? So this is a very famous French pastries or cake which has its different tastes and that's what makes it more special. This cake is called Macaron Cake and is very famous over the European region and especially in France where it has its roots of origin.
Come, follow me and let's bake a cake that will leave your family exclaimed with joy and will praise your cooking and baking skills at the same time. If you love cakes, then you should definitely check out the other cake recipes that I've handpicked just for you.
1. Strawberry Rhubarb Dump Cake– Made with only 7 ingredients, this simple and easy dump cake recipe with the perfect combination of sweet and tart.
2. Chocolate Depression Cake– Chocolate depression cake is not your regular chocolate cake. The reason behind the name of this cake is that this recipe is from the era of the Great Depression when basic ingredients like eggs, milk and butter were really hard to find and were very expensive.
3. Saffron Cake– Saffron Milk Cake is a version of tres leches cakes. It was originated in Middle East. Looking at the cake, no one can resist a slice of it.
4. Trifle with Leftover Cake– Making Trifle at home from scratch might be a difficult recipe to be made. But making it with the leftover cake is what makes it easy. So do check out this recipe.
Ingredients for Macaron Cake
For Macaron Cake Layers
| Ingredients | Amount |
| --- | --- |
| Almond Flour | 2 ½ cups |
| All-Purpose Flour | 1/3 cup |
| Confectioners' Sugar | 2 ¾ cup |
| Egg Whites | 6 pc |
| Sugar | ½ cup |
| Red Food Coloring Gel | ½ tsp |
Raspberry Lemon Curd
| | |
| --- | --- |
| Lemon Juice | 1/3 cup |
| Sugar | ½ cup |
| Egg Yolks | 3 pc |
| Salt | A pinch |
| Cornstarch | 1 tsp |
| Water | 2 tsp |
| Unsalted Butter | ½ cup |
| Raspberries | ½ cup |
| Raspberry Extract | ½ tsp |
Whipped Cream Frosting
| Ingredients | Amount |
| --- | --- |
| Heavy Cream | 2 cups |
| Sugar | 2/3 cup |
| Vanilla Extract | 1 tsp |
| Mascarpone Cheese | 8 ounces |
| Chocolate Chips | 1 cup |
| Fresh Raspberries | 2 cups |
Ingredients are ready and now we can move ahead. These ingredients you can get from any supermarket or grocery store easily. Timing is the main factor for this recipe. You may have to wait a bit to taste this delicious recipe. Here is the complete time details of this recipe mentioned in the table below.
How Much Time Will It Take?
| Preparation Time | Cooking Time | Total Time |
| --- | --- | --- |
| 45 minutes | 1 hour + chilling time | 1 hour 45 minutes + chilling time |
Now comes the most awaited and the final part of this recipe after which you can have this cake on your plate. You guessed it right. Let's start making this recipe. Follow the steps and get the best Macaron cake ever.
Macaron Cake Recipe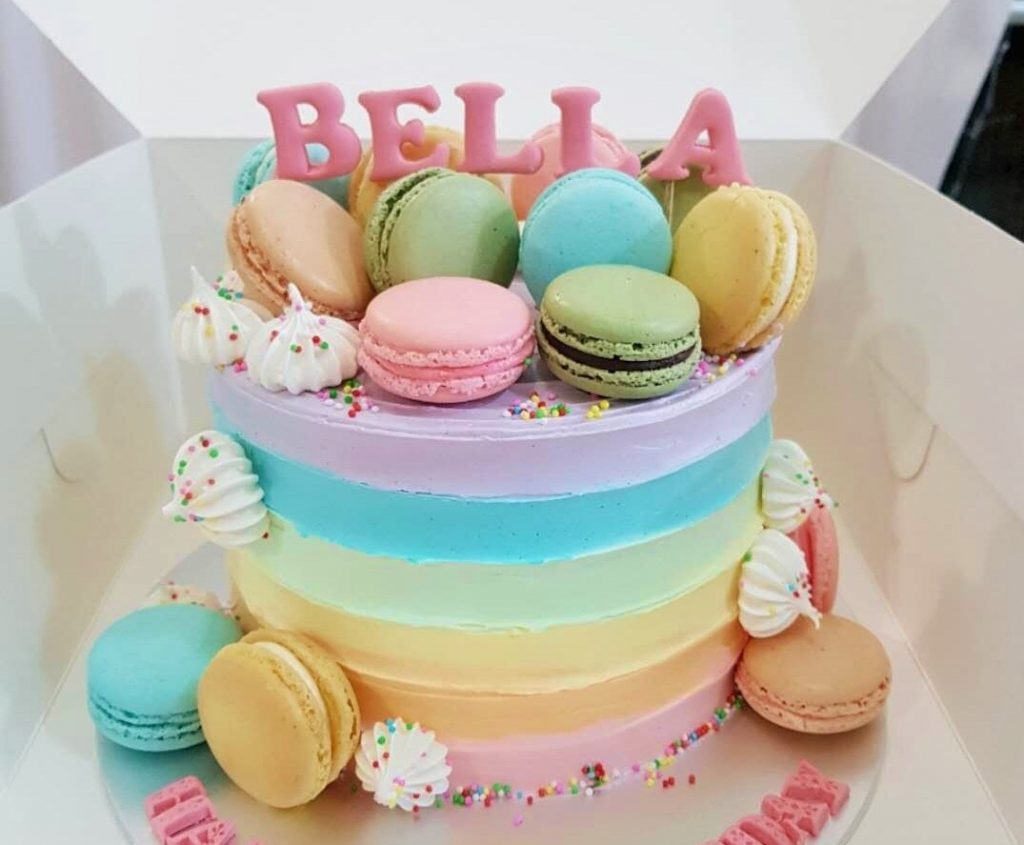 Align three baking sheets with parchment paper and make 6-inch circles on the back. Arrange a large pastry bag tipped with a simple round tip.
 Add the almond flour, all-purpose flour and sugar in a big mixing bowl, mix them well.
In another mixing bowl, take out the egg whites and add some sugar in it. Whisk them properly until stiff peak is formed. Some a few drops of food colouring and mix it well.
Now carefully transfer this batter in a pastry bag that you prepared earlier and fill each circle with appropriate batter keeping the thickness of the Pastry bag in mind.
Make sure the pastry bag is not filled with any air bubbles. Let the macarons rest for about 1 hour, making it a little stiff from outside.
Meanwhile, prepare your oven and allow it to preheat it to 320F.
Now we will make the raspberry lemon curd by mixing lemon juice, sugar, egg yolks and salt in a saucepan. Mix the cornstarch in it with some water to form a slurry.
On medium heat, allow the curd to cook for about 7 minutes and keep whisking it until it becomes thick and bubbles start to form.
After the curd has thickened, turn the heat off and add some butter in it and whisk it entirely until butter is invisible. Add some crushed raspberries in it and let it cool in a mixing bowl or you can refrigerate it as well.
Now bake the rested Macarons as per space for 18-20 minutes. Allow them to cool once done.
 To make the cream, add heavy cream, sugar and vanilla in a large mixing bowl and whisk them together until a soft peak is formed. Take a separate bowl and mix tighter some chocolate and mascarpone until they form a creamy texture. Add cheese to this mixture and whisk it as well.
Assemble the cake by adding a right amount of cream onto each layer, top with raspberries and with some lemon curd at the center. Garnish with the whipped cream and raspberries along with macaron disks.
Refrigerate the cake until it is completely hard and chilled.
Finally, your Macaron cake is ready with the goodness of rich ingredients in it. Enjoy it anytime, any day with anyone you want and make your day better.
Nutritional Breakdown of Macaron Cake
The nutritional values are also an essential part of any recipe for every one of us. Here are the complete nutritional details of this recipe in the box below.
| | |
| --- | --- |
| Calories | 404 |
| Cholesterol | 0 mg |
| Sugar | 71 gm |
| Fiber | 1.8 gm |
| Protein | 3.6 gm |
| Sodium | 247 mg |
Hey! Check out the other recipes which I guess you will like too. Here are some of them, do give them a look and tell us what you think about them. We would love to get your response to all of them.
Red Velvet Cupcakes Recipe: The vanilla flavored, with lots of butter and cheese red and cute cakes that are perfect for any occasion. 
Garden Harvest Cake Recipe: A delicious cake with goodness of some fruits and no preservatives. Good choice for diet conscious peeps.
Chocolate Beer Cake Recipe: A regular cake with some exceptions. Beer is the key ingredient and you will love the different and unique taste.
How to Make Macaron Cake at Home | Video
I've added a video below, so it'll be easier for you to make this cake at your home.
That's it for today. Hope you will like this recipe and will add some twist to your daily routine cooking. Till then have a great time and happy cooking.