How to make Low Country Boil at Home
Note- This post may contain affiliate links, we earn from qualifying purchases made on our website. If you make a purchase through links from this website, we may get a small share of the sale from Amazon and other similar affiliate programs.
Do you know? This Low Country Boil is a whole meal cooked in one large pot. But it's also an event, like in "I'm going to a low country boil" which means you're going to a party presenting a low country boil recipe. 
I personally love this recipe because of the flavours. Another reason why I love this recipe is that it is easy to make. I have learned this recipe from my father. He used to live outside the city because of his job, so basically, he learned this recipe there.
If you want to add any specific vegetable according to your taste you can add that also. This Low Country Boil is a complete meal in itself and is healthy too. I made this recipe for one of my aunts and she appreciated that dish a lot.
Today I was thinking to share Low Country Boil Recipe with my health lovers. Now, I am not going to take an extra single minute of yours and directly go to the list of ingredients used in this Low Country Boil Recipe. Also, there are other recipes that you can have as starters, let's check them out.
1. Curry Couscous– This recipe can be made really quick and is healthy. It is a low-fat dish filled with flavours served as a side dish with any form of meat or fish.
2. Vegetable Uttapam– Vegetable Uttapa, also Uttapam, is a crisp and spongy breakfast south Indian delight. The recipe for Uttapam is both easy to cook and healthy. The recipe is nutritious and seasoned with healthy vegetables.
3. She-Crab Soup– She-Crab Soup is a soup made with female crabs. It is a rich soup, similar to bisque, made of milk or heavy cream, crab or fish stock, Atlantic blue crab meat, and crab roe, and a small amount of dry sherry added as it is plated.
4. Chinese Spring Rolls– These Chicken Spring Rolls are light with crisp-crackly skin and small enough to enjoy in 4 bites. The filling is also light, full of tender-crisp vegetables and you should be able to taste and distinguish every single ingredient in the filling.
Ingredients for Low Country Boil
| | |
| --- | --- |
| Ingredients | Amount |
| Water | 2 quarts |
| Beer | 1 bottle |
| Seafood Seasoning | 2 tbsp |
| Smoked Chorizo or Kielbasa | 1/3 pound |
| Salt | 1 tsp |
| Red Potatoes (medium), cut into wedges | 4 |
| Sweet onion (medium), cut into wedges | 1 |
| Olive oil | 3 tbsp |
| Sweet corn (medium) | 4 |
| Garlic cloves (large), minced | 6 |
| ground cumin | 1 tbsp |
| Fresh cilantro, minced | 1 tbsp |
| Paprika | 1/2 tsp |
| Pepper | 1/2 tsp |
| Uncooked large shrimp | 1 pound |
| Uncooked snow crab legs | 1 pound |
| Seafood cocktail sauce, lemon wedges, and melted butter | optional |
You can get all these ingredients from the nearest supermarket. Now, let's see how much time it will take?
How much time it will take?
| | | | |
| --- | --- | --- | --- |
| Prep time | Cook time | Total time | Servings |
| 20 minutes | 40 minutes | 1 hour | 4 |
Let's proceed towards the final destination, that is the main part of our recipe. So, without wasting a single minute, let's see the directions of making this Low Country Boil at Home.
Low Country Boil Recipe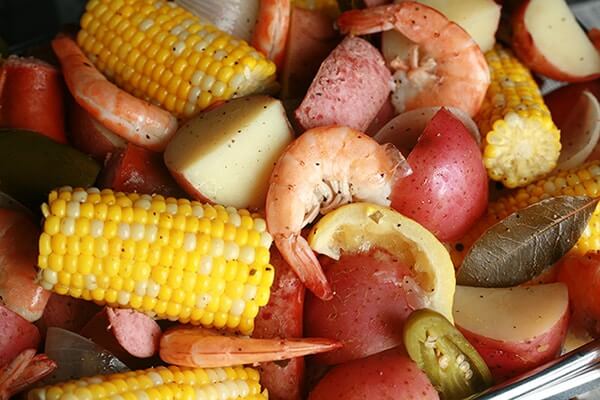 First of all what you need to do is combine the water, beer, seafood seasoning, salt, potatoes, and onion in a dutch oven and bring it to a boil.
Reduce the heat and add corn and chorizo, simmer until potatoes and corn are tender, which will take 10-12 minutes.
Simultaneously, in a small pan, heat oil and add garlic, cumin, cilantro, paprika, and pepper in it.
Cook it for a maximum of 1 minute.
Mix the snow crab legs, shrimp, and garlic mixture into the stockpot and cook until it turns out pink (6 minutes).
Shift the whole mixture in a large bowl.
Now, your Low Country Boil is ready to serve. You can serve it with condiments of your choice and according to you. Enjoy it with your friends and family.
Nutritional Facts of Low Country Boil
If you are one of them who is conscious about their health, this nutrients breakdown will help you to manage your health and guide accordingly.
| | |
| --- | --- |
| Calories | 500 |
| Fat | 20 g |
| Cholesterol | 212 mg |
| Sodium | 1318 mg |
| Carbohydrate | 41 g |
| Protein | 40 g |
How to Make Low Country Boil at Home | Video
I've added a video of the recipe of Low Country Boil for you. So it'll make it easier for you try this recipe at home.
I hope you've liked this recipe. Share this recipe with your friends and family. And if you have any recipe in your mind that you want to be featured on thefoodxp blog, do let us know in the comments section below.