How To Make Lemongrass Ginger Soup at Home
Note- This post may contain affiliate links, we earn from qualifying purchases made on our website. If you make a purchase through links from this website, we may get a small share of the sale from Amazon and other similar affiliate programs.
You all must be aware of the benefits of Lemongrass that it might be helpful in preventing the growth of bacteria and yeast. Lemongrass also has some antioxidant properties.
I learned the Lemongrass Ginger Soup Recipe when I was in my hostel. One day while sitting in my hostel room, suddenly I started craving for some restaurant like an appetizing recipe.
Suddenly my friend entered the room and a conversation began between us. While conversating, we shifted towards famous restaurants and from that, the conversation took a different direction. I am the kind of person who loves trying different recipes. You can also use lemon zest or any of its substitutes for this recipe.
From that, she tells me about this recipe of Lemongrass Ginger Soup which you all can easily try at your home. She gave me the recipe and today, I will share the Lemongrass Ginger Soup recipe. But before proceeding to the recipe, let's check out the ingredients first.
1. Watercress Soup– Who doesn't love to have soups in winter? Everyone right! And if it is healthy and leafy soup, then our cravings even increase more. One of my favorites is Watercress soup.
2. Gazpacho Soup– Spanish recipes are known for their spicy and fresh ingredients that add to their dishes' taste. This classic gazpacho soup recipe comprises various healthy ingredients including fresh tomatoes, bell peppers and cucumbers.
3. Chicken Tortilla Soup– Chicken Tortilla Soup is a traditional Mexican soup made from a base of tomato (or chicken). Usually, the Chicken Tortilla Soup recipe contains ingredients such as corn, beans and often other additions such as jalapenos and cilantro.
4. African Peanut Soup– A soup made of peanut butter, tomato paste and kale, I know it sounds unusual but it is really delicious. The African peanut soup is a delicious vegetarian delight. You can drink it as a soup or take it with cooked rice. It is amazing both ways.
Ingredients for Lemongrass Ginger Soup
| | |
| --- | --- |
| Ingredients | Amount |
| Spaghetti squash | 2-3lb |
| Lemongrass Stalks | 2 |
| Garlic Cloves (peeled and sliced) | 3 |
| Ginger piece (peeled and sliced) | 3 inch |
| Ghee or Olive Oil | 2 tbsp |
| Cilantro (chopped) | 1/4 Cup |
| Green Onions (chopped) | 2 |
| Vegetable | 6 Cups |
| Kosher Salt | as required |
After getting this complete list of ingredients, let us move further and now I will tell you how much time it will take to make Lemongrass Ginger Soup at Home.
How much time it will take?
| | | |
| --- | --- | --- |
| Preparation time | Cooking time | Total time |
| 15 minutes | 50 minutes | 1 hr 5 minutes |
Now, let's move towards our final purpose for whom we all waiting- The Recipe of Lemongrass Ginger Soup.
Lemongrass Ginger Soup Recipe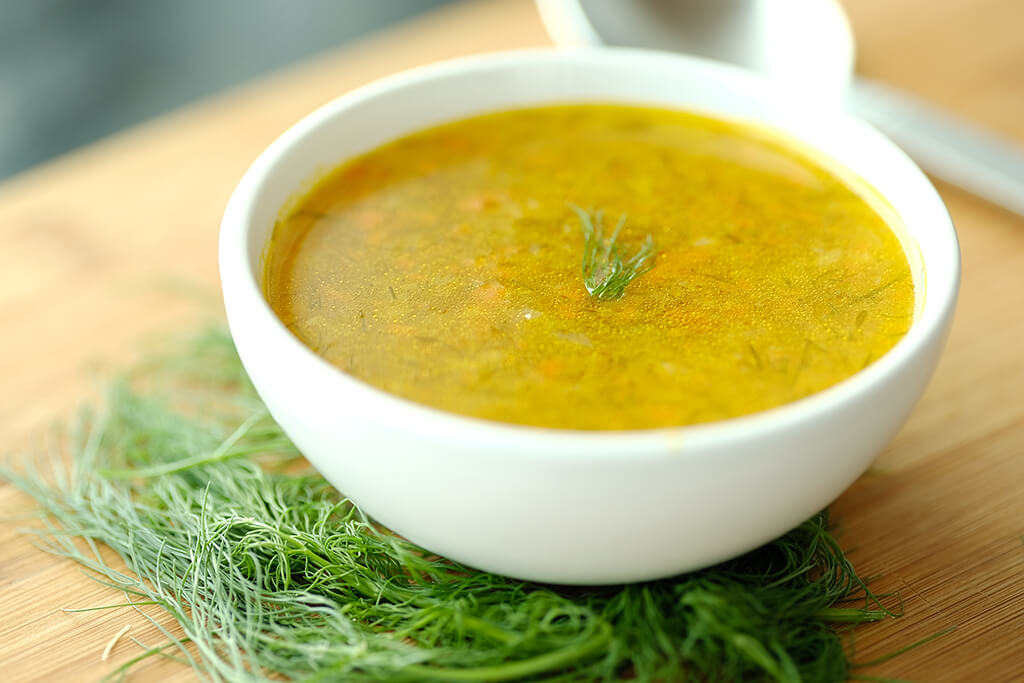 Preheat the oven to 400 degrees and put olive oil on the cut halves of the spaghetti squash and rub it gently.
Sprinkle Salt and Pepper on it.
Put it inside the oven and roast it for 50 minutes.
Meanwhile, cut your lemongrass into smaller pieces. Melt the butter or olive oil in a large bottom pot.
Add garlic, lemongrass and ginger, and saute it on a medium flame for 2 minutes.
Add vegetables and bring to a boil.
Take a bowl, add spaghetti squash, green onion and cilantro. Pour the complete mixture over it and Serve immediately.
You can make this recipe for evening get-together for your friends and trust me, they won't be able to tell that you've ordered this from a restaurant or made it yourself.
Nutritional Facts of Lemongrass Ginger Soup Recipe
I know after this complete recipe you must be conscious about the nutrients So, I 've added a nutritional breakdown of the nutrients present in the Lemongrass Ginger Soup Recipe.
| | |
| --- | --- |
| Calories | 248 |
| Fat | 11 g |
| Cholesterol | 305 mg |
| Sodium | 990 mg |
| Potassium | 461 mg |
| Carbohydrates | 7 mg |
| Protein | 31 g |
| Calcium | 187 mg |
| Iron | 3 mg |
How to Make Lemongrass Ginger Soup at Home | Video
For the cherry on the cake, I've added a Lemon Grass Ginger Soup recipe video below. It will make it easier for you to try this at home.
I hope you've liked this recipe and you will try this at your home. Do share your experience with the Lemongrass Ginger Soup in the comments section below.