How To Make Lemon Sherbet At Home
Lemon sherbet is a refreshing drink that is mainly made during summers. In this post, let's see how you can make it at your home.
The drink has got both milk and lemon juice as the ingredients. The drink has got a creamy and grainy texture. There are different ways to make this lemon sherbet drink. Some may use lemon sherbet powder to make it, but our recipe is homemade and you don't need to buy anything ready-made from the market.
To make lemon sherbet, mix whole milk, sweetened condensed milk and lemon zest. Now, add lemon juice to the mixture. Then, freeze using an ice cream machine and serve.
Out of lemon zest? Here is a list of lemon substitutes at home. So, let's move on to the recipe now and see how actually to make this drink at home. But before we jump onto the recipe, let's check out some other desserts that you might like.
1. Tropica Pudding– This is a very special pie made of a very special ingredient- Tropica. Tapioca looks like small pearls; however, it varies in different sizes. It is a gluten-free food but high in carbohydrates, so do not consider it a low-calorie food. Tapioca can be used in dessert and pudding made from it is very beautiful.
2. Apple Crisp– Apple crisp is made with nuts and oats in its topping. This recipe is very easy to make and anyone can make it at their home without any fuss.
3. Fried Bananas– We all have eaten fried bananas. But homemade fried bananas have that freshness that makes them more irresistible. Today, I a going to show you how you can make it to your home.
4. Gajar ka Halwa without Khoya– Here's a yummy Gajar ka Halwa to our list of people. This can be our real lava put on a plate. Till now, lava only busted in our volcanos, but now it can be seen on our plates served in beauty.
Ingredients for Lemon Sherbet
| Ingredients | Quantity |
| --- | --- |
| Whole Milk | 1 ½ cups |
| Sweetened Condensed Milk  | 14 oz |
| Lemon  | 1 pc |
| Freshly Lemon Juice  | 6 teaspoon |
Well, that's it for the ingredients. The list is short but the taste of this lemon sherbet is way too delicious.
Here are the time details of this recipe that you need to know. This will help you to make a perfect schedule before you are ready to make this recipe.
How Much Time Will it Take?
| Preparation Time | Chilling Time | Total Time |
| --- | --- | --- |
| 20 Minutes  | 1 Hour  | 1 Hour 20 Minutes |
Note: The chilling or freezing time can change due to various factors.
After all these tables full of details, now is the time to share the most exciting part of this recipe. And I am sure you guys already know what that is. So, let's start the preparation and start the making of this lemon sherbet recipe.
Lemon Sherbet Recipe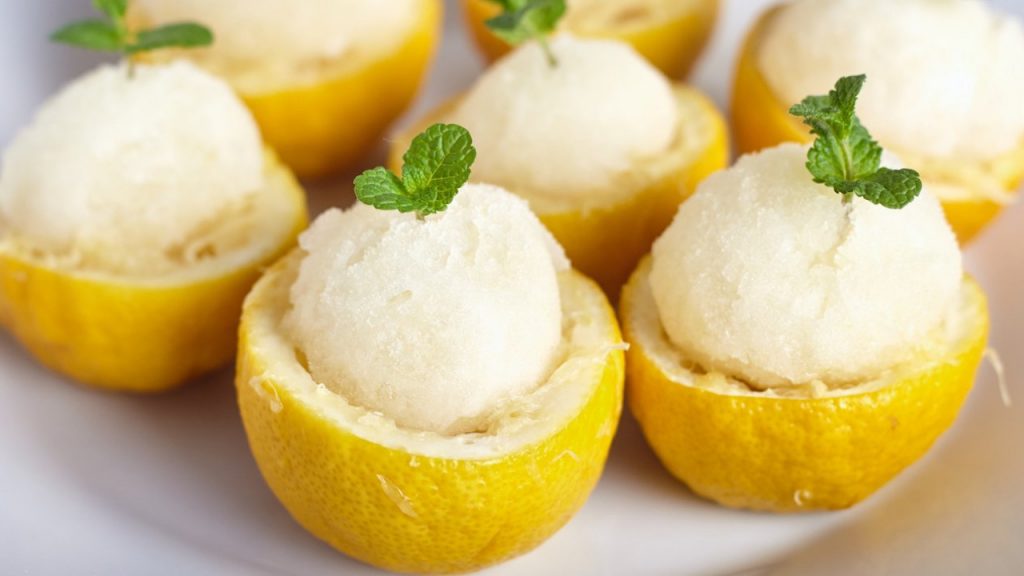 Take a bowl and add milk, sweetened condensed milk and lemon zest together. Whisk it well, cover it and keep it in the refrigerator for at least 1 hour.
Add lemon juice into this mixture and whisk it very well, such that no lumps are formed.
Now pour the mixture prepared into your ice cream machine and freeze it, following the manufacturer's instructions.
Store these sherbets in an airtight container and freeze them. Take them out only when about to serve.
Serve these sherbets immediately as they will melt down once left in the open. Enjoy the smooth, sweet, and creamy taste of these sherbets with your family and friends and relish the moment.
Nutritional Breakdown of Lemon Sherbet
The nutritional details of this recipe are provided in the box below. Watch it and know the exact quantities of the nutritional consumption you are having.
| | |
| --- | --- |
| Calories  | 190 |
| Carbohydrates  | 30 g |
| Protein  | 5 g |
| Fat  | 6 g |
| Cholesterol  | 21 mg |
| Sugar  | 30 g |
| Calcium  | 190 mg |
How to Make Lemon Sherbet at Home | Video
The video of this lemon sherbet recipe is down below to assist you in its making. It will also help you know the small details and various other tips and tricks involved to make this recipe at home easily.
I hope this recipe was informative and helpful for you all. Go for it if you want to try something different at home. This drink will not disappoint you. Do share your reviews and suggestions in the comment section. I'll come up with some innovative and unique recipes next time. Until then, keep trying out our recipes and reach for help, anytime.