How to Make Lemon Meringue Cake at Home
Note- This post may contain affiliate links, we earn from qualifying purchases made on our website. If you make a purchase through links from this website, we may get a small share of the sale from Amazon and other similar affiliate programs.
Cakes are one of the most important part of our celebrations. It is what makes our occasion special. Most of the you must have eaten many different kinds of delicious cake but have you ever try to make Lemon Meringue Cake?
If I talk about myself, when I tried Lemon Meringue Cake Recipe at my aunt's bakery shop and I found it very delicious, tasty with tartaric taste. I found this recipe in a cooking book that I bought from Europe.
The main ingredients which elevate the taste of this cake are lemon curd, lemon Meringue and vanilla cake. This recipe is really simple and this cake leaves a remarkable impact on the tongue of the people who eat it.
The reason I love this cake was, it breaks the sweetness with zestiness. So, are you ready to make the fluffiest meringue frosting cake? So make sure you check the full recipe below before making the cake. If you love cakes, then you should definitely check out the other cake recipes that I've handpicked just for you.
1. Raspberry Charlotte Cake– This raspberry charlotte dessert is a wonderful cake by taste (just like it looks). The baked dessert is topped with raspberries and its filling gives it a sweet and tangy taste.
2. Chocolate Beer Cake- It is cake prepared using beer as a secondary ingredient and if you make chocolate beer cake it includes stout and chocolate stout beer and gingerbread cakes. There is a tribe called the Rabha tribe which uses rice beer to make beer cake.
3. Pumpkin Shape Cake– Want to make something for the occasion of Halloween? Well, this pumpkin-shaped cake can be the best choice for you. The cake is the best sweet food anyone can have. The icing, frosting and different shapes make a cake a very beautiful and most admired edible item.
4. Bunny Butt Cake– This coconut flavoured cake is something very unusual by look but will be loved by your kids. Anyone can easily make it at their home by following the recipe that I've mentioned.
Ingredients For Lemon Meringue Cake
For Lemon Curd
| Ingredients | Amount |
| --- | --- |
| Sugar | 3/4 Cup |
| Egg Yolks | 6 |
| Fresh Lemon Juice | 1/3 Cup |
| Grated Lemon Zest | 1 tbsp |
| Cornstarch | 1 1/2 tbsp |
| Salt | 1 Pinch |
| Unsalted Butter | 6 tbsp |
For The Meringue
| Ingredients | Amount |
| --- | --- |
| Large Egg Whites | 4 |
| Sugar | 1 Cup |
| Cream Of Tartar | 1 Pinch |
| Vanilla Extract | 1/2 tsp |
Basic Vanilla Cake
| Ingredients | Amount |
| --- | --- |
| Unsalted Butter Sticks | 2 |
| All-Purpose Flour | 3 Cups |
| Baking Powder | 1 tbsp |
| Salt | 1/2 tsp |
| Sugar | 1 1/2 Cup |
| Large Eggs | 4 |
| Vanilla Extract | 1 tbsp |
| Heavy Cream | 3/4 Cup |
While learning the recipe, I was curious to know the exact timing required to make this cake at home. So I've mentioned them in the table below.
How Much Time It Will Take?
| | | |
| --- | --- | --- |
| Preparation Time | Cooking Time | Total Time |
| 2 Hours 50 Mins | 1 Hours | 3 Hours 50 Mins |
I did a lot of efforts to know the recipe but you don't have to wait like me because we have reached the final stage where I will tell the proper directions, step by step.
Lemon Meringue Cake Recipe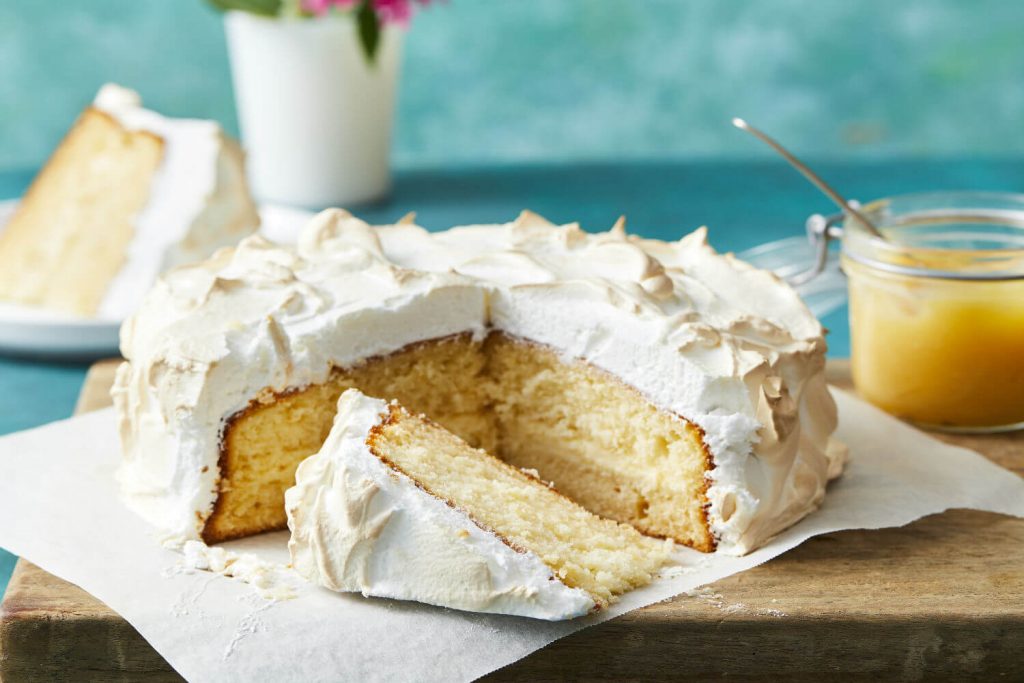 In a saucepan, whisk sugar, salt, cornstarch, lemon zest, lemon juice, and egg yolks over medium heat. Cook until sugar dissolves for 10 minutes.
In the mixture, add butter sticks, stir until it melts, and then transfer it to bowl. For at least 2 hours, cover the bowl with plastic wrap and place it in the refrigerator.
In a bowl, whisk egg whites and sugar, pour the mixture in a saucepan. Simmer for 5 minutes.
Add vanilla and cream of tartar in the mixture and beat for 10 minutes.
On a platter place cake and on top spread the lemon curd over and then place the second cake over and press accordingly.
With Meringue with cake and brown meringue with a kitchen torch.
At 350 degrees F, preheat the oven. With butter, grease the cake pans with lined parchment paper and dust the pans with flour.
In a bowl whisk salt, baking powder, and flour. Beat the butter sticks, sugar in a blender for 3 minutes.
Beat in the vanilla. Beat eggs and vanilla together in a mixer.
In a bowl, add water with cream together and beat the flour with butter, cream mixture, flour, until it will become smooth.
Prepare two pans and bake the cakes for 30 minutes until it will become golden brown.
Transfer the racks and remove the parchment paper, cool for 10 minutes.
Finally, Lemon Meringue Cake is ready. Make this cake at your home and everyone will love it.
Nutritional Facts Of Lemon Meringue Cake
I have mentioned the nutritional breakdown of Lemon Meringue Cake. From here, you will come to know how many slices you need to give to your family.
| | |
| --- | --- |
| Calories | 347 |
| Fats | 12g |
| Cholesterol | 109mg |
| Sodium | 319mg |
| Carbohydrates | 57g |
| Protein | 5g |
How To Make Lemon Meringue Cake at Home | Video
If you want to see how much can make Lemon Meringue Cake Recipe in different shapes or sizes. I have added a video for you, so it'll be easier for you.
I hope you've liked the recipe of Lemon Meringue Cake. Whenever you'll try this at home, share your valuable reviews with us in the comment section. And for more cake recipes, stay tuned.