How to Make Lemon Drop Shots at Home
Lemon Drop Shots is one of the most refreshing and energetic cocktails you would ever have. No doubt, lemons are rich in Vitamin C and act as a buffer against many diseases. This is one of the many reasons for having this Lemon Drop Shots at home.
Its taste is amazing. You might feel like having a joyful ride between a martini and lemonade. The vodka would surely give you the best time. When you'll suck the lemon wedges after having Lemon Drop Shots, trust me, you would feel refreshed and cheerful.
Homemade Lemon Drop Shots Recipe is no doubt an easy one. You just need 4 ingredients and 10 minutes, to be precise for having the same fun as you do in bars and pubs at home.
Any cocktail, especially Lemon Drop Shots made at home and served in a house party is a blessing, isn't it? So let's now learn how to make Lemon Drop Shots Recipe at home. But there are many other drinks that we've covered in our blog. You should definitely check them as well.
1. The Polar Express Hot Chocolate– The Polar Express reminds us of a hot chocolate cup that was served in the movie. No one knows how it exactly tastes. But I have a Hot Chocolate recipe that is you'll definitely love like the Hero Boy loved his Hot Chocolate in the movie.
2. Cherry Bomb– This Cherry Bomb Recipe is an amazing vodka recipe. Making Cherry Bomb at home is quite an easy and simple task. To add to your pleasure, homemade Cherry Bomb also has the flavour of lime juice. Also, you can garnish it with lime slices and cherries.
3. Kiwi Mint Lemonade Delight– So refreshing to have this drink in summer. Anyone can make it at their home easily in just 10 minutes with a few ingredients.
4. Dark and Stormy Cocktail– This drink is from Bermuda and is quite famous in the cocktail world. The flavor and taste it has is unique and tickles your taste buds to have a great pleasure.
Ingredients for Lemon Drop Shots Recipe
| | |
| --- | --- |
| Ingredients | Amount |
| Alcoholic beverage (distilled vodka) | 3/4 fluid ounce |
| Lemon juice, raw | 3/4 fluid ounce |
| Granulated sugars | 2 1/2 teaspoons |
| Lemon, raw with peel | 1 |
How much time would it take?
| | |
| --- | --- |
| Preparation time | Total time |
| 10 minutes | 10 minutes |
Lemon Drop Shots Recipe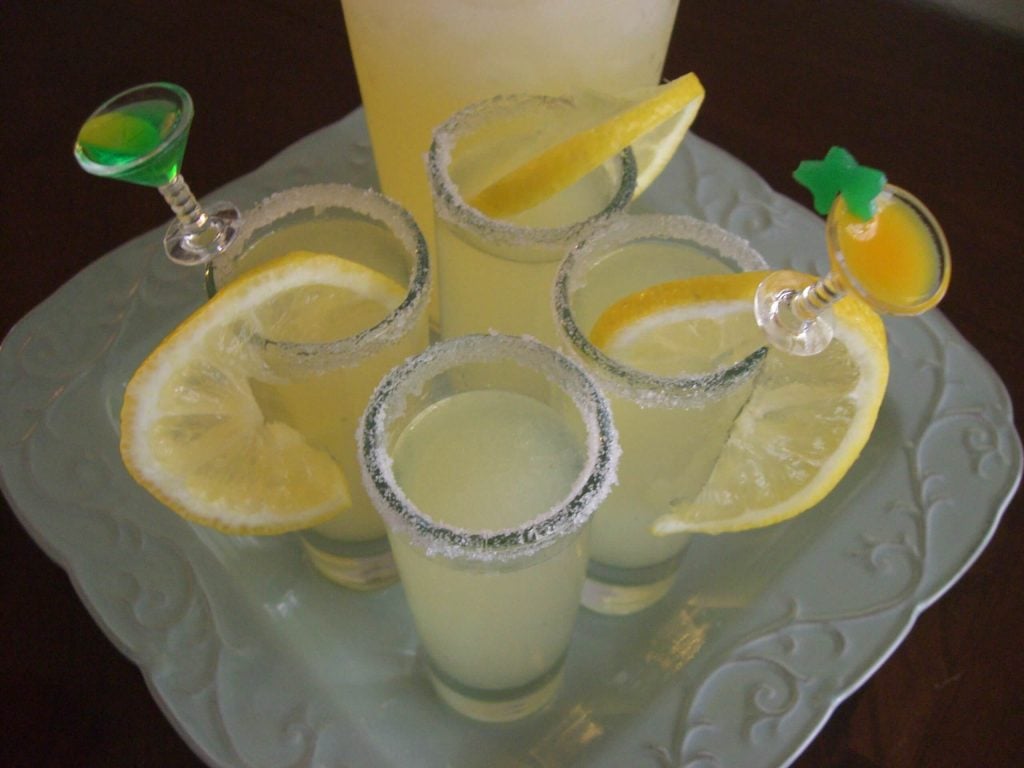 Firstly, take a shot glass.
Combine vodka and lemon juice in it followed by drizzling sugar (1/2 teaspoon) over top.
Take a small plate and spread the remaining 2 teaspoons of sugar on it.
The lemon wedges are to be coated into the sugar neatly.
Gulp down the shot and add more flavour to it by sucking the sugared lemon wedge.
Nutritional Information
| | |
| --- | --- |
| Calories | 115.8 |
| Proteins | 1.4 g |
| Carbohydrates | 23.9 g |
| Dietary fiber | 5.2 g |
| Sugars | 11 g |
| Fats | 0.3 g |
| Vitamin A | 37 IU |
| Vitamin C | 93.7 mg |
| Vitamin B6 | 0.1 mg |
| Folate | 10.5 mcg |
| Calcium | 67.6 mg |
| Iron | 0.8 g |
| Magnesium | 14.3 mg |
| Potassium | 185.4 mg |
| Sodium | 3.7 mg |
| Thiamin | 0.1 g |
How to Make Lemon Drop Shot at Home | Home