How to Make Leche Asada at Home
Note- This post may contain affiliate links, we earn from qualifying purchases made on our website. If you make a purchase through links from this website, we may get a small share of the sale from Amazon and other similar affiliate programs.
Do you know that Leche Asada is a traditional dessert in Chile? Leche Asada is basically a similar kind of flan but the only difference between these two is that- flan is baked in a water bath and Leche Asada is baked directly inside the oven.
Leche Asada is also known as a caramel pudding. I usually make this pudding for my kids because they love this Caramel Pudding. Every weekend, they always demand me to make this Leche Asada recipe.
This dessert reminds me of my childhood days and takes me back to those beautiful memories. It is super easy to make this dessert and you can enjoy it anytime.
So today, we are going to discuss the Leche Asada recipe. But firstly, what we have to do is gather all the ingredients that are required to make this Leche Asada recipe at home. But before we jump onto the recipe, let's check out some other desserts that you might like.
1. Marie Biscuit Pudding– This biscuit pudding is a simple to make dessert that is a perfect choice if you are planning to make a dessert. The ingredients needed are easily available and the good thing is that it can be prepared a day ahead.
2. Persimmon Pudding– Persimmon is a fruit, which looks like a tomato but is a berry. It has a slippery silk-like texture. It tastes creamy, tangy and sweet, all at the same time. Isn't it an exciting fruit? I would love to eat this fruit. Make a pudding with this will surely be a great dessert.
3. Tembleque– Puerto Rican Coconut Pudding, or tembleque, is a simple dessert made from ingredients you probably have on hand– coconut milk, sugar, and cornstarch. You can dress it up with lime, orange, or cinnamon.
4. Tipsy Laird– Tipsy laird is a very simple Scottish Trifle made with sponge cake, raspberries, whiskey and whipped cream. This combination is as delicious as it sounds. This Scottish dessert is usually served during Christmas or on New Year's eve.
Ingredients for Leche Asada
| | |
| --- | --- |
| Ingredients | Amount |
| Whole milk | 1 quart |
| Lemon (zest cut off in 1/2 inch strips) | 1 |
| Cinnamon sticks | 2 |
| Large eggs | 4 |
| White sugar | 1/2 Cup |
| Pisco | 1/2 Cup |
Now you have the list of ingredients with you and maybe these ingredients are already available in your kitchen as well. If not, then you can easily buy them from the nearest supermarket.
Now, Let's see how much time it will take to make Leche Asada at Home.
How much time it will take?
| | | | |
| --- | --- | --- | --- |
| Prep time | Cook time | Total time | Servings |
| 15 minutes | 50 minutes | 1 hour 5 minutes | 6 |
I know that you people are very curious to know about the whole directions to make this Leche Asada at home. So let's check it out.
Leche Asada Recipe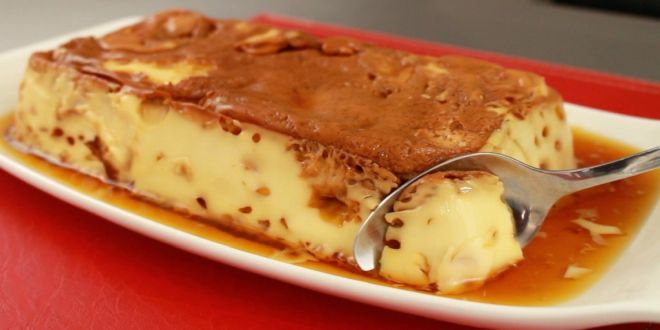 The first thing that we need to do is preheat the oven to 175 degrees C.
Take a pan and add milk along with the lemon zest and cinnamon sticks in it.
Firstly, cook it over a medium flame and after that reduce the flame and cook it for a maximum of 5 minutes. Turn off the flame.
Take a medium-sized bowl, add eggs and sugar together in the bowl, and beat it until the sugar gets dissolved.
Slowly, add 1 cup of the hot milk, a little at a time, and then beat it. Mix it gently and again stir the egg mixture back into the hot milk.
Add pisco in the mixture and beat it gently.
Pour the whole mixture through a sieve into a casserole dish to remove the solid particles like lemon zest and cinnamon sticks.
Bake it inside the oven for about 30 minutes and then remove it.
When it becomes cool, you can serve it accordingly. Now, your Leche Asada is ready.
Nutritional Information of Leche Asada
I have added the nutritional breakdown of the nutrients present in the Leche Asada below. So if you are a health-conscious person, then this breakdown will be helpful to you.
| | |
| --- | --- |
| Calories | 258.4 |
| Protein | 9.5 g |
| Carbohydrates | 25.3 g |
| Fat | 8.6 g |
| Cholesterol | 140.3 mg |
| Calcium | 213.7 mg |
| Iron | 0.8 mg |
| Magnesium | 21.1 mg |
| Potassium | 284.2 mg |
| Sodium | 112.1 mg |
How to make Leche Asada at Home | Video
When I was trying this Leche Asada recipe for the first time, I saw a video to look after the steps. So for you all, I have added a video below that will help you in making the Leche Asada Recipe at home.
I hope you have liked this Leche Asada recipe. I highly recommend you all to try this amazing recipe at your home and do tell us about your experience in the comments section below. Stay tuned for more amazing recipes.