How to Make Lahmacun Turkish Pizza at Home
Lahmacun pronounced as "lahma'joun ' is derived from the Arabic word "lahma bi'ajeen" meaning "dough with meat." Flatbreads or pizzas are one of the most delicious dishes. Lahmacun Turkish Pizza can be served as a lunch and dinner, a delightful dish loved by all.
One of my friends introduced Lahmacun Turkish Pizza to me when I visited her home. It was an incredible Lahmacun. The amalgamation of different spices, beef, peppers and tomato paste over flatbread made me crazy.
On my request, she shared the recipe for Lahmacun Turkish pizza with me. She also told me to squeeze fresh lemon juice over top, use fresh mint leaves or radish slices to make the dish more delicious. I did the same. It is one of the best things I have ever eaten.
It is quite easy to make Lahmacun Turkish pizza and serve your guests as well during the next party at your home. But here are some other amazing recipes that you should definitely try.
1. Pizza Dough Without Yeast– Making pizza dough at home usually takes long hours. But with the recipe I am going to share, you can make pizza dough in minutes and that too without yeast.
2. Sausage and Tomato Pizza– This simple homemade sausage, mozzarella and basil pizza is absolutely delicious! With sweet Italian sausage, fresh tomatoes, basil and balsamic vinegar, it makes for a fantastic weeknight dinner.
3. Primavera Pizza– Primavera Pizza is an American pizza chain and their pizzas are so popular and tasty as well. The pizza recipe that I am going to tell you is really tasty and anyone can make it at their home.
4. Broccoli Pizza– We all are aware of Broccoli and the thing we know about broccoli is, it is very healthy and nutritious. But have you ever thought of Broccoli on a pizza?
Ingredients required for Lahmacun Turkish Pizza
| | |
| --- | --- |
| Ingredients | Amount |
| Red pepper, cored, cut into chunks | 1/2 |
| Halved shallot | 1 |
| Peeled garlic cloves | 2 |
| Fresh Parsley leaves with stem | 1/2 oz |
| Ground lamb or beef | 7 oz |
| Smoked paprika | 1 tsp |
| Ground allspice | 1 tsp |
| Ground cumin | 1/2 tsp |
| Aleppo style pepper | 1/2 tsp |
| Ground cinnamon | 1/2 tsp |
| Cayenne pepper | 1/2 tsp |
| Salt | 1/2 tsp |
| Tomato paste | 4 tbsp |
| Extra virgin olive oil | 2 tbsp |
| Lemon wedges | garnishing |
How much time will it take?
| | | |
| --- | --- | --- |
| Preparation time | Cooking time | Total time |
| 20 minutes | 7 minutes | 27 minutes |
Lahmacun Turkish Pizza Recipe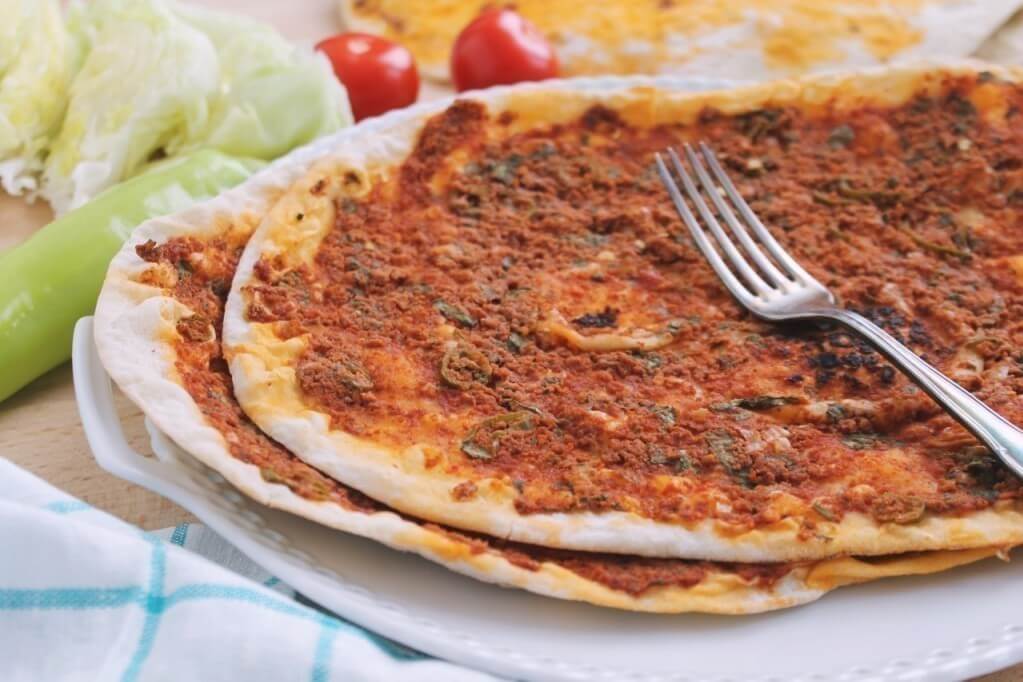 Take a large bowl of a food processor with blades.
Put red peppers, shallot, garlic and parsley into it. Beat them.
Now, ground lamb or beef is to be added to the prepared mixture.
Sprinkle salt and spices over it.
Next, pour in extra virgin olive oil and tomato paste.
Beat and mix them well in the food processor's bowl.
Take two large baking sheets and line with parchment paper.
Take the pizza dough and evenly divide it into 4 equal balls. It should be about 2 oz per ball.
Arrange the balls on a floured surface, one ball at a time.
Roll out the dough using a rolling pin. It should be made as thin as a disk with 8-9 inches in diameter.
Now arrange Lahmacun. Place one flatbread disk on the prepared sheets. Spread 3-4 tablespoons of topping onto the dough and its edges. (you can reshape it ).
Bake in a preheated oven (450 degrees F ) for about 5-7 minutes. Let the dough and meat cook properly.
Repeat the steps 11-12 with the remaining dough.
Take a little lemon and squeeze its juice over the top.
Serve the Lahmacun hot.
Lahmacun Turkish Pizza Recipe Nutritional Information
| | |
| --- | --- |
| Calories | 576 |
| Saturated fats | 9.5 g |
| Total fats | 19.5 g |
| Cholesterol | 93 mg |
| Sodium | 874 mg |
| Dietary fiber | 4.4 g |
| Sugars | 4.3 g |
| Total carbohydrates | 63 g |
| Proteins | 35.90 g |
How to Make Lahmacun Turkish Pizza at Home