How To Make Kir Royale At Home
Do you want a grand celebratory drink that's fancy and beautiful yet delicious? Then, I think I have found the one. The drink I am talking about is Kir Royale. It is a champagne cocktail made with champagne, of course, and a French liqueur.
The traditional French liqueur used in this drink is Crème de cassis, which is a thick and sweet liqueur made from blackcurrants. If you don't have access to good Crème de cassis, you can also go for Chambord. It is delicious with complex fruity tones. It is not overpowering at all. But if you like it the old way, I am with you.
Finally, we get a new delicious pink drink besides the usual sparkling rosè. Also, kir royale is different from kir as the latter uses white wine as the main ingredient. This drink is great to stir up on birthdays, Valentine's Day, or even holidays. Basically, we just need a happy occasion as an excuse to make this drink. Find how to make this simple cocktail kir royale below. 
What Equipment Will You Need To Make Kir Royale?
Champagne Flute- All you need to make this drink is an elegant champagne flute and you're good to go. 
How Much Time Will You Need To Make Kir Royale?
| Preparation Time | Cooking Time | Total Time |
| --- | --- | --- |
| 2 Minutes | _ | 2 Minutes |
What Ingredients Will You Need To Make Kir Royale?
Crème de cassis- This is a traditional French Liqueur used to make Kir Royale. If you feel that it is too overpowering for your taste, you can use Chambord instead.
Champagne- This is a champagne cocktail so this is an integral part of this cocktail. 
Raspberry- A bright red raspberry is all you need to make the drink perfect.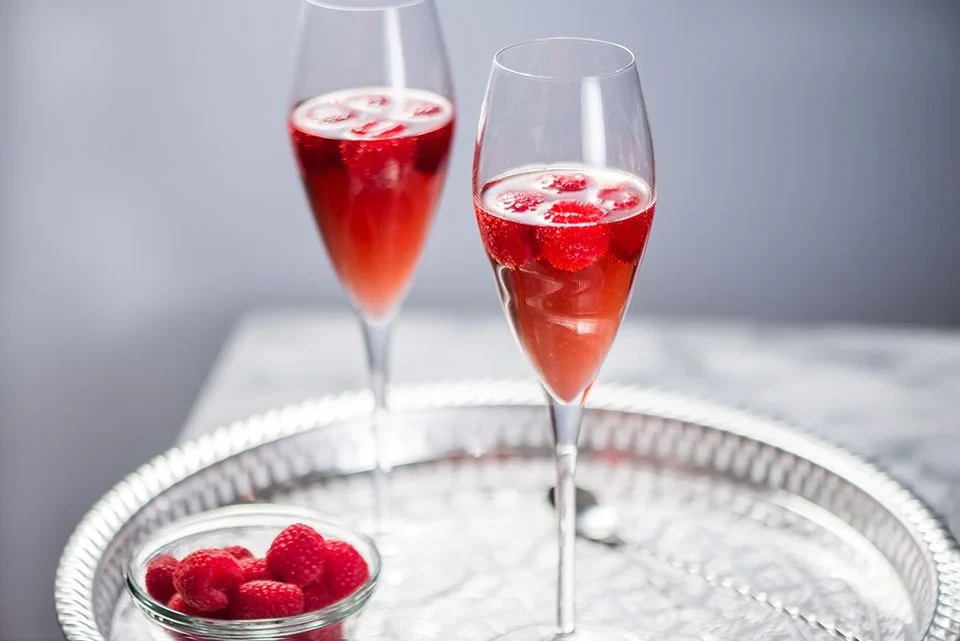 Steps To Make Kir Royale
1. One And Only
First, add the crème de cassis to the champagne flute. Then, tilt the glass and pour the champagne into it. This preserves the champagne bubbles and keeps your drink the good kind of fizzy. 
2. Cheers!
Drop a fresh raspberry into the drink if you want and it's ready! 
Nutritional Value
| | |
| --- | --- |
| Calories | 192 kcal |
| Fat | 0.1 g |
| Saturated Fat | 0 g |
| Cholesterol | 0 mg |
| Sodium | 9.5 mg |
| Potassium | 144 mg |
| Carbohydrates | 11 g |
| Sugar | 7.3 g |
| Fiber | 0.5 g |
| Protein | 0.2 g |
How Will The Kir Royale Look And Taste Like?
The kir royale has a vibrant pink color and the fresh raspberry looks beautiful in the bubbly affair. The creme de cassis has a strong sweet flavor with notes of blackcurrant and it's the essence of the drink. The crisp of the champagne is not lost and this makes for a great celebratory drink. Quoting Dom Perignon said, "It's like tasting stars".
Recipe Card
Kir Royale Recipe
Kir Royale is a delicious and sweet Champagne drink. It is a two-ingredient, two-step recipe and the result is a bubbly drink that has a fruity and sweet taste. This cocktail is great for big events and happy occasions.
1

tablespoon

Crème de cassis

5

ounces

Champagne (chilled)

1

fresh

Raspberry (for garnish)
Add the Crème de cassis to the champagne flute. Then, tilt the glass and pour the champagne into it.

Garnish the drink with a fresh raspberry and it's ready.
Make this amazing kir royale at home and tell me in the comments how well everybody liked it. I would love to hear from you. See you next time with another great recipe. Happy cooking!