How to Make Key Lime Pie at Home
An American dessert, Key Lime Pie is named after the small key limes naturalized throughout the Florida Keys. There is an annual Key Lime Festival held over the July 4 weekend which celebrates the use of key limes in food, drinks and culture. It was started in Key West, Florida in 2002. Isn't it an amazing fact?
Me and my friends had visited this festival. It was quite fun enjoying different dishes. When I came to know of Key Lime Pie at the festival, I decided to make it at my home. It turned out to be quite delicious and mouth-watering when I made it for the first time and served it to my younger sibling.
Surely, you also want to know how Key Lime Pie is made at home. So in this article, I will be sharing the Key Lime Pie Recipe with you. But first, I've mentioned some other cherry pie recipes that I think you should definitely try at your home.
1. Lemon Meringue Pie– An incredible, classic sweet and tart dessert, lemon meringue pie is more like a sweet dream. The pie filling surely makes you crazy, prompting you to have it over and over again. Nothing can beat a simple and quick-to-make lemon meringue pie.
2. St Clements Pie- St Clements pie is named after Saint Clements. It is basically very much similar to the key lime pie that tastes creamy and tangy. The only difference is it has a base made from digestive biscuits and oranges and limes.
3. Cherry and Almond Tart– Cherry and almond tart is one of the few desserts that have both colors of Christmas as well as flavors of summer. It is the right amount of sweet and has a creamy texture. You can also use whipped cream to top it.
4. Paula Deen Pumpkin Pie– We all know pumpkin pie but Paula Deen's pumpkin pie is different. It is delicious with cream cheese and whipped cream, making it all the more tempting. It might be more delicious but it is still easy to make.
Ingredients required for Key Lime Pie Recipe
| | |
| --- | --- |
| Ingredients | Amount |
| Graham cracker crumbs | 1 1/2 cups |
| Graham cracker crumbs | 1/3 cup |
| Butter melted | 6 tablespoons |
| Sweetened condensed milk | 28 oz |
| Light sour cream | 1/2 cup |
| Key lime juice | 3/4 cup |
| Limes zest | 2 regular limes or 4 key limes |
| Heavy whipping cream | 1 cup |
| Powdered sugar | 1/2 cup |
| Vanilla extract | 1 teaspoon |
How much time will it take?
| | | |
| --- | --- | --- |
| Preparation time | Cooking time | Total time(excluding cooling time) |
| 10 minutes | 20 minutes | 30 minutes |
Key Lime Pie Recipe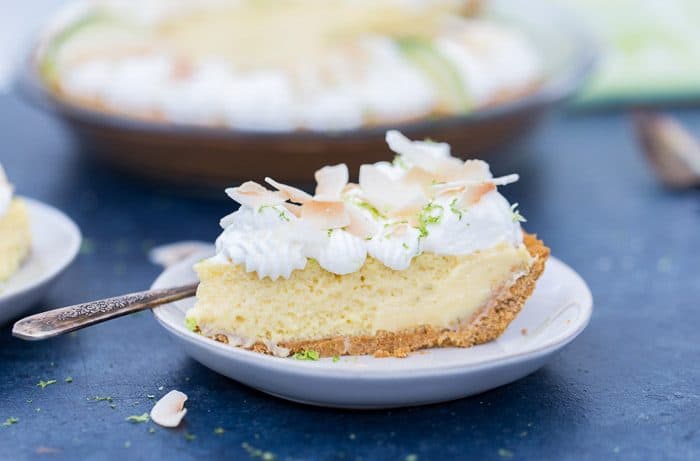 For Graham Cracker Crust
Take a small bowl.
Combine graham cracker crumbs, sugar and butter.
Take an 8" or 9.5" pie pan. Press the crumb mixture onto it.
Bake it in a preheated oven(375 f) for at least 7 minutes.
Now let it cool down for half an hour.
For Key Lime Filling
Take a medium bowl.
Mix sweetened condensed milk, sour cream, lime juice and lime zest.
Pour out this mixture over prepared graham cracker crust.
Bake it in a preheated oven (350 F) for 10 minutes.
Take the pie out. And wait for it to cool down.
Now for at least 3 hours, let it chill.
For whipped cream topping
Take a mixer.
Beat heavy cream and sugar together until the stiff peaks are formed.
Now, vanilla is to be added and beaten.
Over the top of the cooled pie, the whipped cream is to be spread.
Add more lime zest toppings, if desired.
Nutritional information of Key Lime Pie Recipe
| | |
| --- | --- |
| Calories | 517 kcal |
| Carbohydrates | 66 gm |
| Sugar | 58 gm |
| Fats | 25 gm |
| Saturated fats | 15 gm |
| Cholesterol | 81 mg |
| Sodium | 262 mg |
| Potassium | 359 mg |
| Proteins | 8 gm |
| Vitamin A | 810 IU |
| Vitamin C | 2.3 gm |
| Iron | 0.7 mg |
| Calcium | 269 mg |
How to Make Key Lime Pie at Home | Video