How to Make Keto Air Fryer Onion Rings at Home
Note- This post may contain affiliate links, we earn from qualifying purchases made on our website. If you make a purchase through links from this website, we may get a small share of the sale from Amazon and other similar affiliate programs.
Food is something which makes us always happy. People have different choices, love various cuisines, and have different tastes, but one thing that is important and remains constant is the health and, everyone is worried about the after-effects of the food they eat.
Some people don't like junk food or eating outside but some are in love with enjoying the food from the outside like noodles, burgers, chips, and whatnot. But all we want at the end of the day is a healthy food, no matter what we eat, but it should be healthy.
So the today's recipe which I am going to share with all you foodies. This food is delicious and is kids tested. Your kids will love it as its one of those recipes that no kid will ever refuse. If I talk about mine, they love it whenever I serve it to them.
So today, we are going to make Onion Rings. But you know what is unique in this recipe? I will make them by using an air fryer. This recipe is one of the best onion recipes and tastes fantastic. You should try it at your place anytime, as it doesn't take much of your time to get complete. It can be the best choice for your small parties or gatherings at home.
Let's begin with the recipe and start its preparation. So, to initiate, you will need the ingredients first to make it. Also, there are other recipes that you can have as starters, let's check them out.
1. Cheeseburger Chowder– Cheese can be indulged in various foods or dishes and can make their taste even more delicious than before. So why not make a recipe which is loaded with lots of cheese and some beef which can transform your normal day into a happy one.
2. Roasted Plum Tomatoes– Plum Tomatoes are often treated as a healthy vegetable and offer benefit to a range of bodily systems. As u all know no Indian recipe is complete without tomatoes. Roasted Plum Tomatoes at home is perfect for your sudden evening cravings.
3. Microwave Popcorn– Popcorn, quite famous with everyone especially movie-goers, is notorious for being exorbitantly costly. Yet, a movie is incomplete without having popcorn in your hands. If you can have homemade microwave popcorn, what would you do?
4. Cottage Fries– Classic Cottage Fries are one of my favorite comfort foods. So easy to prepare, this seasoned roasted potato recipe is one of the easiest and most satisfying recipe.
Ingredients for Onion Rings
| Ingredients | Amount |
| --- | --- |
| Onion  | 1 large |
| Coconut flour | 3 tsp |
| Sea salt | ¼ tsp |
| Eggs | 2 large |
| Pork rinds | 2/3 cups |
| Almond flour | 3 tsp |
| Paprika | ½ tsp |
| Garlic powder | ½ tsp |
These were the ingredients you need and you will find them at the nearest supermarket or grocery store.
Time is the best friend for this recipe in particular. You don't need to spend a lot of time to make these Keto Air Fryer Onion Rings. Check out the table for perfect timings.
How Much Time It Will Take?
| | | |
| --- | --- | --- |
| Preparation time | Cooking time | Total time |
| 10 minutes | 16 minutes | 26 minutes |
Now is the most important step of the recipe, which will teach you to make this recipe using a very clean and healthy style. So let's start cooking these onion rings without any delay.
Air Fryer Onion Rings Recipe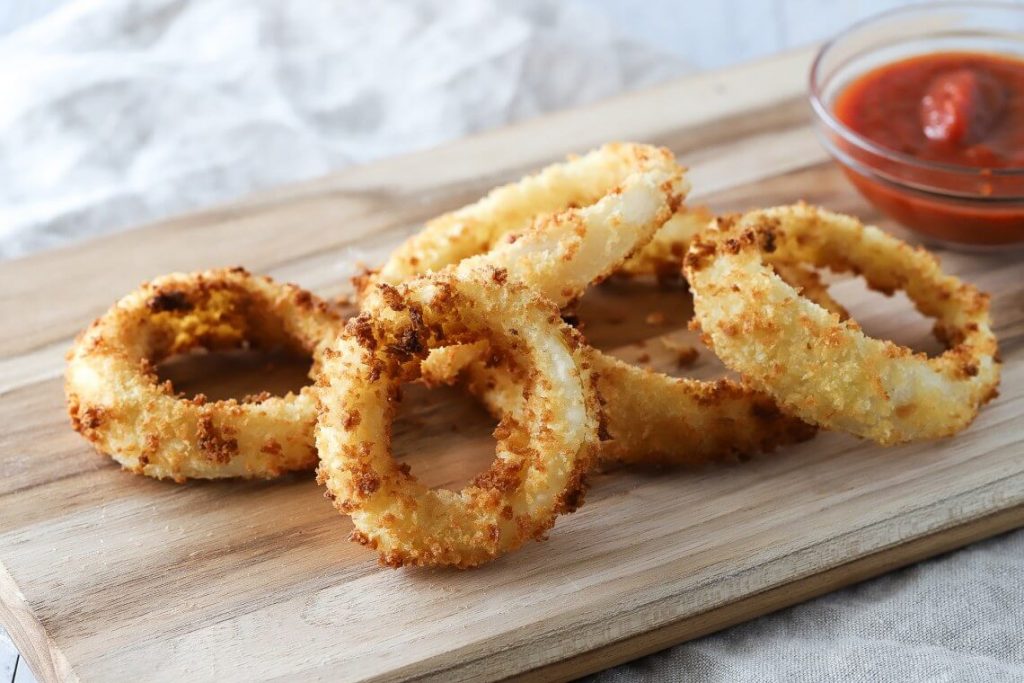 Take three separate bowls and keep them in line and fill with coconut flour, sea stirred.
Now grease your air fryer racks in which you want to keep the onions.
Drop your onion ring into the flour and dip it in the egg. After this, place it in the pork rind mixture.
Remove the excessive pork rind mixture and now place it in the air fryer bracket. 
Add all the onion rings and make sure they don't touch each other.
Now operate your air fryer and preheat it to over 4000F for about 2-3 minutes.
Suppose you are using a regular air fryer and fill it with half of the onions in a single layer. Bake it for 16 minutes until they change their color to a golden brown. Repeat the same procedure for another batch of rings.
And you have made these Keto Air Fryer Onion Rings successfully at home. Enjoy these onion rings with your friends and family.
Nutritional Breakdown of Air Fryer Onion Rings
This recipe's nutritional value is not a problem, as we have made it using very little oil. Still, here is the complete nutritional breakdown of this recipe in the table below.
| | |
| --- | --- |
| Calories | 135 |
| Fat | 7 gm |
| Protein | 8 gm |
| Carbohydrates | 8 gm |
| Fiber | 3 gm |
| Sugar | 2 gm |
How to Make Air Fryer Onion Rings at Home | Video
I've added a recipe video below, so it'll be easier for you to make it at home.
So what do you think about this recipe? Tell me if you know something more about this recipe and I will love to add it. Do share this recipe with your friends and let us know their reviews and experiences in the comments section below.