How To Make Kamikaze Shots At Home
Today, I will share the recipe for the most famous vodka shot ordered in a bar. The recipe is for making Kamikaze shots. Making a shot at home is something really joyful.
Kamikaze shots are sweet with a punch of tartness and the name of this drink is inspired by the Kamikaze pilots of WW II. It is my most favorite shot to start a party with. While hosting a party, this shot was super handy to make. Everyone at the party loved this shot too.
Kamikaze shots are super easy to make. All you have to do is shake up the vodka, triple sec and lime juice and your shot is ready in no time. Not just a single shot but the entire round of shots will be ready in minutes.
This is not enough to know to make this shot. You will further know the ingredients and the quantity in which they are needed. Serve this shot and see how much it is appreciated. But there are many other drinks that we've covered in our blog. You should definitely check them as well.
1. Tequila and Tonic– Tequila and Tonic together? Yes! They make a great pair. Tequila and Tonic drink is very refreshing and not sugary at all. Beat this summer heat by learning how to make Tequila and Tonic at home.
2. Red Death Cocktail– Red Death Drink! It may sound unpleasant to you, but this drink is a winner with its sweetness. It is just a tricky name given to this drink because of the drink's beautiful red color.
3. Hot Pepper Infused Vodka– Have you ever infused your vodka with hot peppers. If no, then this recipe of homemade hot pepper-infused vodka is just for you.
4. Swamp Water Cocktail– This homemade Swamp Water Cocktail recipe is an amazing drink with apricot brandy, lime vodka and a (pre)made lime drink. It is a pleasing drink for the beginners as the cocktail lovers must have made or drunk this cocktail many times.
Ingredients For Kamikaze Shots
1 1/2 ounces Vodka
1/2 ounce Triple Sec
Dash Lime Juice
Lime Wedge (for garnishing)
I guess you do not need to bother and run to the supermarket, as you will get all the ingredients in your kitchen itself. You may find them in your bar. So take a look and work accordingly. Till then, let me tell you the preparation time.
How Much Time It Will Take To Prepare Kamikaze Shots?
| Preparation Time | Cooking Time | Total Time |
| --- | --- | --- |
| 3 minutes | NIL | 3 minutes |
It is a matter of only 3 minutes and you will be shot ready. A quick and easy shot recipe it is. Just follow the given steps and you will be glad with the outcome.
Steps To Prepare Kamikaze Shots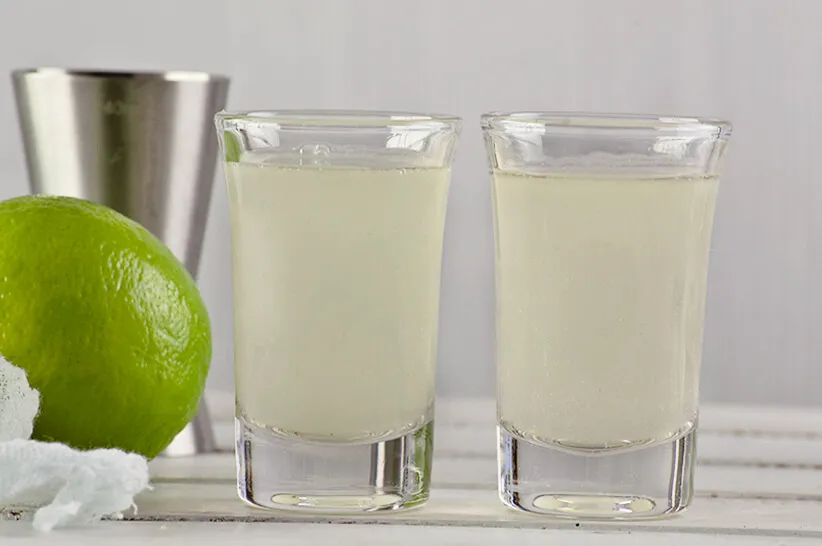 Gather all the ingredients in the given quantity. 
Take a cocktail shaker and fill it with ice. Pour in all three ingredients.
Shake them well. Strain them in a shot glass.
Garnish this drink with a small lemon wedge and serve.
Shake up this shot for at least 10 seconds to get the content blended well. As this shot is strong, make sure to be responsible while drinking.
Nutritional Breakdown Of Kamikaze Shots
| | |
| --- | --- |
| Calories | 186 |
| Protein | 1g |
| Carbohydrates | 21g |
| Fat | 0g |
| Cholesterol | 0mg |
| Sodium | 4mg |
How To Make Kamikaze Shots At Home | Video
I have also uploaded a video to help you out with more details. Watch the video once. Still, if you have any doubt, feel free to leave your query in the comment section below. I will be glad to help you in any manner.
Also, if you have any suggestions for a recipe you like to learn, suggest me in the comment section and I will get back to you surely. For any query related to the recipe, you can write me up in the comment section below. I will try to get it sorted out. Enjoy your drink. Cheers!