How To Make Just Keeps Getting Better Lentil Salad At Home
Start off your Thanksgiving meal with a hearty, crunchy salad! Try the recipe for "Just keeps getting better lentil salad". Yes! You read it right. As the name suggests, the longer this salad sits, the tastier it gets(not more than 3 days). It has fresh kale leaves mixed with soft lentils and olive. It's rich in the flavor of crunchy almonds, zest lemon, and scallions. So, let's move on to the recipe for "Just keeps getting better lentil salad". 
Just keeps getting lentil salad is coated with flavored olive oil. You can avoid adding red pepper flakes to the salad if you don't want it to be spicy. Keep the nuts on the platter dry. The longer they sit, the crunchier they get. You can save some of the chopped scallions for garnishing the salad. Make sure you drain the lentils carefully to avoid any excess moisture in them. 
You need a few types of equipment to make just keeps getting better lentil salad. Read the list of equipment below, along with the ingredients list. Gather all of these in your kitchen and then we'll start with the recipe instructions. Try this recipe once and I'm sure you'll make it for every Thanksgiving meal. But before you read out the entire recipe, check out other appetizing salads from our blog.  
1. Sesame Caesar Salad-Sesame caesar salad is a traditional caesar salad tossed in Tahini Caesar dressing and sesame seeds. It has lettuce and kale leaves with chickpea croutons. The lettuce and kale add freshness to the salad and croutons add a delicious crunch to the salad.
2. Raw And Roasted Dinner Salad– Raw and roasted dinner salad has crispy red cabbage with roasted squash. This salad is seasoned with salt and pepper and is filled with the flavors of lemon juice, honey, salt, and Tahini dressing. It's a perfect salad for the fall.
3. Broccoli Caesar Salad– Broccoli caesar salad is s delicious salad filled with broccoli florets and cabbage. It's loaded with the flavors of salt, mustard, lemon juice, parmesan cheese, and chopped anchovies. This salad is finished with grated cheese and freshly ground black pepper.
4. Winter Vegetable Salad– Winter vegetable salad has roasted veggies tossed together with Dijon dressing. It's loaded with the flavors of Dijon mustard, salt, pepper, maple syrup, and apple cider. Lettuce, arugula, and spinach add more nutrients to the salad along with other veggies.
What Equipment Will You Need For Just Keeps Getting Better Lentil Salad?
Bowl- Use a bowl to mix all the ingredients of the salad. 
Skillet- You'll need a skillet to cook the almonds and other ingredients in olive oil. 
Spatula- To mix all the ingredients of the salad, you'll need a spatula. Also, use a spatula to stir the almond mixture in the skillet. 
Pot- Use a pot to boil the lentils for the salad. 
Paper towel- Leave the almond mixture on a paper towel-lined platter to let the mixture dry. This makes almonds crunchier.
Platter- Use a platter to rest the almond mixture. 
Sieve- Strain the almonds from the oil using a sieve. 
Knife- You can use any sharp kitchen knife to chop the veggies and almonds for the salad. 
How Much Time Do You Need To Make Just Keeps Getting Better Lentil Salad?
| Preparation Time | Cooking Time | Total Time |
| --- | --- | --- |
| 15 Minutes | 30 Minutes | 45 Minutes |
What Ingredients Will You Need For Just Keeps Getting Better Lentil Salad?
Kale- Use a large bunch or about 10 ounces of Tuscan Kale.
Almond- Use a half-cup of raw almonds to add a slightly sweet and nutty flavor to the salad. 
Scallions- Chop three scallion stalks to give an onion-like taste to the salad. 
Garlic cloves- Blanch four garlic to add a basic seasoning flavor to the salad. 
Lemon- Squeeze a lemon to give a citrusy taste to the salad. Also, give a zesty twist by cooking lemon zest with the almonds.
Olive oil- Use olive oil to cook the almonds, scallions, and other veggies. 
Lentils- For lentils, use black beluga or the French green lentils. 
Cumin seeds- Add cumin seeds to add aromatic flavors to the salad.
Pepper flakes- Add some heat to the salad by adding red pepper flakes. 
Feta- Feta is a Greek curd white cheese. It gives a slightly salty and tangy flavor to the salad.
Olives- Use Castelvetrano olives in the salad. These Sicilian green olives are famous for their bitter-sweet flavor and meaty texture. 
Kosher salt- Kosher salt will enhance the taste of the salad.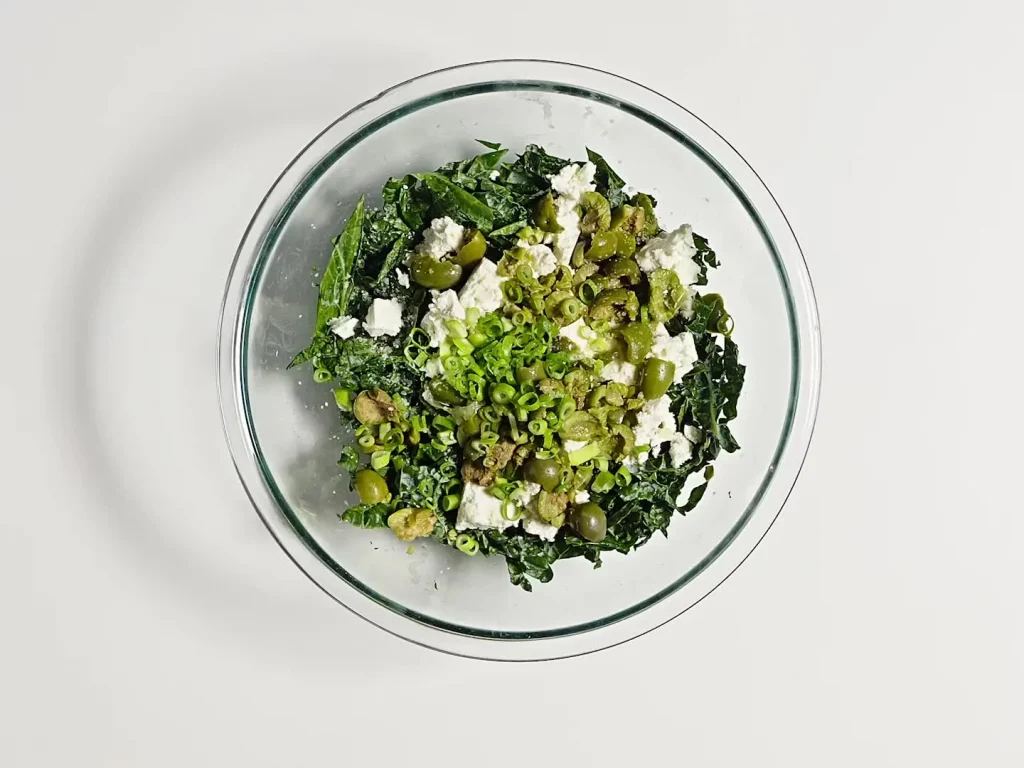 Steps To Make Just Keeps Getting Better Lentil Salad
1. Chop off the greens!
Take a large bunch of Tuscan kale and discard their stems or save these for later. Stack the leaves and roll the leaves. Chop thin ribbons of the kale and run the knife through them to have shorter strips for the salad. Season with salt and let them turn softer, silkier, and darker in color. 
2. Boil the lentils
Add lentils to a pot containing slightly salted water. Let it simmer over medium heat for about 20 to 25 minutes. Make sure they don't get too soft. Strain the lentils and keep them aside to cool for a few minutes. 
3. Cook the scallion mixture
Add chopped scallions, garlic cloves, lemon zest, olive oil to a skillet over medium heat. Stir them and when the oil gets flavored with the ingredients added in it, stir in the almonds. Cook them for about 3 minutes until the almonds are brown. Remove from the heat and add a tablespoon of cumin seeds and a half teaspoon of red pepper flakes. 
4. Combine all ingredients
Strain the almond mixture and spread it on a plate lined with a paper towel. Season it with salt and pepper. Crumble feta in a bowl containing kale. Drizzle flavored olive oil and sprinkle salt and almonds over it. Add lentils and olives and toss them to combine. Squeeze some lemon juice and mix it well with the salad.
Nutritional Information
| | |
| --- | --- |
| Calories | 3073 kcal |
| Carbohydrates | 221 g |
| Protein | 125 g |
| Fat | 201 g |
| Saturated Fat | 42 g |
| Polyunsaturated Fat | 24 g |
| Monounsaturated Fat | 124 g |
| Trans Fat | 1 g |
| Cholesterol | 126 mg |
| Sodium | 3848 mg |
| Potassium | 2465 mg |
| Fiber | 78 g |
| Sugar | 13 g |
| Vitamin A | 30222 IU |
| Vitamin C | 421 mg |
| Calcium | 1699 mg |
| Iron | 37 mg |
How Will Just Keeps Getting Better Lentil Salad Look and Taste?
Time to taste our delicious Thanksgiving salad! It looks colorful and is filled with tons of flavors. It has slightly seasoned kale mixed with soft lentils. The almonds give crunch to every bite while the oil drizzled over the salad is flavored with garlic, scallions, lemon zest, and cumin seeds. Try this salad recipe for Thanksgiving and be a winner at hosting the Thanksgiving dinner!
Recipe Card
Just Keeps Getting Better Lentil Salad Recipe
Just keeps getting better lentil salad is delicious and healthy combination of Fresh kale leaves and lentils flavored with lemon juice, cumin seeds, garlic, and olives. The red pepper flakes add more heat to the salad and the almonds give a delicious crunch to every bite.
Bowl

Skillet

Spatula

Pot

Paper Towel

Platter

Sieve

Knife
10

ounces

Tuscan Kale

1/2

cup

Raw Almonds

1.5

cups

Black Beluga or French Green Lentils

3

Scallions

1

cup

Castelvetrano Olives

5

ounces

Feta

4

Garlic Cloves

1

Lemon

1/2

cup

Olive Oil (extra virgin)

1

tablespoon

Cumin Seeds

1/2

teaspoons

Red Pepper Flakes (crushed)

Kosher Salt (to taste)
Slice thin short ribbons of Tuscan kale and season them with salt in a bowl. Slightly massage them until they're darker in color and are soft.

Set a large pot containing salted water over heat, bring it to boil and add lentils to it. Let it simmer for 20 to 25 minutes until they're soft. Drain them and set them aside to cool.

To a skillet over medium heat, add olive oil, chopped scallions, garlic cloves, and lemon zest. As the garlic starts to brown, lemon zest starts to curl, and scallions start to soften, add almonds and cook for about 3 minutes. Drain this almond and let the excess oil drain. Reserve this flavored oil in a bowl and spread the almond mixture on the platter lined with paper towel.

In a bowl containing kale leaves, crumble feta and add chopped olives and reserved scallions (chopped). Twist a lemon over it and sprinkle a pinch of kosher salt. Add lentils and almonds to the bowl. Drizzle flavored oil and toss them together to combine.
Did you try it? Tell me about your recipe in the comments below. Try your hands on other holiday recipes as well.