How To Make Irish White Pudding at Home
One day, one of my friends send me streak on Snapchat and what I saw in the caption was Irish White Pudding. I was curious to ask her about what is it? I asked her about the dish and she gave me the details People in Ireland, make white puddings which have a substantial proportion of pork or pork liver and pork fat.
After a long topic about the dish, I finally asked her about the Irish White Pudding recipe and she said she doesn't know about the recipe but she gives me her mother's phone number to ask about Irish White Pudding Recipe.
I called her mother and after some formality talk I asked her mother about the recipe and I come to know that her mother is from Ireland and she learned this recipe from her grandmother.
After aunt gave me the recipe, I made it at home and It was a delicious dish and a thought came into my mind to share the Irish White Pudding Recipe with my lovely food lovers. But here are some other amazing recipes that you should definitely try.
1. Haggis– Haggis is traditionally made with the sheep's stomach filled with its heart, liver and tongue. This recipe is filled with some healthy nutrients like iron, magnesium, selenium, calcium, zinc and copper.
2. Braised Sauerkraut– This is a German cuisine that anyone can easily make at their home within an hour. It is most popular in Poland and now you can have the authentic taste of Poland by just sitting at your home.
3. Spelt Pasta– This recipe is an old one and is usually made in most European and western countries. These Spelt Pasta noodles are made up of the spelled flour and some other ingredients such as eggs and olive oil which adds to its healthy nature.
4. Turkey Brine– This Turkey Brine recipe has a huge difference in taste and texture when compared to the other Turkey dishes. It is due to the fact that this dish is made from a process called Brining.
Ingredients For Irish White Pudding
| Ingredients | Amount |
| --- | --- |
| Pork Shoulder | 395 gms |
| Medium Oatmeal | 265 gms |
| Water | 250 gms |
| Onion | 30 gms |
| Potato Flour | 23 gms |
| Salt | 15 gms |
| Seasoning Mix | 18 gms |
| White Pepper | 5 gms |
| Ground Coriander | 5 gms |
| Ground Ginger | 5 gms |
| Powdered Sage | 5 gms |
| Mace | 3 gms |
| Nutmeg | 3 gms |
| Allspice | 2 gms |
How Much Time It Will Take?
| | | |
| --- | --- | --- |
| Preparation Time | Cooking Time | Total Time |
| 75 Mins | 45 Mins | 120 Mins |
Irish White Pudding Recipe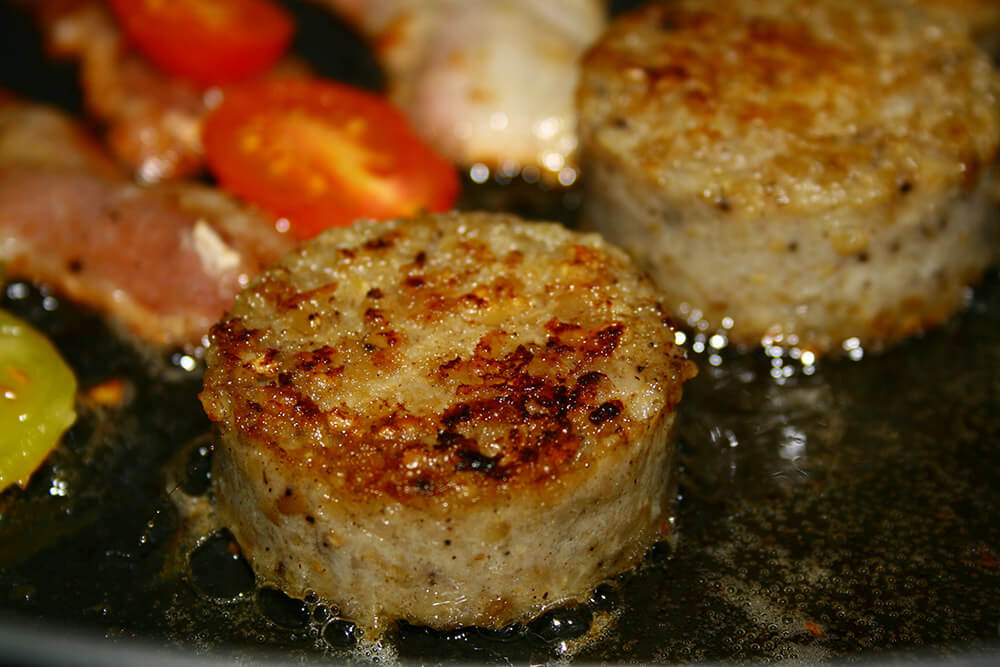 For 1-hour soak oatmeal in water. Meat and Onion grind them in a mincer and then add all the ingredients I have mentioned above and mix them properly.
Stuff the mixture into large pigs' casings and boil/steam at 75°C – 80°C for about 1 minute.
After the steaming process then cools in ice-water.
Before you serve or eat cut them in a crossway and fry until it will turn brown.
Nutritional Facts Of Irish White Pudding
| | |
| --- | --- |
| Calories | 249 |
| Protein | 7 g |
| Fats | 14 g |
| Carbohydrates | 21 g |