How to Make Instant Cup Ramen at Home
Note- This post may contain affiliate links, we earn from qualifying purchases made on our website. If you make a purchase through links from this website, we may get a small share of the sale from Amazon and other similar affiliate programs.
In today's world, time is the most valuable asset. Everyone is so busy in the day-to-day activities that they tend to skip basic things just to do their work. Skipping meals is one of that thing that has become very common nowadays.
Skipping meals can cause various health problems like it causes our metabolism to slow down or it also decreases your blood sugar level of a person. But in today's world, we need something to eat that takes a very little or no time to prepare.
I have thing in my mind that many have daily just to avoid skipping meals. Do you want to know what is it? I am talking about Instant Cup Ramen.
Most of you must have heard bout it and some of you haven't. So don't worry! Today, I will tell you the Instant Cup Ramen recipe. You can easily make this at home without spending a lot of time preparing it and hassling your day-to-day work.
So first, let's check the ingredients that are required to make this Instant Cup Ramen Noodles at Home. But here are some other amazing recipes that you should definitely try.
1. Stir-Fried Vegan Rice Noodles– Stir-fried vegan rice noodles are a really yummy and healthy option for a special dinner. The other name of this vegan recipe is fried rice vermicelli and Singapore noodles.
2. Cabbage and Noodles– This recipe is also known as Haluski, this recipe is a perfect way to use the leftover cabbage. It becomes a fantastic side dish with some fries.
3. Broccoli Pizza– We all are aware of Broccoli and the thing we know about broccoli is, it is very healthy and nutritious. But have you ever thought of Broccoli on a pizza?
4. Kohlrabi Noodles– Kohlrabi noodles are low-carb and flavorful noodles. The sweetness of this vegetable will make a great combination with other spices used in the recipe. It is a gluten-free recipe, so it is a perfect dish for the health-conscious people out there.
Ingredients for Instant Cup Ramen Noodles
| Ingredient | Amount |
| --- | --- |
| Cooked Ramen Noodles | 1 ½ cups  |
| Hard-Boiled Eggs | 3 |
| Baby Spinach (Chopped) | 1 ½ cups  |
| Shiitake Mushrooms (Sliced) | ¾ cup  |
| Carrot (Shredded) | ¾ cup |
| Ginger (Grated) | 1 ½ tsp |
| Chile-Garlic Sauce | 1 ½ tsp |
| White Miso | 1 ½ tsp |
| Reduced-Sodium Vegetable Bouillon Paste | 1 ½ tsp |
| Scallions (Sliced) | 3 tbsp |
| Sesame Seeds | ¾ tsp |
| Hot Water | 3 cups |
You can get all these ingredients from any supermarket near your home. As I've mentioned above that these Instant Cup Ramen takes a very less time to prepare. So let's check out how much time does it actually take.
How Much Time Does It Take?
| | |
| --- | --- |
| Preparation Time | Total Time |
| 10 Minutes | 10 Minutes |
Now is the part of what we are all waiting for. Yes, I am talking about the Instant Cup Ramen recipe. So without waiting more, let's check it out.
Instant Cup Ramen Recipe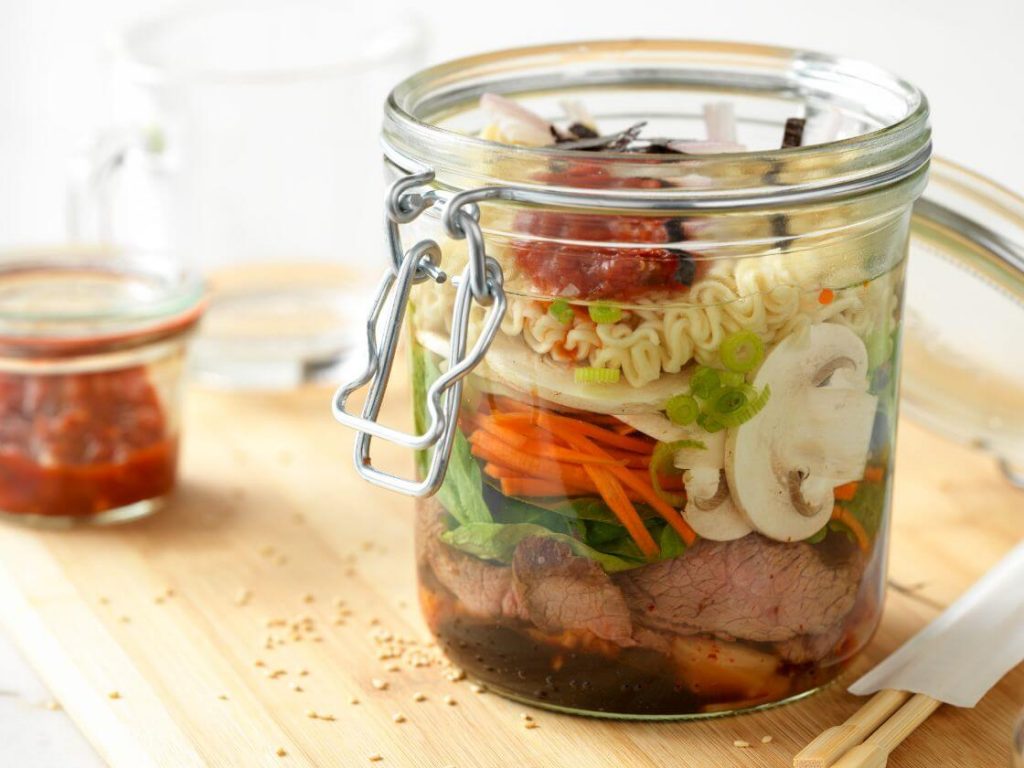 Preparation of Instant Cup Ramen Jar
Put 1/2 tsp Ginger, 1/2 tsp Chili-Garlic Sauce 1/2 tbsp Bouillon Paste, and 1/2 tsp Miso in small jars.
Upon this, put 1/2 cup Spinach, 1/4 cup Mushrooms, 1/4 cup Carrot, 1/2 cup Noodles and 2 Egg halves in each jar.
Seal the jars and refrigerate for around 3 days.
Making of Instant Cup Ramen Noodles
To make the Instant Cup Ramen, add 1 cup Hot Water to each jar.
Now properly mix everything by closing the jar and shaking it.
Open the jar and Stir before eating.
Your Instant Cup Ramen Noodles are ready. It is so easy to prepare that you can have it as your go-to-go food.
Nutritional Breakdown of Instant Cup Ramen
Many of you must be thinking right now that are these Cup Ramen Noodles healthy for us. Well, don't worry! For that concern, I've added a nutritional breakdown of the Instant Cup Ramen below.
| | |
| --- | --- |
| Calories | 366 |
| Fat | 7.4 g |
| Sodium | 866 mg |
| Carbohydrates | 63 g |
| Sugar | 2 g |
| Fiber | 11.5 g |
| Protein | 15.7 g |
How to Make Instant Cup Ramen at Home | Video
I truly believe that it is easier for a person to learn something while watching it live. So that's why I've added a video of the recipe of Instant Cup Ramen, so it'll be easier for you to make it at home.
I hope you've liked this recipe of Instant Cup Ramen Noodles. I highly recommend you to try this, rather than skipping a meal. If you have any other recipes like this, do tell us in the comments section below.