How To Make Humboldt Fog Brulee At Home
Here is a very delicious cheese dish that I am going to share with you all. This cheese treat is made with goat milk cheese and its name is humboldt fog brulee
Humboldt is basically aged goal milk cheese. This cheese was originated in California. I was watching this cooking show on the BBC and then I came to know about this kind of dish. I wrote down the whole recipe and tried it and it came to be very amazing.
To make Humboldt Fog Brulee at your home, you just need to cut the humboldt cheese and sprinkle layers of sugar on it and heat it to make it crunchy. Serve it with bread and sweet jam. You can also use fruit to top this yummy sweet dish.
With only Humboldt Fog and Turbinado sugar and some fruits, you can make this delicious recipe at home. More detailed steps to this delicious cheese recipe are mentioned below with the proper ingredients and time duration. Also, there are other recipes that you can have as starters, let's check them out.
1. Patatas Bravas– Patatas bravas is a great option to try if you are going for a Spanish cuisine. The original recipe consisted of bite-sized, irregular chunks of fried potatoes dressed with a spicy sauce consisting of a lot of tomatoes and served hot.
2. Cheesy Spinach Corn Sandwich– Spinach Corn Sandwich is a toasted/grilled sandwich recipe prepared with a creamy and cheesy filling made of spinach, sweet corn, flour, milk, and cheese. It is also flavored with garlic, pepper, Italian herbs, and red chili flakes.
3. Microwave Popcorn– Popcorn, quite famous with everyone especially movie-goers, is notorious for being exorbitantly costly. Yet, a movie is incomplete without having popcorn in your hands. If you can have homemade microwave popcorn, what would you do?
4. Oyster Roast– Oyster Roast is the perfect recipe for your evening snacks and for sudden friend's get together. I know that most of the oyster recipes take many efforts of yours but this oyster roast recipe is easy to make and will not take much of your efforts.
Ingredients For Humboldt Fog Brulee
1/2lb Humboldt Fog
1tbsp Turbinado sugar
Yes, you just need two ingredients to make this amazing cheese at your home. Now let's proceed with the time you need to invest in making this dish.
How Much Time It Will Take To Make Humboldt Fog Brulee?
| Preparation Time | Cooking Time | Total Time |
| --- | --- | --- |
| 5 minutes | 15 minutes | 20 minutes |
Now heading to the detailed steps of this yummy cheese recipe.
Steps to Make Humboldt Fog Brulee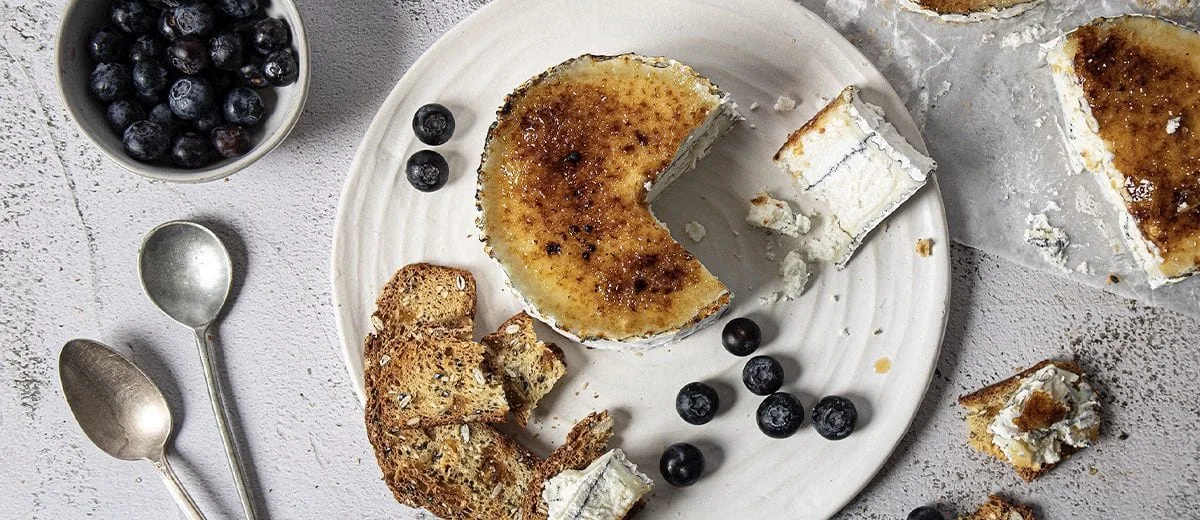 On the cut side of cheese, sprinkle the layer of sugar.
Now, heat the sugar until it turns golden brown with a crunchy crust.
You can toss it with veggies or any sugar syrup.
Your Humboldt Fog Brulee is ready now. You can just make this cheese treat for your next party.
Nutritional Breakdown of Humboldt Fog Brulee
Here is the nutritional breakdown of this cheese recipe.
| | |
| --- | --- |
| Fat | 7g |
| Carbohydrates | 3g |
| Fiber | 0g |
| Sugar | 0 |
| Sodium | 100mg |
| Protein | 6g |
How To Make Humboldt Fog Brulee At Home | Video
I have added this video to make this recipe process easy for you. If you find it confusing, then watch this video and make your dish at home easily.
Try this recipe and tell us about your experience in the comment section. If you have any queries related to the recipe, then do ask in the comment section. Also, don't forget to give your valuable feedback!