How To Make Hot Pepper Infused Vodka At Home
What is best way to celebrate any occasion or moment? Many people will say that they would like to have a glass of any drink in their hand and enjoy that moment of their life. Well sounds interesting. Drinks have an extraordinary place in our lives and will always remain the best companion of any party or gathering.
And why is this necessary to have a drink only when you are celebrating or having any special occasion? Why not have a special drink that you have made at home and sip it whenever you want?
Having dinner with your loved ones and taking a sip of this refreshing and exclusive drink that you have made using some exceptional ingredients. How does it sound? And to fulfill this fantasy of yours today, I will share a very special recipe for a drink called the Pepper Vodka. This is a personalized drink that you can enjoy whenever you want.
Want to spice up things a little bit more? How about adding some Scotch bonnet peppers. Don't have 'em? Here is a list of substitutes for Scotch bonnet pepper.
So, let's make this drink at home quickly and enjoy its great taste. Here are the ingredients in the table below. But there are many other drink recipes that we've covered in our blog. You should definitely check them as well.
1. Kamikaze Shots– Kamikaze shots are sweet with a punch of tartness and the name of this drink is inspired by the Kamikaze pilots of WW II. It is my most favourite shot to start a party with.
2. Bourbon and Ginger Ale– This spicy Bourbon Ginger Ale Cocktail is the best way to warm up on a wintry night. With lime juice, ginger ale and candied ginger, it's got enough sweetness, tartness and spiciness to send your winter blues away. 
3. Oatmeal Cookie Shots– This shot is so easy to make, just give it a quick shake and you are done. Most people don't know about this drink but trust me, after trying these Oatmeal Cookie shots, you will fall in love with it.
4. Oatmeal Stout– There is something about winter that demands warmth and comfort, hearty flavours and earthiness. It is the perfect season for brewing a nice dark oatmeal stout. 
Ingredients for Hot Pepper Infused Vodka
| Ingredients | Amount |
| --- | --- |
| Jalapeno | 1/4 cup |
| Calabrian pepper | 1/2 cup |
| Whole black peppercorns | 10-15 PC |
| Garlic clove | 1 large |
| Vodka | 1 1/2 cup |
So the ingredients are done and you can get them from any supermarket store near you.
This recipe will take the time to give its best taste. The more time you store it, the more better will be its taste. Have a look at the time frame.
How Much Time It Will Take?
| | | |
| --- | --- | --- |
| Preparation Time | Preserving Time | Total Time |
| 5 minutes | 2-7 days | 2 days 5 minutes |
Now comes the most awaited part of this recipe, where everyone is eagerly waiting to know about it. So, your wait is finally over and now you can follow these steps to enjoy the best drink at home.
Hot Pepper Infused Vodka Recipe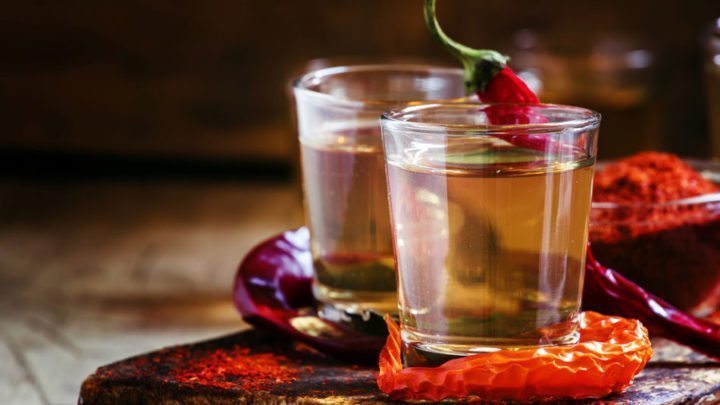 First, take some jalapenos and slice them into four parts. Remove their seeds and membranes so that you are left with its green part only.
Cut the Calabrian pepper into thin strips; they should not be thicker in size.
Now slice the garlic into tiny pieces and put them into the bottle.
After this, add all the ingredients into the bottle, which has a seal on its top, and seal it tightly for 2-5 days.
Taste it and enjoy the extraordinary blend of flavors together.
Serve it with some ice cubes and make great memories with your loved ones.
Nutritional Breakdown of Hot Pepper Infused Vodka
The Nutrition of this drink is also essential for your reference. Here is the complete nutritional background of this drink below.
| | |
| --- | --- |
| Calories | 97 |
| Protein | 0 gm |
| Sugar | 0 gm |
| Fiber | 0 gm |
How to Make Hot Pepper Infused Vodka at Home | Video
This drink is very easy to make. But still, if you need any assistance, then I've added a video below.
I hope you will like this recipe and make sure to tell us the taste of this drink. We will love to add your suggestions and ideas (if any) to this recipe and please share the story and experiences you had while making this drink at home in the comments box below. Good luck and have a great time.