How to make Hot Dog Soup at Home
As we all know that Soup is good for health and is full of various health benefits. The recipe of Soup that we are going to discuss today is perfect for cold winter days. It is easy to make and full of healthy veggies.
Yes! I am talking about Hot Dog Soup Recipe. I know most of you have already heard about this recipe many times and some of you might be unaware of this recipe.
When I used to be a child, I love experimenting with new things and always have a habit of learning things. One day, my mother was in the kitchen and she was preparing for the recipe of soup. I went inside the kitchen and watched her while making this recipe for Hot Dog Soup. From there, I learned this recipe and tried it many times until I achieved perfection.
Today, I thought to share the Hot Dog Soup Recipe with my food lovers over here. Also, there are other recipes that you can have as starters, let's check them out.
1. Mulligatawny Soup– The word mulligatawny in Tamil means chili, pepper and water. This together makes it a recipe which we commonly know as soup.
2. Cowboy Soup– This cowboy soup is very healthy as well as very yummy! Beef is the main ingredient and as you all know that beef is rich in protein, leading to the growth of muscles and supporting mass muscle growth.
3. Broccoli Beer Cheese Soup– This recipe has beer is added to the soup just to give it a bit earthy flavor and make it even tastier. Try it once; you won't regret it at all.
4. African Peanut Soup– A soup made of peanut butter, tomato paste and kale, I know it sounds unusual but it is really delicious. The African peanut soup is a delicious vegetarian delight. You can drink it as a soup or take it with cooked rice. It is amazing both ways.
Ingredients for Hot Dog Soup
| | |
| --- | --- |
| Ingredients | Amount |
| Onion (chopped) | 1 |
| Margarine | 2 tbsp |
| Potatoes (medium) | 3 |
| Tomato Sauce | 8 ounce (1 can) |
| Chicken broth | 1 Can |
| Frozen green beans | 1 package (9 ounce) |
| Beef Frankfurters | 1 package (16 ounce) |
Now, you have the list of ingredients with you which we are going to use in this Hot Dog Soup. Let's see how much time it will take to make this recipe.
How Much Time It Will Take?
| | | | |
| --- | --- | --- | --- |
| Prep time | Cook time | Total time | Servings |
| 15 minutes | 45 minutes | 1 hour | 6 |
Now the wait is finally over! Let's move towards the final destination of this recipe that is the procedure of making this Hot Dog Soup.
Hot Dog Soup Recipe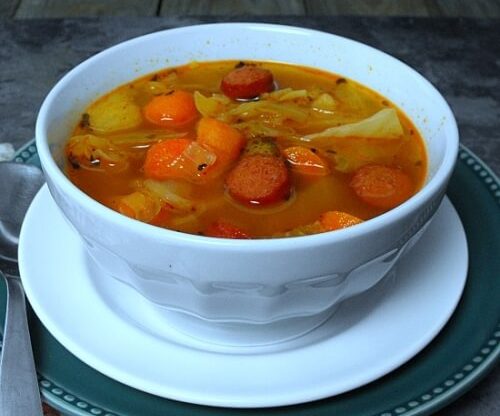 Take a pan and add onion and margarine in the pan. Cook it on medium flame until the onion is soft.
Add potatoes and water in the pan and boil it.
After that, add tomato sauce, frankfurters, green beans, and chicken broth in the pan.
Cook it continuously for 30 minutes and then turn off the flame.
Now, your Hot Dog Soup is ready to serve. You can serve it accordingly in the bowls during a cold winter day and I bet everyone will like it.
Nutritional Facts of Hot Dog Soup Recipe
Before coming to the end, I have mentioned the nutrients present in the Hot Dog Soup that will be helpful for you all.
| | |
| --- | --- |
| Calories | 394.2 |
| Protein | 12.1 g |
| Carbohydrates | 28.4 g |
| Fat | 25.9 g |
| Cholesterol | 41.1 mg |
| Calcium | 44.4 mg |
| Iron | 2.8 mg |
| Magnesium | 42.9 mg |
| Potassium | 717 mg |
| Sodium | 1385.3 mg |
How to make Hot Dog Soup at Home | Video
Before you start making this recipe, I recommend you all to watch the video that I have added below which will definitely help you.
I hope each and everything is clear to you. So, what are you waiting for? Try this recipe at your home and do share your experience with us in the comments section below. Till then, stay tuned for more recipes like these.