How to Make Hot Chocolate Bomb at Home
Winters are here and it is the season most of you love. I love winters the most. Winters call for cozy sleep, snuggling up with hot beverages. With hot beverage, a picture comes to my mind of a coffee cup and guess what else I think of; well, some of you have guessed it right, a hot chocolate!
Hot chocolate is a warm cozy drink that can make up your day without a doubt. It is also known as drinking chocolate made with milk and chocolate. One of my reasons to love winters is I get to indulge in a cup of hot chocolate. I love hot chocolate and who does not. From kids to adults, all fall on the hot chocolate lovers list.
We get good hot chocolate mixes in the market to satisfy our cravings for it. But do you know there is something unique in the market nowadays, that is a hot chocolate bomb? It is not a ball of chocolate to eat but a unique way to prepare hot chocolate with the ball.
Hot chocolate bombs are made of hollow chocolate spheres. These can be filled with a hot chocolate mix or cocoa powder or miniature marshmallows and peppermints for innovation. These also make a good thing to gift this festive season.
Instant hot chocolate will be ready when you pour hot milk over these balls in a cup. You don't need to add anything more to this. But before we jump onto the recipe, let's check out some other desserts that you might like.
1. English Toffee– This homemade English toffee is a crunchy, caramel toffee with dark chocolate and toasted nuts. It's so easy to make at your home and you can keep it for weeks after making it.
2. Coffee Fudge– This rich chocolate fudge is ridiculously easy, using condensed milk, chocolate chips, and instant coffee. It uses only a few ingredients and takes only a few minutes to prepare.
3. Chocolate Tuile– These curved-shaped thin chocolate cookies can be a great element with ice cream at your next party. But these traditional French cookies are brittle and can easily break.
4. No-Bake Chocolate Marquise– For the ultimate chocolate lover in you, this easy to make and yummy in taste no-bake chocolate marquise is a must-have for you.
Ingredients for Hot Chocolate Bomb
| Ingredients | Amount |
| --- | --- |
| Semi-Sweet Chocolate Chips | 2 ½ cups |
| Heavy Whipping Cream | 1 cup |
| White Sugar | 1 tablespoon |
| Vanilla Extract | 1 teaspoon |
| Salt | ¼ teaspoon |
| Cocoa Powder | 2 tablespoons |
Homemade hot chocolate is something you will never get bored of. To make it more instant, these hot chocolate bombs will help you prepare a cup of hot chocolate in minutes. The ingredients required are readily available everywhere in every supermarket. Look at the time taken to prepare this recipe.
How Much Time Will It Take?
| Preparation Time | Cooking Time | Additional Time | Total Time |
| --- | --- | --- | --- |
| 10 minutes | 5 minutes | 10 hours | 10 hours 15 minutes |
It is easy to make these bombs. The time consuming process involved is the freezing time of the chocolate spheres.
Hot Chocolate Bomb Recipe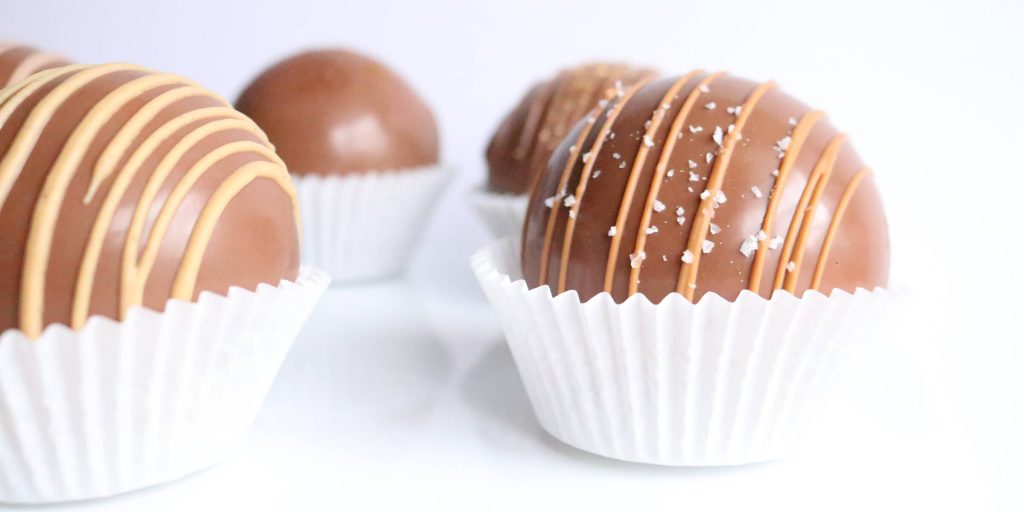 In a microwave-safe dish, put chocolate chips, cream and sugar and microwave it for 1 minute. Microwave it for 30 seconds till the chips get melted with intervals and in between stirring. 
Once the chocolate chips are melted, mix vanilla extract and salt and stir till they combine well. Refrigerate this for atleast 2 hours.
Scoop out balls on a baking sheet and freeze it till it becomes solid. It may take 8 hours.
Shape them into balls and roll these balls in cocoa powder. Store the balls in a freezer-safe container till use.
Note– While making balls of chocolate, wear gloves dusted with cocoa powder.
Nutritional Breakdown of Hot Chocolate Bomb
| | |
| --- | --- |
| Calories | 209 |
| Protein | 1.8g |
| Carbohydrates | 20.8g |
| Fat | 15.44g |
| Cholesterol | 23.3mg |
| Sodium | 51.5mg |
How to Make Hot Chocolate Bomb at Home | Video
Ready to make the hot chocolate bombs? You must be eager now. So do not worry I have also uploaded a step by step video for the recipe. Watch the video for more clarity.
A small request to share your reviews in the comment section below. I hope you like the recipe and share it with your family and friends too. For any query related to this recipe, ask the question in the comment section and I will be happy to help you. Enjoy your cup of hot chocolate.