How To Make Homemade Pizza Crust At Home
Homemade pizza crust is really delicious. It is fresh and becomes crunchy when baked. You can add the toppings of your choice to it and bake your favorite pizza.
One day, I was craving pizza at midnight. All the pizza stores were closed at that time. So, I decided to take the matter into my own hands and make it all by myself. I ended up making the whole pizza. It was one of the best pizzas I ever had. The crust was the best thing about it.
To make homemade pizza dough, add flour, yeast, sugar, salt, oil, and water to the bowl. Mix it and knead it until it is shiny and smooth. Cover the bowl with plastic wrap and let it rise. Then, knead it and form small dough balls. Roll a dough ball into a 12-inch circle. Fold its sides and poke with a fork. Prebake it for 5 minutes. Then, add toppings of your choice and bake. 
This was just an overview of the recipe. Find the complete recipe below. But before going to the full recipe, do check out other bread recipes as well.
1. Ciabatta Rolls– Ciabatta rolls were originally made in Adria, Italy, in the year 1982 by a baker. I love the texture of this bread. It is the perfect bread for making sandwiches and burgers.
2. Pumpernickel Bread– Pumpernickel Bread is made with a high proportion of rye flour and wheat flour. It differs from rye bread as Rye bread is made with rye flour with the addition of different grains in it.
3. Corn Pone– Corn pone is made without milk and eggs. It can be baked or fried. The ingredients are simple and easily available. It is easy to make corn pones at home and it takes less than an hour to make them.
4. Rosca de Reyes– Rosca means 'wreath' and Reyes means 'king.' So, Rosca de Reyes means 'King's Wreath' when translated. That is why the bread is shaped like a wreath.
Ingredients for Homemade Pizza Crust Recipe
| | |
| --- | --- |
| Ingredients | Quantity |
| Wheat Flour | 6 cup |
| Yeast | 6 teaspoons |
| Sugar | 3 teaspoons |
| Lukewarm Water | ¾ cup |
| Olive oil | 3 teaspoons |
| Salt | 1 teaspoon |
| Plastic Sheet | Enough to cover dough balls completely |
How Much Time it Will Take?
| | | |
| --- | --- | --- |
| Preparation Time | Cooking Time | Total Time |
| 15 Minutes | 15 Minutes | 30 Minutes |
Homemade Pizza Crust Recipe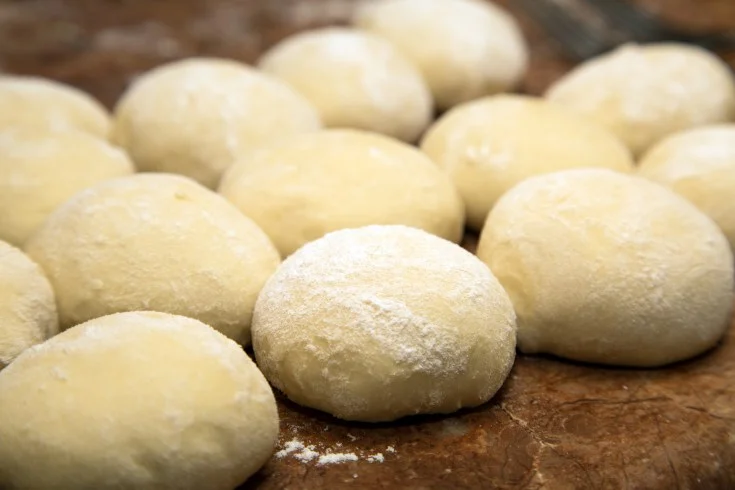 In a bowl, add flour, yeast, sugar, salt, oil, and water and mix it well.
Knead it until the dough becomes shiny and a little bit sticky.
Drizzle some olive oil on the inside of another bowl.
Now make small balls from the dough and put them in the bowl.
Cover the bowl with a plastic sheet. Place the bowl in a warm place until the dough rises.
After that, put the dough balls on a floured surface. Using your hand or a roller, roll a dough ball into a 12-inch circle.
Place the pizza dough circles on a parchment paper-lined pizza pan. Fold the sides of the dough inwards.
Brush the top of the pizza dough with olive oil. Poke holes in the dough using a fork to avoid bubbling.
Add your desired pizza toppings like mozzarella cheese, basil, and different vegetables to it.
Bake it in the oven at 250oC for 15 minutes until the cheese melts and the crust turns golden brown. Your homemade pizza is ready!
Nutritional Information of Homemade Pizza Crust Recipe
| | |
| --- | --- |
| Calories | 110 |
| Total Fat | 1 g |
| Cholesterol | 5 mg |
| Sodium | 280 mg |
| Carbohydrates | 9 g |
| Protein | 16 g |
How to Make Homemade Pizza Crust Recipe | Video