How To Make Hobo Beans At Home
Note- This post may contain affiliate links, we earn from qualifying purchases made on our website. If you make a purchase through links from this website, we may get a small share of the sale from Amazon and other similar affiliate programs.
Hobo beans are a delicious mixture of different types of beans cooked with ground beef and bacon in a thick delicious sauce. The best part is that you can make these beans recipes right in your kitchen. Want to know how? Follow the fuss-free knockoff recipe of Hobo beans with us.
Hobo beans is a delicious recipe with different types of beans. it is a rich source of proteins as it has meat, bacon, and a variety of beans. It also uses condiments to make a sweet and spicy sauce. They are cooked slowly so they have rich flavors.
To make Hobo beans, cook ground beef, onions, and bacon in a skillet. Then, add the cooked hamburgers, bacon, onions, baked beans, pork, kidney beans, and lima beans to a slow cooker. Also, add mustard, ketchup, and brown sugar to it. Cook them for 3 hours. Take it out and serve.
This is just a snippet of the recipe. Find the complete recipe below. There are other main course recipes on our blog as well that you should also check.
1. Small Red Beans and Rice– Tender red beans and spicy Andouille sausage are cooked into a full-bodied dish that's heavy on aromatics and authentic flavor. It's that classic Southern comfort food, Louisiana Red Beans, and Rice.
2. Kabocha Squash– Kabocha squash is a Japanese version of squash that is quite heavy and dark in size and color. The recipe is short and can be made within a few minutes.
3. Soy Burger– A great burger is the birthright of every American. These burgers made with soybeans are the best veggie burgers I've ever had.
4. Black Chickpea– This recipe is perfect for vegetarians who want to add some protein to their diet. The black chickpea serves this purpose perfectly. They contain a lot of protein and fiber and are a complete meal itself.
What Equipment Will You Need To Make Hobo Beans?
Skillet – Cook the Hobo beans in a skillet.
Ladle – Stir in all the spices with a ladle.
How Much Time Will You Need To Make Hobo Beans?
| Preparation Time | Cooking Time | Total Time |
| --- | --- | --- |
| 10 Minutes | 20 Minutes | 30 Minutes |
What Ingredients Will You Need To Make Hobo Beans?
Ground Beef – Add half a pound of ground beef for making Hobo beans.
Bacon – Half a pound of bacon is well paired with beans and other elements.
Beef Stock – Simmer the Hobo beans using beef stock.
Baked Beans With Pork – You can buy a small packet of baked beans with pork.
Kidney Beans – Kidney beans are well paired with making Hobo beans.
Lima Beans – Take some lime beans for the velvety and buttery texture of Hobo beans.
Onions – Saute onions and add them to the beans for a savory blend.
Ketchup – For adding a tang, add a teaspoon of ketchup.
Brown Sugar – A teaspoon of brown sugar will balance the spicy flavors in making Hobo beans.
Mustard Sauce – Add a teaspoon of mustard sauce for making Hobo beans.
Salt – Add salt to your taste.
Cayenne Pepper – Spice the beans with a teaspoon of cayenne pepper.
Black Pepper – Season the beans with a teaspoon of black pepper.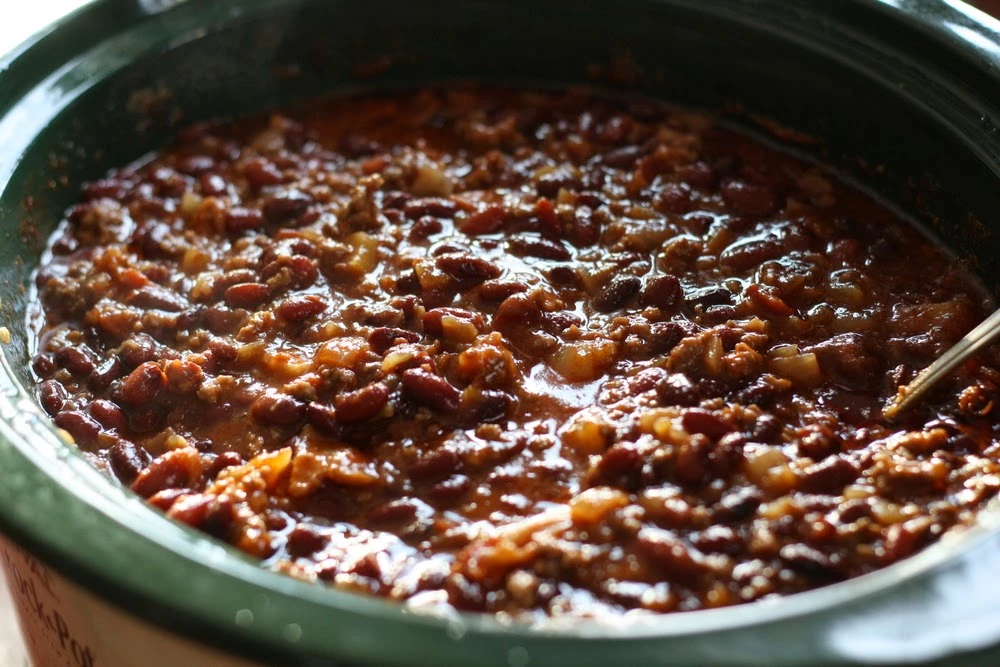 Steps To Make Hobo Beans
1. Sauteeing
Cook the ground beef and saute onions until the color of the beef and onions are changed. Then, add bacon, baked beans with pork. Cook for 15 minutes. When you see the bubbles, add soaked kidney beans, lima beans, mustard sauce, ketchup, cayenne pepper, and a teaspoon of sugar.
2. Simmer
For adding the liquid content, put half a cup of beef stock and simmer for 30 minutes. Cook until the gravy is reduced to half and the bubbles are formed. Turn off the flame and remove the skillet when the beans are cooked. Serve warm with rice or burger buns.
Nutritional Information
| | |
| --- | --- |
| Calories | 471 kcal |
| Carbohydrates | 67.7 g |
| Protein | 24.8 g |
| Fat | 12.6 g |
| Sodium | 1216.7 mg |
| Saturated Fat | 1 g |
| Cholesterol | 52.6 g |
How Will Hobo Beans Look And Taste Like?
Fan-favorite Hobo beans look appetizing and taste delicious. The beans are cooked well with rich spices and ground beef. The flavors of bacon with beans and beef are well carried out. Making the Hobo beans right in your kitchen will result in meaty bites spiced up with salt and pepper.
Recipe Card
Hobo Beans Recipe
Hobo beans is a great and nutritious dish made with different kinds of beans cooked with meat and spices. It is quite easy to make Hobo beans at home. All you need is ground beef, kidney beans, lime beans, bacon, and some rich spices.
In a large skillet heat, cook ground beef, onions, and bacon for 10 minutes until it turns brown.

Add the cooked hamburger and bacon, onions, baked beans, pork, kidney beans, lima beans, mustard, ketchup, and brown sugar in a slow cooker.

Turn on the cooker and let them cook for 3 hours.
Frequently Asked Questions (FAQs)
How long do beans take on the hob?
Warm beans take 10-15 minutes to cook on the hob.
How do you soften beans for cooking?
To soften the beans, add a teaspoon of baking soda. It will help to speed up the disintegration of pectin, which will further soften the beans.
Which beans have the most protein?
Edamame, which is also the boiled soybeans has the protein in large quantities.
What are the most popular beans?
The most popular beans are kidney beans, pinto beans, chickpeas, and soybeans.
Get your hands on Hobo beans to make them right in your comfort kitchen. Share your experience with us in the comment section below.