How To Make Guyanese Beef Patties At Home
Note- This post may contain affiliate links, we earn from qualifying purchases made on our website. If you make a purchase through links from this website, we may get a small share of the sale from Amazon and other similar affiliate programs.
Baking patties at home is so delightful and so is the recipe that I will be sharing. The recipe I am sharing is Guyanese beef patties.
Beef patties are like hand pies with juicy and tender minced beef inside and a flaky pastry on the outside. This recipe has a perfect ratio of crust and filling. These are so delicious and satisfying that you will not be able to get over them. It surely is picnic food.
To make Guyanese beef patties, cook onions, garlic, meat, diced pepper, thyme, black pepper and salt. Add water and as it becomes tender, add scallions. For the pastry, make soft dough with flour, butter, shortening and ice-cold water. Make a disc of it and wrap it in the fridge. Roll out the dough to make a 4-inch circle, stuff each circle and baste edges with egg wash.
You will get a more detailed version of the recipe below. Let's see how to prepare these patties in your kitchen. Take a look at the ingredients first, followed by other necessary steps you need to follow to prepare this recipe. Also, there are other recipes that you can have as starters, let's check them out.
1. Tuna Croquettes– The recipe is very delicious and can be made very quickly. The best part is it takes very little in time to get prepared.
2. French Fries– French fries, or simply fries, chips, finger chips, hot chips or French-fried potatoes, are deep-fried potatoes, which have been cut into batons.
3. Aloo Tikki– An Aloo Tikki recipe that is crispy, crusty and so good. In Hindi language, aloo are potatoes and tikki are patties. So these are potato patties made the Indian way – spiced, herby and delicious.
4. Mirchi Pakoda– Mirch Pakoda or Mirchi Bhajiya are deep-fried fritters made with a bigger sized variety of green chillies, gram flour, herbs and spices.
Ingredients For Guyanese Beef Patties
1 lb Ground Beef
2 tsp Canola Oil
2 Garlic Cloves (finely chopped)
1 Small Onion, Chopped
1 tbsp Thyme (chopped)
1 tbsp Hot Pepper (finely chopped)
3 Scallion, (chopped)
1 tsp Black Pepper
Salt To Taste
1 Egg Yolk
1 tsp Water
2/3 cup Cold Butter (cut into pieces)
2/3 cup Shortening
4 cups All Purpose Flour
3/4 cup Water
The ingredients required to prepare this dish are easy to find. Make a note of them and check in your pantry first before you head out. You might find most of them stocked up there. If not, then do not worry as you can find them at any supermarket. 
How Much Time Will It Take To Make Guyanese Beef Patties?
| Preparation Time | Cooking time | Total time |
| --- | --- | --- |
| 40  Minutes | 20 Minutes | 1 Hour |
These buttery crust patties will be ready in an hour to treat you. It may seem a bit difficult to you but actually it is not. You will be able to know from the steps you need to follow to make these patties.
Steps To Make Guyanese Beef Patties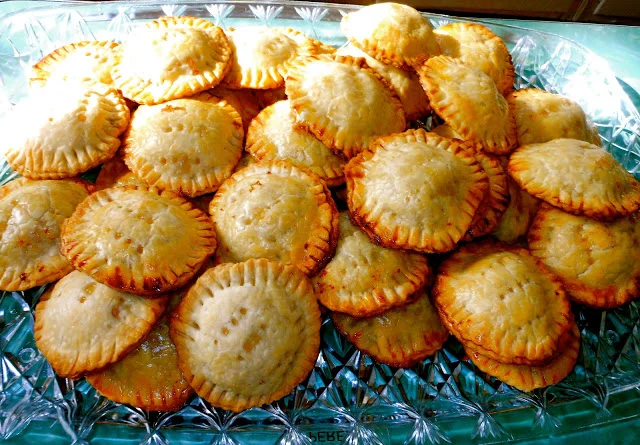 Take a pot and heat 2 teaspoons of canola oil in it over medium flame. Saute onions and garlic in it till they get tender. Add meat, diced pepper, black pepper, salt and thyme to it.
Cook for 5 minutes with constant stirring so that meat does not clump. Pour ¼ cup water into this and cook for 20 minutes till meat becomes tender.
Add scallions and cook them for 2 minutes. Remove the pot from heat and let it cool.
For making pastry, add flour, butter and shortening in a large bowl. Rub the butter and shortening in the flour so that it looks like coarse crumbs. Pour ice-cold water and make a soft dough from this mixture. Make a disc of this dough and wrap it in a cling wrap. Place this in the fridge for 30 minutes.
Roll the dough on a floured surface and cut it into 4 inch circles to make patties. Place the circle in a tartlet pan so that dough comes up from the sides. Fill it with a beef mixture but do not over stuff.
Whisk egg yolk and water in a small bowl. Brush the edges of the pastry with this mixture and cover it with another 4 inch circle and press the edges together with a fork. 
Brush the top with the egg wash and prick it with a fork. Bake it at 375 degrees for 20 minutes or till it gets golden brown.
Cool it for a few minutes before removing it from the tartlet pan. 
Serve.
Nutritional Breakdown of Guyanese Beef Patties
Check out the nutrition of this recipe.
| | |
| --- | --- |
| Calories | 400 |
| Protein | 12.1g |
| Carbohydrates | 48g |
| Fat | 18g |
| Cholesterol | 15mg |
| Sodium | 650mg |
How To Make Guyanese Beef Patties At Home | Video
In order to help you out, I have uploaded a similar video of this recipe. Watch the video to know every detail.
Your suggestions and questions regarding the recipe are what I will be looking forward to always. So without any hesitation, you can ask me in the comment section regarding the same. For now, sit back and enjoy your food. Bon Appetite!