How to Make Gujrati Mattar Ghugra at Home
Now, this is what we are made for people, we get you famous foods from all parts of the world so you enjoy the food from everywhere and know all traditions. This one's a street-side snack which can make your festivals lively.
On Diwali, we were invited by my father's friend who is a typical Gujarati. They made a variety of food in there home for guests, but there is one thing that I never had was Ghugra and it was the first time I ate that dish and I found it very delicious. I went to my aunt and I washed her about the Gujrati Mattar Ghugra recipe which I will share with my lovely people today.
Let's see the journey of Gujrati Matar Ghugra. Also, there are other recipes that you can have as starters, let's check them out.
1. Garlic Chips– An easy, no-fuss tutorial on how to make crispy garlic chips at home, and ways to incorporate them into your cooking repertoire. 
2. Vegetable Uttapam– Vegetable Uttapa, also Uttapam, is a crisp and spongy breakfast south Indian delight. The recipe for Uttapam is both easy to cook and healthy. The recipe is nutritious and seasoned with healthy vegetables.
3. Maggi Pizza with Egg– Maggi pizza with egg is basically a delight held together with an egg to serve your taste buds just a step- above amazingness and respite.
4. Quaker Oatmeal Raisin Cookies without Brown Sugar– These Quaker Oatmeal Raisin Cookies without Brown Sugar are soft in texture and chewy because of its ingredient raisins. Excess of raisins would also make them delicious to the cores.
Ingredients for Gujrati Mattar Ghugra Recipe
| | |
| --- | --- |
| Ingredients | Amount |
| Wheat flour | 1 cup |
| Pure ghee | 2 tbsp |
| Water | Enough to knead the dough |
| Oil | 4 cup |
| Cumin seeds | ½ tsp |
| Mustard seeds | ¼ tsp |
| Leaf cody | 10-12 leaves |
| Boiled and slightly mashed peas | 2 cups |
| Red chilli powder | ¼ tsp |
| Salt | 1 tsp |
| Ginger and green chilli paste | 2 tsp |
| Pudina chutney | To serve with |
How much time it will Take?
| | | |
| --- | --- | --- |
| Preparation Time | Cooking Time | Total Time |
| 10 MINS | 30 MINS | 40 MINS |
Gujrati Mattar Ghugra Recipe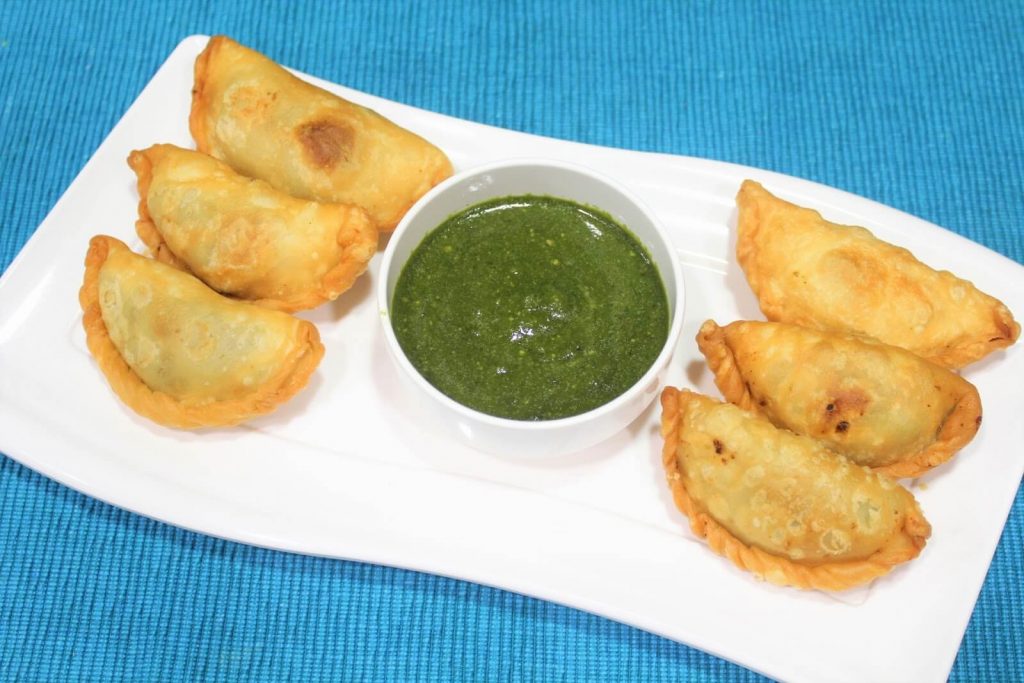 Making of dough
In a bowl take 1 cup wheat flour to add 2 tbsp ghee in it.
Mix it with fingers.
Then with cold water knead to the dough to such a proportion that it is neither too soft nor soo hard.
Keep it in a bowl.
Making of the filling
In a pre-heated pan add2 tbsp oil and heat it.
Put cumin seeds, mustard seeds, and leaf Cody in it.
Now add peas to it and let it cook for 5 minutes.
Now add red chilli powder, salt, ginger and green chilli paste.
Cook it well.
Place it in a bowl.
Making of GHUGRA
From the above-kneaded dough make small-sized, thin round shapes.
Fill half of it with the above-cooked filling.
Wrap the other half on it, seal the borders.
Put a plating design on the corners.
Take a preheated pan and heat oil in it for frying these GHUGRA.
On a medium flame fry them till they become golden in colour.
They are cooked on a medium flame so that the filling doesn't spread out.
Serve hot with pudina chutney.
This YUMMY GHUGRA can also be savoured with tamarind sauce and tomato ketchup.
Savour another states speciality in just minutes with common ingredients in your kitchen. Feel connected and one with the world.
Nutritional Facts Of Gujrati Mattar Ghugra Recipe
| | |
| --- | --- |
| Calories | 77 |
| Protein | 3 g |
| Carbohydrates | 12 g |
| Fats | 3 g |
| Cholesterol | 0 mg |
| Sodium | 3 mg |
| Potassium | 30 mg |
How to Make Gujrati Mattar Ghugra Recipe at Home | Video