How to Make Grilled Stuffed Peppers at Home
Note- This post may contain affiliate links, we earn from qualifying purchases made on our website. If you make a purchase through links from this website, we may get a small share of the sale from Amazon and other similar affiliate programs.
Grilled stuffed peppers is an amazing meal for dinner. It is quite delicious. With seasonings and proper grilling, this dish can be carved to perfection. Also, you will be quite amazed to know that Grilled Stuffed Peppers can be served as an appetizer, main dish as well as a side dish.
As for me, I came across the Grilled Stuffed Peppers recipe in one of my friend's bachelorette party wherein we were served this dish. My chef friend who was present there showered praises about this dish and how intelligent it was to serve this dish.
She told me how to make Grilled Stuffed Peppers. And to my wonder, she came to my rescue when I was trying to make them at my home and almost spoiled everything. Gradually, I learnt to cook perfect grilled stuffed peppers.
So, in this article, I will tell you about Grilled Stuffed Peppers Recipe which can be made at your homes. But here are some other amazing recipes that you should definitely try.
1. French Bread Pizza– Everyone loves pizzas. Today, I am going to tell you a very special pizza recipe known as French Bread Pizza. It is not made from regular pizza dough but uses bread as the base.
2. Stracciatella Cheese– This is the best cheese recipe you will come across. This recipe takes not much of your time. It is an easy one and will not confuse and trouble you.
3. Worm Salt– Mezcal tequila usually comes with a worm in the bottle… pretty gross, but still cool. Some even say it brings good fortune to the lucky person who finds it in his/her glass.
4. Runza Casserole– Runza is made from yeast bread pockets which consist of cabbage, beef or onions, sauerkraut, and seasoning which you can be made in different shapes and sizes.
Ingredients required for Grilled Stuffed Peppers Recipe
| | |
| --- | --- |
| Ingredients | Amount |
| Ground beef | 2 pound |
| Tomato sauce | 1 can (15 oz) |
| Medium yellow onion diced | 1 |
| Bell peppers | 6 |
| Cooked rice | 2 cups |
| Garlic minced | 2 cloves |
| Signature beef seasoning | 1 tbsp |
| Oregano | 1 tsp |
| Salt | 1 1/2 tsp |
| Pepper | 1 tsp |
| Monterey Jack Cheese Shredded | 4 oz |
| Fresh parsley minced | 1 tbsp |
How much time will it take ?
| | | |
| --- | --- | --- |
| Preparation time | Cooking time | Total time |
| 20 minutes | 50 minutes | 1 hr 10 minutes |
Grilled Stuffed Peppers Recipe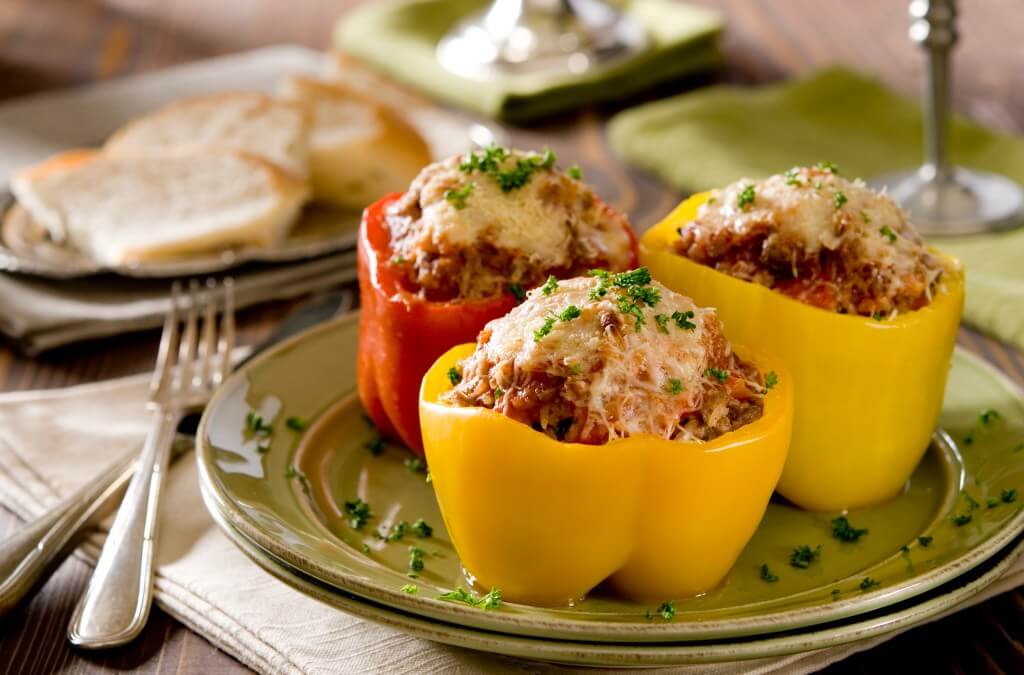 Preheat an iron cast saucepan over medium heat.
Now, cut the bell pepper from beneath its curved top. Take a large spoon to scoop out its seed and pitch. (discard them)
Further cut off extra bell pepper from stem portion and chop it. Leave them undisturbed along with chopped onion and garlic.
Put 1 tablespoon olive oil into the saucepan. Also, add chopped pepper and onions and let it fry (saute) for a few minutes until they appear to be translucent.
Now add ground beef, garlic, salt and pepper and oregano. Let it cook for next couple of minutes so meat breaks apart.
Now add tomato sauce and rice also to the saucepan and combine them. Since the rice would absorb a lot of liquid, add more salt.
Now, over medium heat, preheat your grill. Prepare it for 2 – zone cooking to grill the ingredients perfectly.
Season the rice and meat mixture with pepper. Add shredded cheese on the top.
Over the indirect heat side of the grill, put peppers on its grates. After closing its lid, let it grill for about half an hour.
Take them off the grill. Minced parsley can now be used to garnish the prepared dish.
Nutritional information of Grilled Stuffed Peppers Recipe
| | |
| --- | --- |
| Calories | 379 kcal |
| Carbohydrates | 25g |
| Protein | 21g |
| Fat | 21 g |
| Saturated fat | 9 gm |
| Cholesterol | 70 mg |
| Sodium | 741 mg |
| Potassium | 516 mg |
| Fiber | 3 g |
| Sugar | 6 g |
| Vitamin A | 3927 IU |
| Vitamin C | 155 mg |
| Calcium | 180 mg |
| Iron | 2 mg |
How to Make Grilled Stuffed Peppers at Home | Video