How to Make Grilled Asparagus at Home
There are a lot of ways to eat Asparagus but today, I will tell a new way which you will definitely love. I have learned a new way from my friend, who is a big Asparagus lover and when we were together.
One day, I went to his home and it was raining outside. He was taking his grill outside in his balcony and I saw asparagus on his dining table. I asked him about what you are making and he said I have learned a new way to make Asparagus and I asked him what is it he said I have learned Grilled Asparagus Recipe.
I was helping him in making Grilled Asparagus. When he finished with the grilling process and he served me and I found it very tasty and delicious.
Today, it was raining outside and I was remembering that day. So I decided to make Grilled Asparagus at home. When I was making Grilled Asparagus, a thought came into my mind to share the Grilled Asparagus Recipe.
But first gather the ingredients to make Grilled Asparagus. Also, there are other recipes that you can have as starters, let's check them out.
1. American Vegetable Chop Suey– This recipe is a combination of fried noodles, tangy sauces, and vegetables to add on to its delight. The sauce with a combo of veggies just slips smoothly on our tongue and the crisp of noodles just adds on to the pleasure of eating.
2. Stewed Corn– Corns are a good source of nutrients that we should take into our diet. You must have tried steamed corns or fried corns. But have you ever tried a corn stew?
3. Hasselback Potatoes– If you're looking for a baked potato snack, then make these crispy Hasselback Potatoes at your home.
4. Boiled Peanuts– Traditional Southern hot boiled peanuts. Raw peanuts boiled in salt water for a salty, shell-shucking-worthy snack.
Ingredients Of Grilled Asparagus
| Ingredients | Amount |
| --- | --- |
| Stalks Of Asparagus | 2 lb |
| Extra-Virgin Olive Oil | 2 tbsp |
| Kosher Salt | 1 tbsp |
| Butter | 2 tbsp |
| Freshly Ground Pepper | 1 tbsp |
When my friend started making grilled asparagus, I thought it will take time. But after a few minutes, the grilled asparagus was ready. So let's see the proper timing of the preparation and the cooking process of Grilled Asparagus.
How Much Time It Will Take?
| | |
| --- | --- |
| Preparation Time | Total Time |
| 5 Mins | 5 Mins |
Finally, we are at the stage where we will come to know about the Grilled Asparagus Recipe. So let's check that out.
Grilled Asparagus Recipe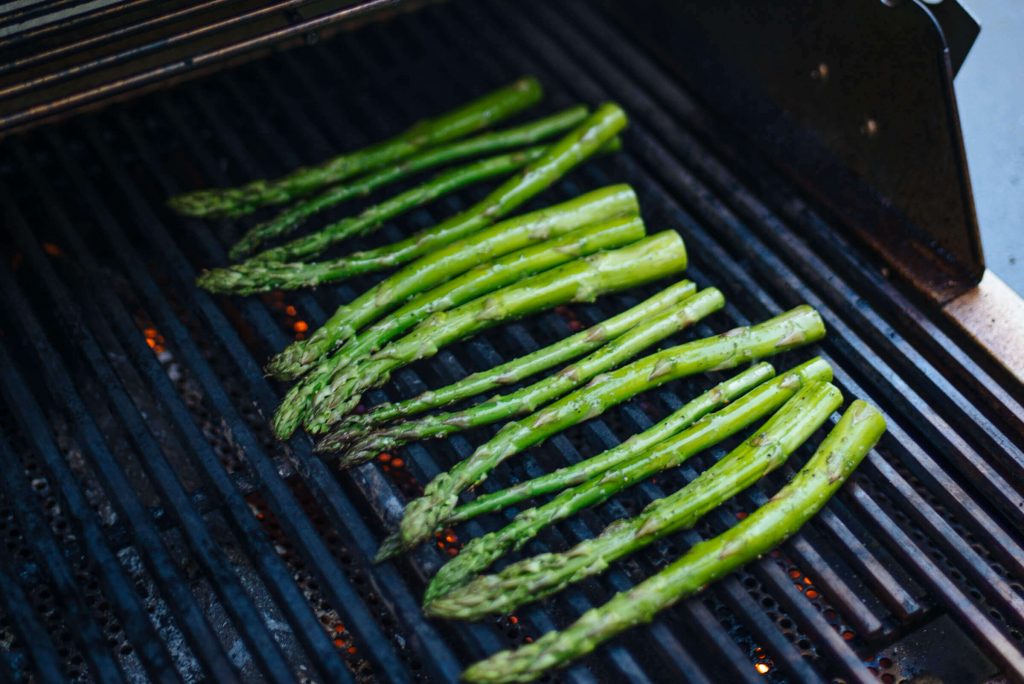 Wrap asparagus in a foil and make packets of asparagus placing one cube of butter into.
Over high heat grill pan.
For 5 minutes tender the asparagus over the grill.
Unwrap the asparagus and toss it with salt and black pepper.
Finally, Grilled Asparagus is ready. You can serve this as a starter in your parties and everyone will love it.
Nutritional Facts Of Grilled Asparagus
Green Vegetables are healthy for us. So for those people who are health-conscious and always check the nutritional information of dishes first, I have mentioned nutritional facts of grilled asparagus below.
| | |
| --- | --- |
| Calories | 52.5 |
| Protein | 2.5g  |
| Carbohydrates | 4.4g |
| Fat | 3.5g |
| Sodium | 2.3mg |
How To Make Grilled Asparagus at Home | Video
I have learned Grilled Asparagus by watching my friend live in front of me. I have added the video of the recipe for you also, so it'll be easier for you to make it.
I hope you've liked this healthy recipe of Grilled Asparagus. If you have any recipes like this that you want to be featured in thefoodxp blog, do let us know in the comments section below.