How To Make Gregg's Pizza At Home
Pizza is the food for the soul and there are many varieties of pizza that you can have. If you are a true pizza lover, you would be aware of Gregg's pizza. It is one of the most delightful pizza restaurant chains. The good news is, you can make the copycat Gregg's pizza at home with us. Don't believe me? See the magic yourself!
Pizza has evolved from time to time. Baker Raffaele Esposito from Naples, Italy, is often given credit for making the first pizza. Street vendors sold flatbreads with toppings at that time. It slowly evolved into the modern pizza. 
Gregg's Pizza has 3 main steps: preparing pizza dough, pizza sauce, and toppings. Preheat the oven and spread the dough on the baking tray. Then add the toppings (bacon, meat, pepperoni, cheese) and the pizza sauce. Cook for 10-12 minutes. Brush some garlic butter on the top and the pizza is ready!
The full detailed recipe with all the steps on making pizza dough, pizza sauce, and toppings is mentioned below. But here are some other amazing recipes that you should definitely try.
1. Baked Parmesan Chicken– Baked Parmesan Chicken is an easy-to-cook delight. A tender and delicious chicken recipe will give you a jaw-dropping experience. Moreover, parmesan Chicken is oven-baked within half an hour.
2. Broccoli Pizza– We all are aware of Broccoli and the thing we know about broccoli is, that it is very healthy and nutritious. But have you ever thought of Broccoli on a pizza? Yes, you read that right. Check out the details.
3. Tacos Al Pastor– Unlike tacos filled with beef, chicken, or even fish, Taco Al Pastor is filled with pork. The recipe got its name from the technique adopted by Mexican shepherds to prepare strips of marinated pork on vertical spits.
4. Granny's Fried Chicken– If you are craving a crunchy and tasty fried chicken but cannot go all the way to the states to relish this chicken. Then this recipe is going to be your savior for sure. With this recipe's help, you can make the best tasting crunchy chicken in your kitchen itself.
What Equipment Will You Need To Make Gregg's Pizza?
Mesh Strainer – Strain off the dry rubs using a mesh strainer.
Bowl – Mix all the dry rubs using a bowl.
Grater – Grate the cheese using a grater.
Saucepan – Simmer the tomato sauce in a saucepan.
Spoon – Stir in all the spices with a help of a spoon.
How Much Time Will You Need To Make Gregg's Pizza?
| Preparation Time | Resting Time | Cooking Time | Total Time |
| --- | --- | --- | --- |
| 10 Minutes | 20 Minutes | 30 Minutes | 1 Hour |
What Ingredients Will You Need To Make Gregg's Pizza?
For Pizza Dough
Bread Flour – Take bread flour for making Gregg's pizza.
Kosher Salt – Add salt to your taste.
Instant Yeast – Activate the yeast by adding a teaspoon of yeast to warm water.
Basil – Adding basil to the flour will bring out an aromatic blend of flavors.
For Pizza Sauce
Crushed Tomatoes – Prepare the pizza sauce by adding crushed tomatoes.
Tomato Paste – Add a teaspoon of tomato paste to the pizza sauce.
Sugar – Balance the spicy flavors with a teaspoon of sugar.
Sea Salt – A pinch of salt to your taste.
Garlic Powder – Bring out strong and pungent flavors to the pizza sauce.
Red Pepper – Spice up the tomato sauce with a pinch of red pepper. You can substitute the red pepper with a pinch of cayenne pepper.
Black Pepper – Season the tomato sauce with a teaspoon of black pepper.
Oregano – Garnish the sauce with a pinch of oregano for herbal flavors.
Basil – Add some freshly chopped basil for an earthy and minty blend of flavors.
For Toppings
Bacon – Crispy bacon for the toppings is well suited to the pizza.
Pepperoni – Add some pepperoni slices with the bacon on the top of the pizza.
Parmesan Cheese – Spread shredded parmesan cheese on the top of the pizza.
Mozzarella Cheese – Mozzarella cheese will bring out an ooey gooey blend of cheesy flavors.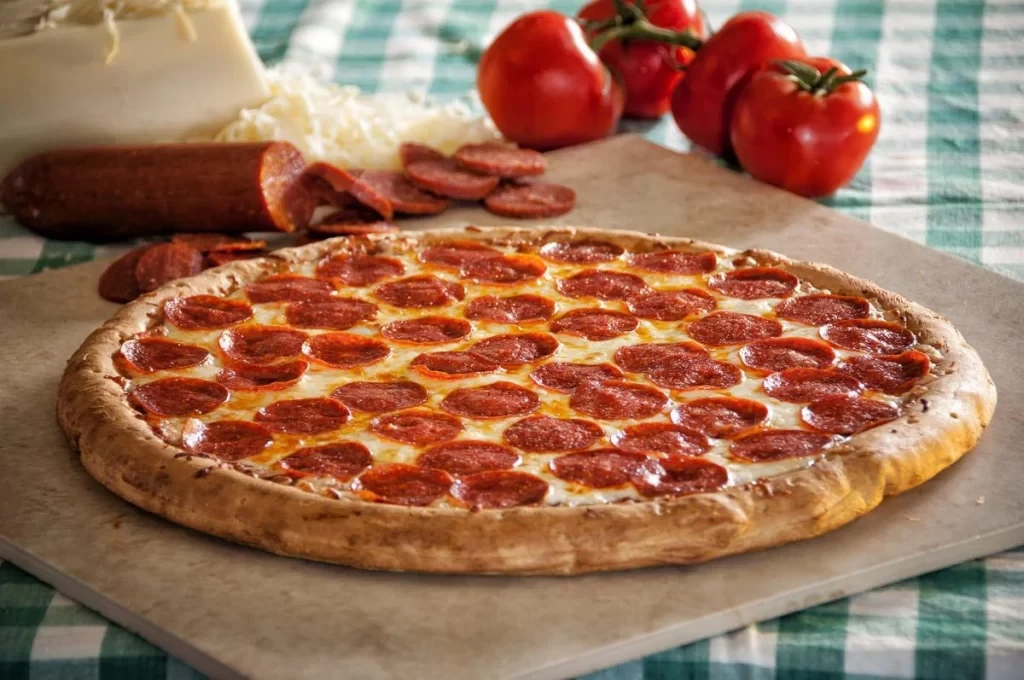 Steps To Make Gregg's Pizza
1. Dough Game
Activate the yeast by mixing it with warm water and a teaspoon of salt. Once the yeast is activated mix it with bread flour and knead the dough evenly. Cover the dough with a cling film and keep it aside to rest. Rest the dough for about an hour.
2. Saucy Suave
Take a saucepan to prepare the tomato sauce by adding crushed tomatoes, tomato paste, sugar, salt, garlic powder, red pepper, black pepper, oregano, and basil. Simmer all the elements over medium heat until the sauce is reduced to half and is thickened.
3. Put Together
Assemble the pizza by first layering it with the pizza sauce and grated mozzarella cheese and parmesan cheese. Moving forward layer the pepperoni and bacon slices on top of the pizza. Once everything is assembled, place the pizza in the oven and bake for 25 minutes at 350 degrees Farahenhiet.
Nutritional Information
| | |
| --- | --- |
| Calories | 457 kcal |
| Fat | 16 g |
| Sodium | 1609 mg |
| Carbohydrate | 55 g |
| Dietary fiber | 2.4 g |
| Sugars | 4.2 g |
| Protein | 20.9 g |
| Cholesterol | 6.5 mg |
How Will Gregg's Pizza Look And Taste Like?
Gregg's pizza looks appetizing and tastes delightful. The bacon and pepperoni sausage added on the top of the pizza makes it even more delicious. The crispy crust will be browned and baked to perfection.
Recipe Card
Gregg's Pizza Recipe
Gregg's pizza is a delectable pizza dish topped with pepperoni and bacon sausages. The homemade pizza sauce will add tangy sharpness to the pizza. Moreover, the toppings will leave you with a lip-smacking experience. Try making this knockoff pizza recipe with our recipe article.
Bowl

Mesh Strainer

Grater

Saucepan

spoon
For Pizza Dough
½

cup

Bread or Flour

1

teaspoon

Kosher or Sea Salt

1

teaspoon

Basil

1

teaspoon

Instant Yeast
For Pizza Sauce
½

cup

crushed Tomatoes

1

tablespoon

Tomato Paste

1

teaspoon

Sugar

1

teaspoon

Sea Salt

1

teaspoon

Garlic Powder

1

teaspoon

Red Pepper

1

teaspoon

Black Pepper

1

teaspoon

Oregano

1

teaspoon

Basil
For Topppings
½

cup

Bacon

½

cup

Pepperoni

½

cup

Parmesan Cheese

½

cup

Mozzarella Cheese
Add all the dry ingredients (bread flour, Pizza Topper basil, oregano, onion, garlic, and parsley) to a mixing jar. Mix well.

Now, slowly add yeast to the dry ingredients.

Once the yeast mixture has bloomed, add flour to it and stir well.

Allow the flour to hydrate for about minutes.

Knead the flour for 4-5 minutes until the mix is semi-firm and a little sticky. Now, put the dough on a flat surface, sprinkle some dry flour and keep kneading, cupping, and spinning until a ball of dough is formed.

The dough is ready. Take olive oil Grease a bowl with it and place the dough in it. Wrap the bowl with plastic wrap. Put the dough to rest for 20-30 minutes.

It will result in better texture and taste and to have a nice fluff in the dough.

Combine all the ingredients mentioned for pizza sauce in the table above, in a large bowl.

Stir until the mixture is incorporated well. The pizza sauce will be ready in no time.

Roll out the pizza dough in a round shape. Simultaneously, preheat your oven to 550˚F.

Spread the pizza sauce on the dough and load it with some grated mozzarella cheese along with other toppings of your choice (chopped bacon, pepperoni, or minced meat).

Place the base in the preheated oven and let it cook for 15-20 minutes. Now, slide out the pizza when the crust turns golden brown. Brush some more garlic butter on top and add parmesan cheese.

Remove the pizza pan, once the pizza is cooked. Serve warm!
Frequently Asked Questions (FAQs)
What cheese does Greggs use on pizza?
Greggs uses a combination of mozzarella, cheddar, and gouda cheese on its pizza.
Is pepperoni halal in Greggs?
Presently, Greggs doesn't offer halal ranges. However, you can request them to customize the pizza as per your preference.
How many calories are in a Gregg's Pizza Slice?
Gregg's pizza slice has 20 calories.
How much does Gregg's pizza cost you?
Gregg's regular pizza costs you $15.99.
Prepare this copycat Greggs's pizza at home with us. Add the toppings of your choice and get started to make it right away. Refer to the above article for the details. Also, let us know how it goes in the comment section below.