How To Make Green Tea Ice Cream At Home
Note- This post may contain affiliate links, we earn from qualifying purchases made on our website. If you make a purchase through links from this website, we may get a small share of the sale from Amazon and other similar affiliate programs.
If you enjoy the refreshing taste of green tea, then you will love the creamy, sweet, yet sprightly taste of green tea ice cream. This delicious treat hits all the right notes and is fairly healthy, too. So, you don't need to feel as guilty about doubling up on your scoops.
Green tea has a lot of health benefits. It is high in Epigallocatechin gallate (EGCG), the compound that has a lot of health benefits. It is known to reduce inflammation, helps in weight loss and also protects from heart and brain diseases, like high cholesterol and Alzheimer's Disease.
To make green tea ice cream, heat the milk beverage. Put in the green tea bags for some time. Then, add sugar and coconut milk and whisk. Freeze for some time. When you feel it has hardened a bit, give it another whisk. Repeat this process every 2-3 hours until you are satisfied with the texture. Then, serve.
This was just a brief overview of the recipe. You'll find the detailed recipe below. You'll also find other important information, starting with the ingredients.
Use Non-Dairy Milk for Green Tea Ice Cream Recipe
It should be noted that this recipe is one for non-dairy milk. This particular recipe calls for coconut milk beverage and full-fat coconut milk in place of dairy milk and dairy cream. So, why is this?
Well, one of the main reasons for this switch is because green tea doesn't work too well with dairy milk proteins. Thus, cow's milk reduces the health factor of dairy milk. Not to mention they aren't the greatest match, taste-wise.
Coconut milk is the perfect alternative to dairy milk in this recipe. It is thick, creamy, and adds just the right amount of sweetness.
In case you are wondering what the difference is between coconut milk beverages and full-fat coconut, the answer is simple. Coconut milk beverage is a more diluted version that is typically added to coffee and tea. It is most likely to come boxed.
Full-fat coconut milk, on the other hand, is traditionally used for cooking. It has a higher fat content and a more distinct coconut taste. It tends to come in a can, although you may find it in a box as well.
Opt for High-Quality Green Tea
If you think that any old green tea will do for this recipe, think again. Sure, you can use a random brand, but you may not like the results. This is because the quality has a direct link to taste. Higher quality green tea yields a better taste.
Now, if you aren't an expert in green tea, you may know what brand to select. Or, you may be concerned that you have to spend a lot of money to buy the best. There's no need to worry, though. There are plenty of online guides that will help you pick out the top variety for a very reasonable price.
You will be very pleased that you made an effort to select such a brand. This is because you will end up with a far more sweet-tasting ice cream.
Making Ice Cream Without an Ice Cream Maker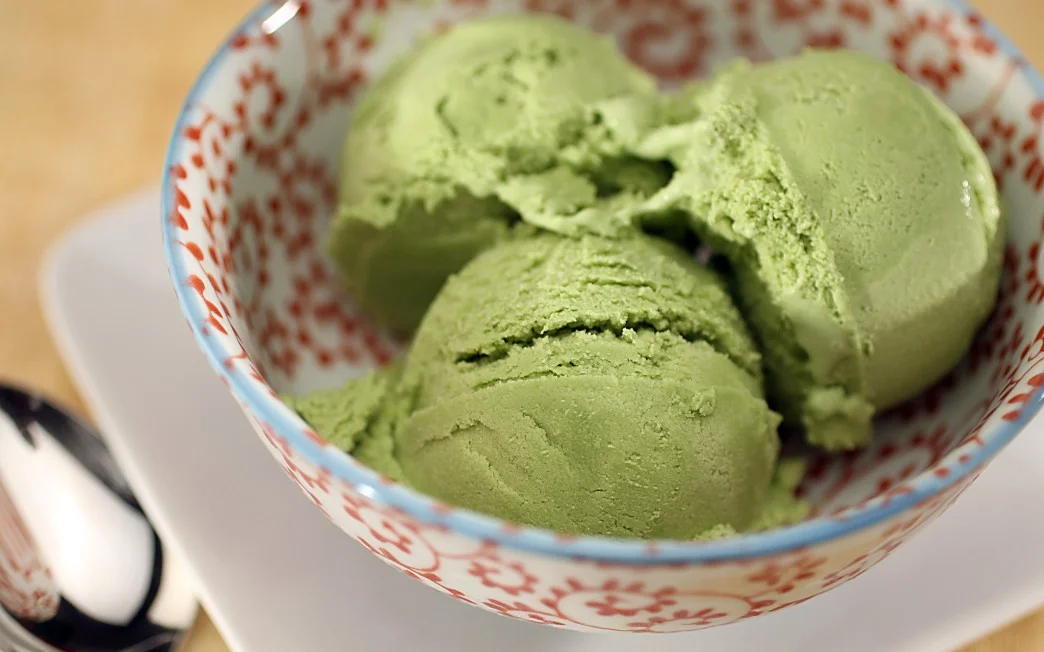 It is only natural to wonder if you can make ice cream without an ice cream maker. This is possible. There are several different methods you can rely on. For the sake of efficiency, easy, and texture, though, this recipe will focus on the freeze-and-stir method.
This is where you place the ice cream mix in the freezer but remove it at different intervals. When you do this, you have to stir the ice cream well and then place the mixture back in the fridge. You need to continue this process several times before your ice cream is ready.
Needless to say, this process will take longer than when using an ice cream maker. However, the result will be the same. If you want any similar recipes you want to try, here are some of my picks.
1. Chunky Monkey Ice Cream– Ben & Jerry's is one of the most authentic ice cream chains in America and this Chunky Monkey ice cream is one of their original flavours. It is made from bananas with chocolate chunks and brownie bits.
2. Mint Chocolate Chip Ice Cream– Presenting you an Ice cream that is not only cool by its taste but also by its color and flavour. The name of this Ice Cream is Mint Chocolate Chip Ice Cream.
3. Ube Ice Cream– One of the oldest ice creams out there, the ube ice cream is also famous for the vivid lavender color that makes it look more beautiful and attractive.
4. Ginger Ice Cream– This homemade ginger ice cream has a divine taste. You don't have to venture outside to buy ice cream when you'll learn how to make this at your home.
Green Tea Ice Cream Recipe
If you enjoy the refreshing taste of green tea, then you will love the creamy, sweet, yet sprightly taste of green tea ice cream. This delicious treat hits all the right notes and is fairly healthy, too. So, you don't need to feel as guilty about doubling up on your scoops.
1

cup

Unsweetened Coconut Milk Beverage

6

Green Tea Bags

½

cup

Sugar

1 ¼

cups

Full-Fat Coconut Milk
Place the coconut milk beverage in a pan and heat it over a medium flame. When it is hot and steaming, take the milk off the heat. Don't allow it to boil.

Allow all the green tea bags to steep in the milk for five minutes. Before tossing the bags away, make sure to squeeze them out into the milk. This will ensure that there is a more concentrated green tea taste.

Add the sugar to the green tea milk mix and whisk until all the sugar is fully dissolved. Then, add the coconut milk and whisk once more. You will notice that the green tea ice cream is rather pale in color. This is normal.

Place the mix into a durable glass container – one that can be placed in the freezer for a long time. Allow the mix to cool to room temperature then place it in the freezer.

After 45 minutes in the freezer, take the ice cream mixture out. If it has begun to freeze around the edges, stir it thoroughly with a whisk. It is important to completely break up the frozen parts and mix them with any semi-liquid portions.

Place the ice cream mix back in the freezer and leave it there for 30 minutes. Then, take the ice cream out and break it up and mix it once more. Continue to do this at 30-minute intervals until the 2 or 3-hour mark.

When you are satisfied with the texture, you can serve the ice cream.