How To Make Granny's Fried Chicken At Home
Note- This post may contain affiliate links, we earn from qualifying purchases made on our website. If you make a purchase through links from this website, we may get a small share of the sale from Amazon and other similar affiliate programs.
Today's recipe is based on one of the most famous fried chicken joints in United States. The recipe is Granny's fried chicken.
If you are craving for a crunchy and tasty fried chicken but cannot go all the way to the states to relish this chicken. Then this recipe is going to your savior for sure. With this recipe's help, you can make the best tasting crunchy chicken in your kitchen itself.
Granny's Fried Chicken can be made by following just a few simple steps. It is an easy recipe to season the chicken and leave it in the fridge covering it. After few hours, dip the chicken pieces one at a time in the mixture prepared with beaten eggs and tobacco sauce. Coat it and fry. Serve immediately.
You will know further in the recipe how mixture and coatings are to be prepared. Before that, go through the list of ingredients you require for this recipe. But here are some other amazing recipes that you should definitely try.
1. Baked Parmesan Chicken– Baked Parmesan Chicken is an easy to cook delight. A tender and delicious chicken recipe, Parmesan Chicken is oven-baked within half an hour.
2. Double Cheeseburger– This recipe is quite famous and I am quite sure that all of you would have had this recipe for so many times that you don't even remember. This recipe is one of the favorites among all the foodies and every single guy who is fond of eating outside.
3. Chicken Hot Dogs– Chicken hot dogs are perfect for such small get-togethers as they can be prepared in just about 10-12 minutes. A big bite of a Chicken Hot Dog feels like a mini party in the mouth. The amalgamation of simple yet crunchy textures in the mouth is something to die for.
4. Gregg's Pizza– Pizza is the food for the soul and there are many varieties of pizza that you can have. Today, I am going to tell you about a very special type of pizza known as Gregg's Pizza.
Ingredients For Granny's Fried Chicken
One 3½ to 4-pound Fryer Chicken (cut into 8 pieces)
4 cups Peanut Oil (for frying)
4 large Eggs
1 tablespoon Tabasco or Other Hot Sauce
2 cups All-Purpose Flour
Salt and Pepper to taste (optional)
The ingredients you need to cook this famous fried chicken is really easy to find. You might find them all in your pantry. If not, then no need to worry. You will get them all in your nearest grocery store. So make a quick run to grab them. Also, check out the preparation time for this recipe.
How Much Time It Will Take To Make Granny's Fried Chicken?
| Preparation Time | Cooking Time | Additional Time | Total Time |
| --- | --- | --- | --- |
| 5 minutes | 15 minutes | 3 hours | 3 hours 20 minutes |
Looking at the time, you must be wondering, cooking for 3 hours in the kitchen is really hectic. Let me clear your doubt, 3 hours is for the marination of the chicken. Otherwise, the chicken will be ready within half an hour to prepare. Let's see what you need to follow to make this crispy chicken.
Steps To Make Granny's Fried Chicken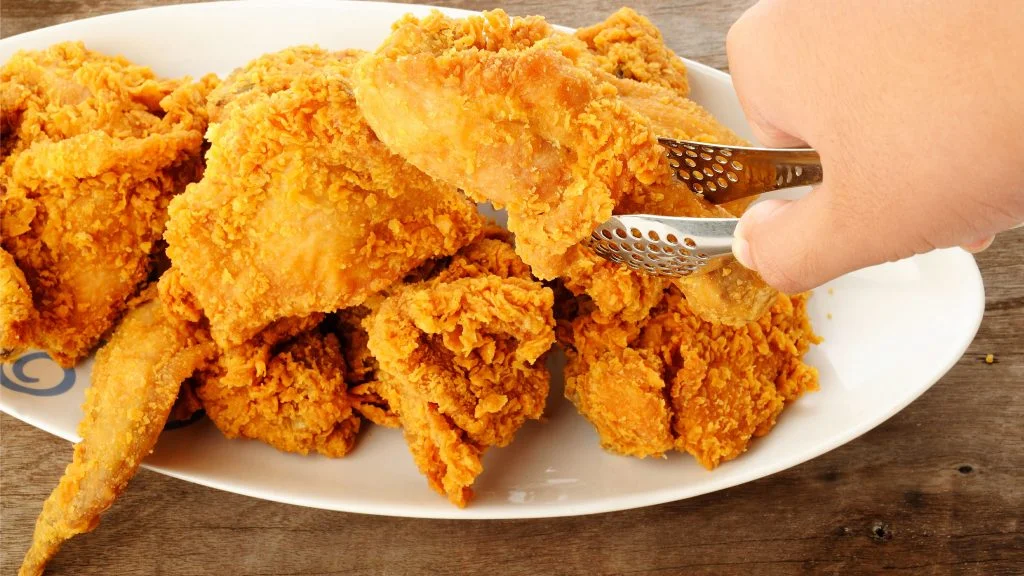 Take the chicken and sprinkle salt and pepper on it. Cover the chicken and put it in the fridge for a minimum 3 hours. 
Take a medium bowl, beat eggs in it with tobacco sauce. In a separate bowl, add the flour.
In a heavy skillet, pour oil and heat it over medium flame until it reaches the temperature 350 degrees F on the thermometer.
Drop the chicken piece by piece into the egg mixture and then coat it with flour. Shake off the excess flour. Fry them for 12-15 minutes. Transfer them on the plate with a paper towel. Repeat the step, till all the chicken is fried. 
Serve hot with a lemon wedge.
Serve this fried chicken with a sauce or a dip. It will enhance its taste for sure. Make sure you give this a try and let me know your reviews for them.
Nutritional Breakdown Of Granny's Fried Chicken
We all know that chicken is really nutritious for our body. That is why I've added the nutritional breakdown of this recipe.
| | |
| --- | --- |
| Calories | 246 |
| Protein | 30g |
| Carbohydrates | 1.8g |
| Fat | 12g |
| Cholesterol | 87mg |
| Sodium | 77mg |
In case you have any doubt regarding this fried chicken recipe then I have uploaded the video. Watch the video to clear your doubts. If your query is not resolved by the video, then write it up in the comment section below. I will try to solve them. Now give the recipe a try and enjoy.