Making your pizza dough is nicer than buying a ready-made base. Gordon Ramsay's pizza dough is a subtle recipe to make the best pizza. Once you try this recipe, I am sure you will never go back to make the pizza dough the same old way. 
Are you a pizza lover? If yes,here are some of Gordon Ramsay's pro tips to make thin-crust pizza dough. The crust of pizza dough is what makes it scrumptious. However, the perks of Gordon Ramsay's pizza dough are beyond magic. Don't cut back on flour, when you choose the flour in the supermarket. choose a quality brand, organic if possible. 
If you are excited to know this cakewalk recipe for Gordon Ramsay's pizza dough, follow the list of equipment and ingredients below. Don't miss out on the instructions mentioned in the article below. Moreover, you can find a similar video for the recipe.
What Equipment Will You Need To Make Gordon Ramsay's Pizza Dough?
Cup – Take some lukewarm water in a cup or a glass. Add a spoonful of fast-action dried yeast. Keep it aside for 5 minutes.
Dough Mixer- You can either use the dough mixer to knead the dough properly or your hands can get the job done.
Rolling Pin- The rolling pin is used to flatten the pizza dough and form a circular shape.
Bowl- Keep the kneaded dough in a bowl to double its size. Cover it up with a cotton cloth. Leave it aside in a warm place for about 30 minutes.
Pan- Before we put the dough in the oven we will bake it in the pan on a low flame.
Oven- When the dough is half baked you can put it in the oven to grill until it gets golden and bubbly.
How Much Time Do You Need To Make Gordon Ramsay's Pizza Dough?
| Preparation Time | Resting Time | Cooking Time | Total Time |
| --- | --- | --- | --- |
| 10 Minutes | 40 Minutes | 15 Minutes | 65 Minutes |
What Ingredients Will You Need To Make Gordon Ramsay's Pizza Dough?
White Flour- Use 400g strong white flour to make the dough. Avoid mass-produced generic white flour. It will make all the difference.
Lukewarm Water- 250ml of lukewarm water is added to the dried yeast with a goal of 'waking up the yeast to a temperature that is favorable for fermentation.
Dried Yeast- It is an ingredient a pizza dough needs the most. It ferments sugar and starches, which causes the dough to rise to a bubbly crust. Add one teaspoon of fast-action dried yeast.
Sea Salt- Sprinkle a tablespoon of sea salt in the dough to add salty flavor.
Virgin Olive Oil- The extra virgin olive oil in the dough will add subtle flavor and color to the final crust.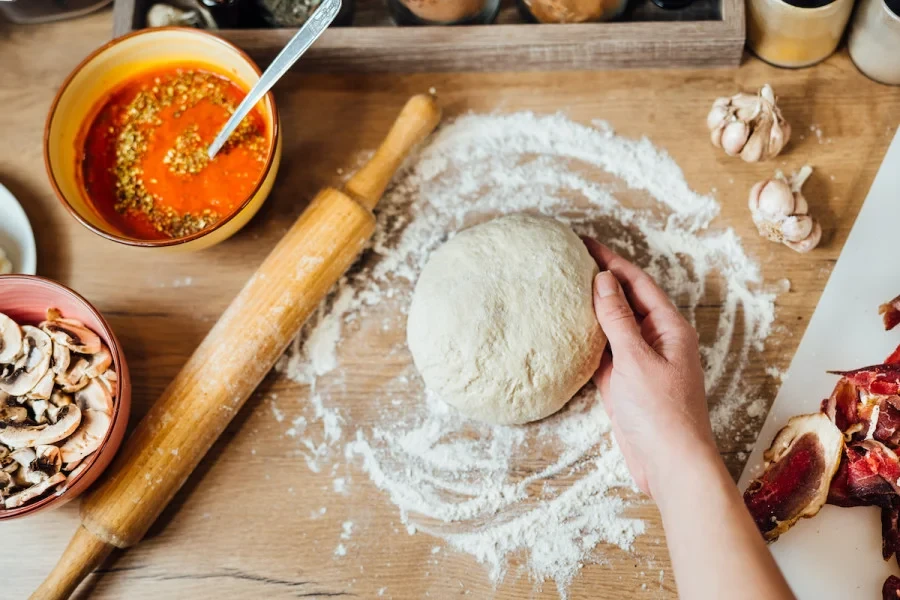 Steps To Make Gordon Ramsay's Pizza Dough
1. Prepare The Batter For The Dough
First, add a teaspoon of yeast and a teaspoon of sugar in lukewarm water for 5 minutes. Then take a bowl full of sifting flour, add a teaspoon of virgin olive oil, a mixture of fermented yeast and salt along with a splash of water. Knead the dough properly. You can use the mixer or hands. Once the dough is kneaded properly, put it back in the bowl, cover it with a cotton cloth for about 40 minutes in a warm place. 
 2. After Break
Take out the dough and knead it again on a floured surface for 5 minutes until it is even and smooth. Divide your dough into 4 balls of the same size. Take one ball and start rolling it in a circular shape. Once the dough is rolled. Put the pan on the stove, drizzle a teaspoon of olive oil in a hot pan. Let the dough hook for 4-5 minutes. This pan cook method works brilliantly and gives a crunchy base. Soon after the dough starts to bubble, slather the tomato sauce or chunks of mozzarella cheese accordingly.
3. Bake Up The Storm
As the dough is half cooked, put it in the grill oven to acquire the desired crust. Wait, until the crust is golden and bubbly. When you see the color of the base changing and bubbles coming out. Know that! Your pizza dough is ready.
Nutritional Value
| | |
| --- | --- |
| Calories | 170kcal |
| Fats | 9g |
| Carbohydrates | 18g |
| Saturated Fat | 2.1g |
| Cholesterol | 6.8mg |
| Sodium | 398mg |
| Fiber | 1.6g |
| Protein | 4.5g |
How Will Gordon Ramsay's Pizza Dough Look And Taste Like?
Gordon Ramsay's bright idea of kneading flour appropriately is amazing. A well-kneaded dough is never saggy. Moreover, cooking it in a pan before grilling it in an oven is a brilliant idea. It helps in adding a fine crunch to the pizza crust. 
Recipe Card
Gordon Ramsay's Pizza Dough
Make your pizza dough for pizza perfection in this culinary universe. Be the star of your own pizza dough!!
Cup

Dough Mixer

Rolling Pin

Bowl

Pan

Oven
400

g

White Flour

250

ml

Lukewarm Water

1

tablespoon

Dried Yeast

1

teaspoon

Salt

1

teaspoon

Virgin Olive Oil
Take a bow, add sifted flour, a mixture of yeast, and a teaspoon of virgin olive oil . Mix it well.

Knead the dough on a floured surface for about 10 minutes. Cover it up with a cotton cloth and put it in a warm place.

Once the sixe of dough is doubled, knead it for another 5 minutes. After kneading divide it into dough balls .

Roll the dough with a rolling pin or hands. Put it in the pan for an airy and bubbly crust.

Finally, bake it in the oven for 10 minutes. Slather it with your favorite toppings and season it with spices.
Don't forget, you can always add your twist to the recipes and share it with me too. I would love to try your versions as well.