How to Make Gnocchi at Home
Today in this blog, I will share the Gnocchi Recipe with my lovely people. I know you might be thinking what is Gnocchi? I will tell you what is it?
Word Gnocchi means traditional Italian potato dumplings which are small and soft. I learned to make Gnocchi from my friend who is a big potato lover and she always used to try new things from the potatoes. When I was at her home, she made different types of dishes from potatoes.
I found Gnocchi very interesting and delicious. So I learned to make Gnocchi from her. And today, I made Gnocchi for my family and they loved it. So, I thought to share the Gnocchi Recipe with my lovely people over here.
But first, Let's gather the ingredients required to make Gnocchi at home. Also, there are other recipes that you can have as starters, let's check them out.
1. Sous Vide Potatoes– Sous vide is a great way to perfectly cook one of the most versatile and easily available ingredients; that are potatoes.
2. Broiled Pineapple– If you like pineapples, this is a perfect choice because this form of pineapples will change your whole idea about the pineapples. And after having this recipe, you will always like to have pineapples in this form.
3. Greek Spaghetti– Twirling long strands of Greek spaghetti around a folk is one of my guilty pleasures. Every time I eat a plate of spaghetti, I get some sweet "guilt" satisfaction no matter where or why.
4. Sauteed Mushrooms– Sauteed Mushrooms recipe is easy to make and is an absolute delight. It takes only 25 minutes to make sautéed mushrooms at home. Well, half an hour isn't much of a time to get such a delicious dish at your plates.
Ingredients For Gnocchi Recipe
| Ingredients | Amount |
| --- | --- |
| Russet Potatoes | 1 lb |
| All-Purpose Flour | 1 1/2 Cup  |
| Salt | 1 tsp |
| Beaten Egg | 1 |
You can store it for Gnocchi for your dishes, you can say it is one time investment add on which will help you to make sumptuous dishes and Let's how much time it will take to make Gnocchi.
How Much Time It Will Take?
| | | |
| --- | --- | --- |
| Preparation Time | Cooking Time | Total Time |
| 20 Mins | 20 Mins | 40 Mins |
I know you people are very excited to know Gnocchi Recipe and you are just one step away from the recipe.
Gnocchi Recipe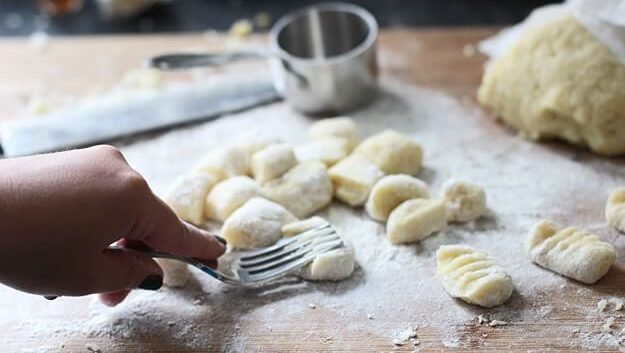 In a pot add water and boil, when the water is boiling add potatoes.
Boil for 30 minutes or until they tender.
Check by using a fork and when they boil drain the water and cool potatoes for some time.
With flour mix salt in a bowl.
Mash eggs potatoes with eggs and then add it to flour mixture.
Spread some flour on the surface and knead until dough and potatoes mixes.
Make 8 balls of dough and by using your hands make strips of that dough.
When you make the strips of dough cut them with a knife into small pieces.
Place those pieces into a baking sheet with parchment paper.
Serve Accordingly.
Note– If you want to make your Gnocchi look attractive you can use a fork and on the pieces slide your fork and you can see some lines on it.
Finally, Gnocchi is ready and you can have it anytime and I bet everyone will love it.
Nutritional Facts Of Gnocchi
This breakdown of nutrients is helpful for those people who are diet conscious like me and always have a habit of checking the list of nutrients before trying something.
| | |
| --- | --- |
| Calories | 330 |
| Protein |  9.7g |
| Carbohydrates | 67g |
| Fats | 2g |
| Cholesterol | 53mg  |
| Sodium | 21.5mg |
How To Make Gnocchi at Home | Video
I highly recommend you all to try this amazing Gnocchi recipe at home. To make your work easier, I have added a video about how to make Gnocchi at home.
I hope you have liked this recipe of Gnocchi. I know you won't stop yourself and going to make this at home and share your experience with us in the comments below.