How to Make Gluten-Free Turkey Meatballs at Home
Gluten-free Turkey Meatballs are healthy, easy to cook, moist and juicy which require only a handful of simple ingredients. Gluten-free Turkey Meatballs are the most delicious meatballs ever. I can't imagine a world without them and feel glad that I can make it on my own.
My chef friend happened to visit my home last summer. Might be she didn't like the dish I served her for she got up and asked if I would like to have Gluten-free Turkey Meatballs. I replied in affirmative. We went to the supermarket and bought the ingredients. Then, she cooked the perfect Gluten-Free Turkey Meatballs.
I was in awe of her skills. Also, she shared the recipe for Gluten-Free Turkey Meatballs with me. I expressed my gratitude to her and on her next visit, I served her the same dish. She just patted my back, how happy I was to receive appreciation from a chef!
Versatile, delicious and lip-smacking Gluten-Free Turkey Meatballs are few steps away. Let me tell you how to make Gluten-free Turkey Meatballs at the comfort of your home. Also, there are other recipes that you can have as starters, let's check them out.
1. Chicken Poppers– What a delicious snack! The crunch on the outside with juicy chicken inside that is dipped in cheese is a perfect combo. They can be had with or without the sauce as an appetizer or as the main dish combined with some salad.
2. Greek Spaghetti– Twirling long strands of Greek spaghetti around a folk is one of my guilty pleasures. Every time I eat a plate of spaghetti, I get some sweet "guilt" satisfaction no matter where or why.
3. White Wings– We all love chicken wings, but have you ever tried white wings? These white chicken wings are really tasty and awesome that anyone can easily make it at their home.
4. Mutton Shami Kabab– Mutton Shami Kabab is a delightful starter with a soft texture and absolute spices to take your taste buds to a different level. It is taken up as the best street food mainly eaten in southern India.
Gluten-Free Turkey Meatballs Ingredients required
| | |
| --- | --- |
| Ingredients | Amount |
| Ground turkey | 3/4 pound |
| Chicken sausage (casings removed) | 1/2 pound |
| Gluten-free bread crumbs | 2/3 cup |
| Chopped fresh basil | 3 tablespoons |
| Milk | 3 tablespoons |
| Minced garlic | 2 tsp |
| Parmesan cheese, grated | 1/4 cup |
| Kosher salt | 1 tsp |
| Ground black pepper | 1/2 tsp |
| Egg, lightly beaten | 1 |
How much time would it take?
| | | |
| --- | --- | --- |
| Preparation time | Cooking time | Total time |
| 15 minutes | 30 minutes | 45 minutes |
Gluten- Free Meatballs Recipe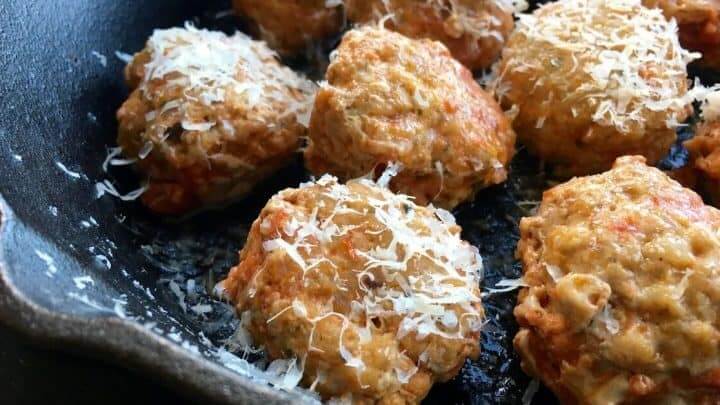 Take a baking sheet.
Line it with parchment paper.
Take a bowl.
Mix ground chicken sausage, bread crumbs, kosher salt, garlic Parmesan cheese, turkey, basil, black pepper properly and milk.
Approximately over 1 1/4 inch diameter of each meatball, layout the mixture, onto the baking sheet with the help of a spoon.
Next place in the preheated oven (350 degrees F ). Let it cook for about half an hour. It should be lightly browned.
Your dish is ready to be served.
Gluten-Free Turkey Meatballs Recipe Nutritional Information
| | |
| --- | --- |
| Calories | 32.3 |
| Proteins | 2.9 g |
| Dietary fiber | 0.1 g |
| Sugars | 0.2 g |
| Carbohydrates | 1.3 g |
| Saturated fats | 0.5 g |
| Cholesterol | 15 mg |
| Vitamin A | 21.2 IU |
| Vitamin C | 0.1 mg |
| Iron | 0.2 mg |
| Magnesium | 2.2 mg |
| Potassium | 24.8 mg |
| Sodium | 114 mg |
| Calcium | 10.6 mg |
How to Make Gluten-Free Turkey Meatballs at Home | Video