How To Make Gingerbread Loaf At Home
Gingerbread Loaf is a delicious bread with various flavors and spices like ginger, nutmeg, vanilla, buttermilk, molasses, and sugar. The gingerbread loaf is very easy to make and gets ready in no time.
Gingerbread loaf is a great recipe to make around holidays, especially the ones that come in fall and winter. You can make gingerbread loaf for Christmas, New Year's eve and even, Halloween. It goes great with tea, coffee, and pumpkin spice, and ginger spice lattes.
To make a gingerbread loaf, mix flour, baking soda, nutmeg, ginger, and salt. Then, take another bowl and mix sugar and butter in it. To this butter mixture, add molasses, vanilla, and eggs and mix. Now, combine the wet and dry mixture. Lastly, add buttermilk and mix to form the batter. Pour this mixture into a pan and bake for 40-50 minutes. Take it and let it cool.
This was just a snippet of the recipe. Find the complete recipe below. But before going to the full recipe, do check out other bread recipes as well.
1. Manna Bread– Manna bread is healthy and very easy to make. It has various health benefits too. This bread is considered one of the oldest food that we humans used to eat. Its history goes as far as biblical days.
2. Squaw Bread– Squaw bread is a healthy bread made with rye flour, molasses, honey, butter, cocoa powder, and cornmeal. It is a delicious and sweet bread. You can also add raisins and nuts to it.
3. Zesty Jalapeno Cheesy Italian Bread– Little Caesars is one of the most popular pizza chains in America and their Zesty Jalapeno Cheesy Italian Bread is so good than any other bread. That is why, I will tell the authentic recipe of Little Caesars Zesty Jalapeno Cheesy Italian Bread.
4. Apple Chicken Salad Sandwich– This tasty chicken salad is filled with flavor. The crunchy apples, cranberries, and nuts make it extra special and offer great texture, and the lemon, mayonnaise, and dash of curry powder create a creamy consistency with a bit of zing.
Ingredients for Gingerbread Loaf
| | |
| --- | --- |
| Ingredients | Amount |
| All-Purpose Flour | 2 cups |
| Baking Soda | 1 teaspoon |
| Ginger | 2 teaspoons |
| Nutmeg | 3/4 teaspoon |
| Salt | 1/2 tsp |
| Brown sugar | 1/2 cup |
| Butter | 1/2 cup |
| Molasses | 1/2 cup |
| Vanilla | 1 teaspoon |
| large Eggs | 2 |
| Buttermilk | 1 cup |
| Powdered Sugar | for dusting |
You can get all these ingredients from your nearest supermarket. Before proceeding to the final procedure, let's see how much time this Gingerbread loaf recipe takes to prepare if you are making it at home.
How much time it will take?
| | | | |
| --- | --- | --- | --- |
| Prep time | Cook time | Total time | Servings |
| 10 Minutes | 45 Minutes | 55 Minutes | 10 |
Gingerbread Loaf Recipe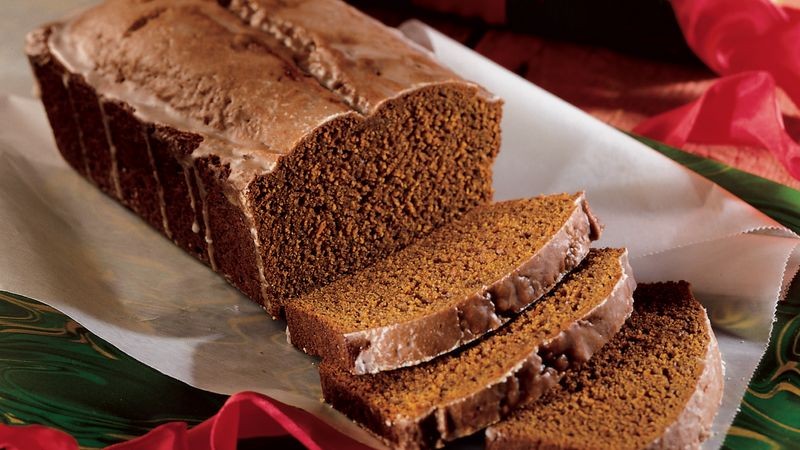 Preheat the oven to 350oF.
In a bowl, mix flour, baking soda, nutmeg, ginger, and salt.
In another bowl, add sugar and butter and whisk them.
Then, to the butter mixture, add the molasses and vanilla and mix it well.
Add eggs to this bowl, one by one. Whisk all of it until mixed well.
After that, add the flour mixture to the egg mixture bowl. Mix the dry and wet mixture well.
Lastly, add buttermilk to this batter and whisk it. Spoon the mixture in a loaf pan.
Place the pan in the oven. Bake it for 40-50 minutes.
After that, take the pan out from the oven. Take the bread out of the pan and let it cool for some time.
Sprinkle with powdered sugar. Your gingerbread loaf is ready.
Nutritional Facts of Gingerbread Loaf
| | |
| --- | --- |
| Calories | 375.1 |
| Protein | 4.4 g |
| Carbohydrates | 65.3 g |
| Fat | 11.2 g |
| Sugar | 31.5 g |
| Cholesterol | 47.8 mg |
| Calcium | 90.4 mg |
| Iron | 3.5 mg |
| Magnesium | 97.8 mg |
| Potassium | 586.8 mg |
| Sodium | 434.7 mg |
How to make Gingerbread Loaf at Home | Video