How To Make Funnel Cake Bites At Home
Note- This post may contain affiliate links, we earn from qualifying purchases made on our website. If you make a purchase through links from this website, we may get a small share of the sale from Amazon and other similar affiliate programs.
Funnel cake bites are a good dessert that can be made easily. Today, let's see how you can make them at your home.
They are golden fluffy sweet nuggets dusted with powdered sugar. They are crisp on the outside but soft inside. I assure you that once you taste them, you can't stop yourself from having a dozen of them in a row. They are so fluffy and light that you can feel them melting in your mouth.
To make funnel cake bites, mix flour, baking powder, salt and vanilla extract. Now, add egg, milk and water to it. Mix and combine well. Then, make small balls and fry them. Dust them with powdered sugar and serve hot.
The full detailed recipe is mentioned below. If you love cakes, then you should definitely check out the other cake recipes that I've handpicked just for you.
1. Funnel Cake without Milk– Funnel cakes are cakes that do not need to be baked; instead, you have to fry the dough. This no-bake cake will be loved by kids as well as adults. It is a simple and easy recipe to make.
2. Strawberry Shortcake– Let's make this strawberry shortcake from the scratch with some basic ingredients. This is a perfect summer dessert that anyone can easily make at their make.
3. Saffron Milk Cake– Saffron Milk Cake is a version of tres leches cakes. It was originated in Middle East. Looking at the cake, no one can resist a slice of it.
4. White Texas Sheet Cake– Sheet cakes are easier to make in comparison to regular cakes. The creamy frosting and white sponge will make you drool over this cake. This is a kind of cake which gets better with time. You will surely love the recipe for this sheet cake.
Ingredients for Funnel Cake Bites
| Ingredients | Amount |
| --- | --- |
| All-Purpose Flour | ¾ cup |
| Sugar | 2 tablespoon |
| Baking Powder | ¾ teaspoon |
| Salt | ½ teaspoon |
| Egg | 1 |
| Milk | ¼ cup |
| Water | 1 tablespoon |
| Vanilla Extract | 1 teaspoon |
| Powder Sugar for Dusting | Optional |
| Oil  | For frying |
Looking at the ingredients will be such a relief. You don't need to run towards the supermarket to get the ingredients. They are easy to find in your pantry. These ingredients are mostly used in our everyday routine. So grab them and get started. Also, take a look below to see how much time this dessert will take to be prepared.
How Much Time Will It Take?
| Preparation Time | Cooking Time | Total Time |
| --- | --- | --- |
| 5 minutes | 10 minutes | 15 minutes |
Fifteen minutes for this mouth melting treat is not at all challenging to wait for. It is surprising how easy and quick this dessert is. It can be made in minutes to satisfy your sweet tooth.
Funnel Cake Bites Recipe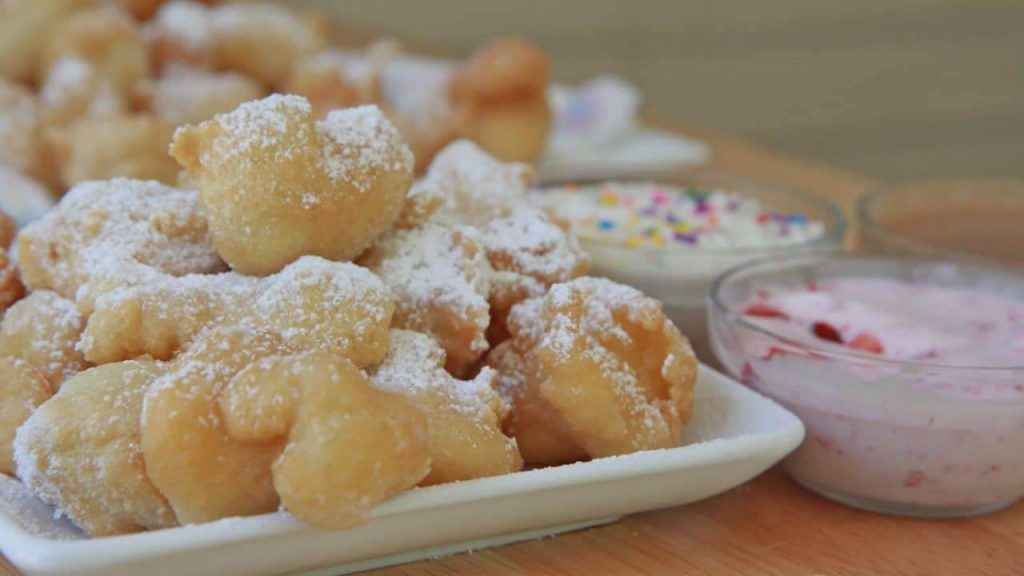 Add and heat oil in a medium skillet.
Take a bowl and add flour, baking powder, salt and vanilla extract.
Now, add egg, milk and water to it.
Mix and combine well.
Let the batter rest for 5 minutes.
Put the spoonful of batter in the oil. Add 6-7 balls in one round for frying.
Fry them on each side till they turn golden brown. Keep them aside on a paper towel.
Dust them with powdered sugar and serve hot.
There are various options with which you can serve these funnel cake bites. You can serve them with whipped cream, chocolate/strawberry/blueberry sauce, caramel sauce or even ice cream as well.
Nutritional Breakdown of Funnel Cake Bites
Many people become very conscious about their health when it comes to eating something sweet. So that's why I've added a nutritional breakdown of these Funnel Cake Bites below.
| | |
| --- | --- |
| Calories | 760 |
| Protein | 8g |
| Carbohydrates | 80g |
| Fat | 44g |
How to Make Funnel Cake Bites at Home | Video
No need of a cake when you can taste it in these bite sized balls. Pair them with a cup of hot chocolate will enhance its taste. So check out the recipe of hot chocolate bombs(to be interlinked) to make a hearty cup of joy. Here is the video to help you in every step. If you want to know more details of the recipe, kindly watch this video as it will be a great help to you.
So what are your views about this recipe? Let me know your reviews to help you out if anything has to be made clear. I am happy to help you. Share this recipe with your friends and do comment in the section below with your experience and queries.