How To Make Fried Bananas At Home
Note- This post may contain affiliate links, we earn from qualifying purchases made on our website. If you make a purchase through links from this website, we may get a small share of the sale from Amazon and other similar affiliate programs.
We all have eaten fried bananas. But homemade fried bananas have that freshness that makes them more irresistible. Today, I am going to tell you how you can fry bananas at your home.
I tried fried bananas for the first time when a friend of mine who belongs from Brazil cooked it for me. I went to her place and she made it as breakfast for me. She told me it is a traditional breakfast in Northeast Brazil, but many people love to have it as a dessert. No wonder I just loved these deep-fried sweet bananas. I even asked her for the recipe, tried it at home and you are going to love it.
To make fried bananas, cut each banana into half and further into 3-4 pieces. Make a mixture of cinnamon and sugar in a bowl. Cook the bananas in a skillet till golden brown and lastly, coat them with the sugar-cinnamon mixture. Serve hot.
You will love these delicious fried bananas without any doubt. It is a super easy recipe and a quick one too. No fuss is required for this recipe. But before we jump onto the recipe, let's check out some other desserts that you might like.
1. Lemon Sherbet– This lemon sherbet is quite popular in European and some American bars and restaurants. And the best part is that it's really easy to make one.
2. Banana Custard– This gorgeous pie is a delight to make creamy vanilla and banana custard is poured into a buttery vanilla pastry base, topped with fresh banana and clouds of whipped cream. This recipe is a must for banana lovers.
3. Apple Crisp– Apple crisp is made with nuts and oats in its topping. This recipe is very easy to make and anyone can make it at their home without any fuss.
4. Blueberry Buttermilk Muffins– These are a great and delicious snack. They are also really easy to make. Today, I will be sharing the easiest recipe for blueberry buttermilk muffins with all of you.
Ingredients for Fried Bananas
3 Firm Bananas (halved lengthwise)
½ cup White Sugar
1 ¼ teaspoon Ground Cinnamon
3 tablespoon Butter
You can grab these ingredients at any supermarket. Or may have them stocked up in your pantry already. You must be thinking about the time of preparation. So let's take a look on that.
How Much Time It Will Take To Prepare Fried Bananas?
| Preparation Time | Cooking Time | Total Time |
| --- | --- | --- |
| 10 minutes | 5 minutes | 15 minutes |
I know how happy you must be now as most recipes like this take a lot of time in their preparation. Check out the instructions and follow them precisely.
Steps to Prepare Fried Bananas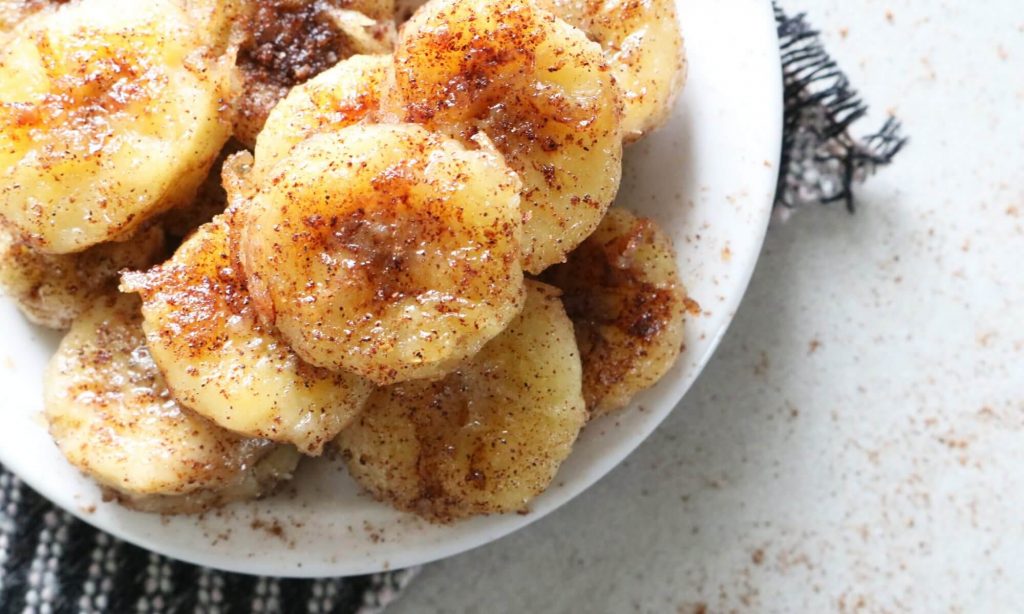 Mix sugar and cinnamon in a bowl.
Melt some butter over a medium-low flame in a skillet and add bananas slices to it.
Cook them for 5-10 minutes or until they turn golden brown.
Now, keep them over a paper towel and then coat them with the sugar-cinnamon mixture.
Serve hot.
Now you can serve these crispy fried bananas as a dessert and a breakfast as well. It tastes best with vanilla ice cream. You will love this dish with pancakes, waffles and crepes.
Nutritional Breakdown of Fried Bananas
Bananas contain many healthy nutrients that are very essential for a human body. That is why, I've mentioned the nutritional breakdown of this banana recipe.
| | |
| --- | --- |
| Calories | 169 |
| Protein | 0.7g |
| Carbohydrates | 30.5g |
| Fat | 6g |
| Cholesterol | 15.3g |
| Sodium | 41.5mg |
How to Make Fried Bananas at Home | Video
Here is the video to help you in every step. If you want to know more details of the recipe, kindly watch this video as it will be a great help to you.
Give a try to these sweet fried bananas and share with me your reviews for this recipe. You can ask your queries without any hesitation. If you have any other recipe in mind that you want me to share, please write it up in the comment section below. And I will be glad to share that recipe too. Your suggestions are always welcome. Have a good day!