How To Make Fiesta Cake At Home
Note- This post may contain affiliate links, we earn from qualifying purchases made on our website. If you make a purchase through links from this website, we may get a small share of the sale from Amazon and other similar affiliate programs.
The recipe that we are going to discuss today is Fiesta Cake which is perfect for your Party plans and for family functions also. This mouthwatering Fiesta cake is something that will make your special occasions more special.
I have an incident related to this Fiesta Cake that is worth sharing. I have learned this recipe of cake in my baking classes. When I tried this cake for the first time, I overbaked the cake and spoiled it.
The next day, I gave it another try with all the instructions given by the instructor. I made the cake successfully and served it to everybody there. Each and every single person appreciate the cake made by me. If you don't want to eggs to your cake, here is a list of vegan egg substitutes.
Out of eggs? We have got you covered with the detailed list of best egg substitutes in cake mix. Other than that, here are some cake recipes that might intrigue you.
1. Raspberry Charlotte Cake– This raspberry charlotte dessert is a wonderful cake by taste (just like it looks). The baked dessert is topped with raspberries and its filling gives it a sweet and tangy taste.
2. Lemon Cheesecake Cupcakes– Lemon cheesecake cupcakes will be a delightful recipe. These are the perfect mini cheesecakes for a crowd! You don't need many ingredients to make them, and they come together fairly quickly. 
3. Vanilla Mousse Cake– This is a brilliant, moist chocolate cake with a sweet, creamy vanilla mousse filling. Serve it with fresh fruit, chocolate shavings or fruit sauce.
4. Rum Cake– Rum Cake is a dessert that has rum and usually eaten by people in the Caribbean. You can have rum cake on the holiday season, Thanksgiving, St. Patrick's Day, etc.
Ingredients for Fiesta Cake
Cake
| | |
| --- | --- |
| Ingredients | Amount |
| Cake Flour | 2 Cups |
| Unsweetened baking cocoa | 1/2 Cup |
| Baking soda | 2 tsp |
| Salt | 1/4 tsp |
| Packed brown sugar | 2 Cups |
| Butter or margarine (softened) | 2/3 Cup |
| Eggs | 3 |
| Coffee flavored liqueur | 1 tbsp |
| Vanilla | 1/2 tsp |
| Sour cream | 1 Cup |
| Boiling water | 3/4 Cup |
Chocolate Mousse Filling
| | |
| --- | --- |
| Ingredients | Amount |
| Semisweet chocolate chips | 1 1/2 Cups |
| Whipping cream | 1 1/3 Cups |
| Granulated sugar | 3 tbsp |
| Coffee-flavored liqueur | 1/2 Cup |
| Vegetable oil | 2 tbsp |
| Vanilla | 1 tbsp |
Chocolate Whipped Cream Frosting
| | |
| --- | --- |
| Whipping Cream | 1 1/2 Cups |
| Powdered Sugar | 1 1/4 Cups |
| Unsweetened baking cocoa | 1/3 Cup |
| Vanilla | 1/2 tsp |
| Chocolate leaves or curls (if desired) | ——— |
Now, we have the list of ingredients with us and are quite lengthy but the best part is all these ingredients are easily available. Let's see how much time is required to make this cake at home.
How much time it will take?
| | | | |
| --- | --- | --- | --- |
| Prep time | Cook time | Total time | Servings |
| 60 minutes | 3 hrs 5 minutes | 4 hrs 5 minutes | 16 |
This Fiesta Cake requires a lot of time and patience too. So, let's see how to make this Fiesta Cake at home.
Fiesta Cake Recipe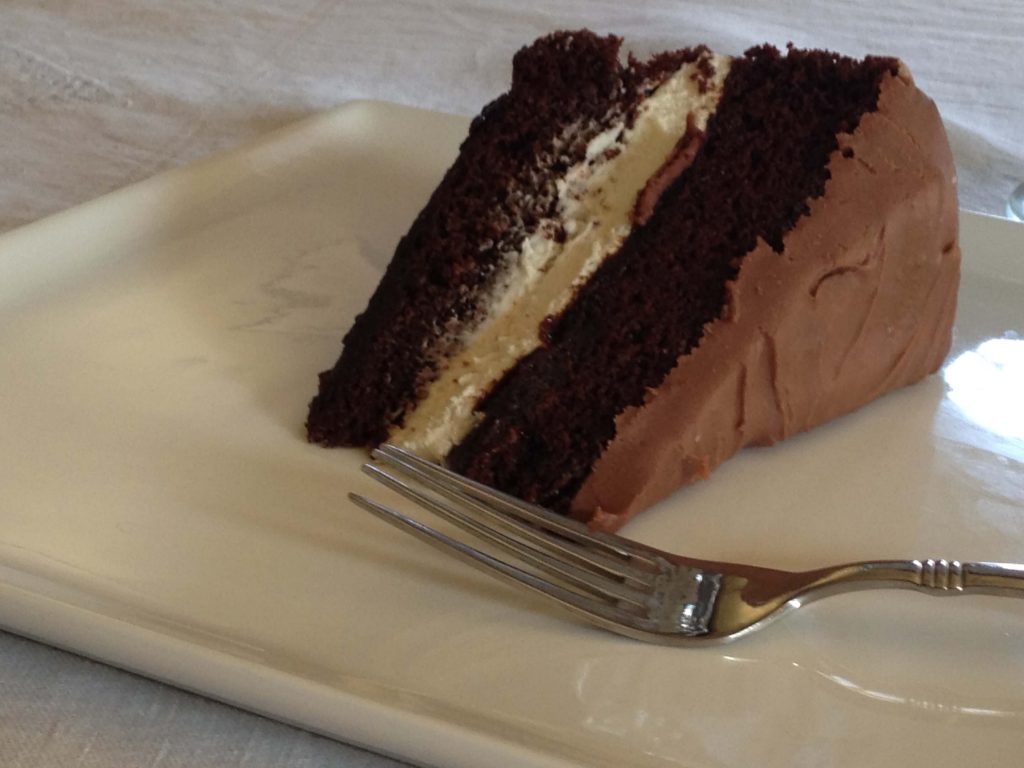 Let's begin
The first thing that we are going to do is heat the microwave to 350 degrees F. Then, grease the bottom and all the sides of two cake pans; lightly flour.
The next step is to take a bowl, mix cake flour, unsweetened baking cocoa, baking soda, and salt in it.
Take another bowl, whisk sugar, and butter (margarine) with a mixer until it gets fleecy.
Add eggs in the bowl and beat well. Make sure to add one egg at a time. Mix in one tbsp coffee-flavored liqueur and vanilla. Add flour mixture and sour cream into sugar mixture and beat them at low speed.
Mix hot water in it and blend it again. Transfer the whole mixture into the pans.
Now, put it inside the microwave for a maximum of 35 minutes. Cool it for a maximum of 10 minutes; remove it from the pans.
Add semisweet chocolate chips in a food processor, and process it accordingly. Take a pan, heat 1/3 of the whipping cream and the sugar over medium flame, mix it gently.
In the food processor, transfer the whole whipping cream through the feed tube; process it for a maximum of 20 seconds. Add liqueur, oil, and vanilla in it and process it again for more than 20 seconds.
Transfer it into a large bowl; cool it for 5 minutes. Take a chilled bowl, beat the remaining cream with a mixer. Gently mix the cream into the chocolate mixture and put it inside the refrigerator for a maximum of 30 minutes.
Let's move further, take one more chilled bowl, whisk all the frosting ingredients on high speed until stiff.
Cut the cake horizontally to divide it into two layers. Put a single layer of cake on a plate and spread the chocolate mousse on it. Duplicate the process again and again with the rest of the slices.
And the final step is to do frosting on the cake.
Garnish it with chocolate leaves or curls if desired. Cover it and refrigerate it for at least two hours and serve it. Enjoy this delightful cake with your family.
Nutritional Facts of Fiesta Cake
As we are very conscious of our health. To make a balance between your daily diet, I have mentioned the nutritional facts of the Fiesta Cake in the table below.
| | |
| --- | --- |
| Calories | 585 |
| Fat | 32 g |
| Cholesterol | 115 mg |
| Sodium | 290 mg |
| Potassium | 320 mg |
| Carbohydrate | 71 g |
| Protein | 6 g |
How to Make Fiesta Cake at Home | Video
To learn this recipe quickly, I have added a video below of how to make the Fiesta Cake recipe at home that will definitely help you.
I hope you've liked this Fiesta Cake recipe and make sure you have followed all the steps which I have mentioned above. Share your wonderful reviews with us in the comments section below and for more recipes like this stay connected with us.