How To Make Farmhouse Cheddar Skillet Pie At Home
A hearty breakfast can offer you a good start to the day. So, here I am sharing the recipe for Farmhouse Cheddar Skillet Pie, which will give you the right kick start for the day.
Eggs and cheese make a perfect breakfast. But having them in the form of a pie can be really interesting. This recipe is partially made on flame and partially in the oven. You will love the fact how simple the recipe is and yet it is amazing. Do try this recipe and it will become a regular in your house. 
To make farmhouse cheddar skillet pie, beat egg whites and egg yolks till they become fluffy and thick. Add onions, cheese and pepper with beaten egg yolks. Combine them both together. Pour a ladleful of batter in a skillet and cook till the bottom sets. Now, transfer the skillet to the oven and bake till it puffs.
But how much proportion should we take of the ingredients? You will get to know about the details regarding the ingredients, their quantity and the process further. But first, I've mentioned some other cherry pie recipes that I think you should definitely try at your home.
1. Sausage Pie– Sausage Pie is a vintage recipe that has a flaky crust, and a savory sausage cheese base. This easy sausage pie recipe is so easy to make and requires just a few ingredients. 
2. Chicken Pot Pie– Have you ever imagined pie in a pot? If no, then you should definitely try this chicken pot pie. It is a pot pie that includes a variety of fillings like meat, vegetables, and gravy.
3. Seafood Pie– The good thing about this pie is that it is very adaptable- add your favorite seafood and dial-up or down the creaminess by adjusting the amount of cream.
4. Pork Pie– Traditional pork pies have their origins in England. They are basically an upgraded version of meat pies and people love them so much because of their amazing and rich taste. It has pork and beef, which makes it high in protein and calories.
Ingredients For Farmhouse Cheddar Skillet Pie 
6 large eggs (separated)
½ cup light cream or milk
¼ cup finely chopped green onions (white and green parts)
2 cups (8 ounces) shredded sharp Cheddar cheese (divided)
½ teaspoon freshly ground black pepper
½ teaspoon salt
¼ teaspoon cream of tartar
2 tablespoon, unsalted butter (not margarine)
You can grab these ingredients at any supermarket. You might have them stocked up in your pantry already. Now, you must be thinking about the time of preparation. So, let's take a look at that.
How Much Time Will It Take To Make Farmhouse Cheddar Skillet Pie?
| Preparation Time | Cooking time | Total time |
| --- | --- | --- |
| 20 Minutes | 17 Minutes | 37 Minutes |
This pie will be ready within an hour. You will like this recipe for sure. Let's see how it is made.
Steps To Make Farmhouse Cheddar Skillet Pie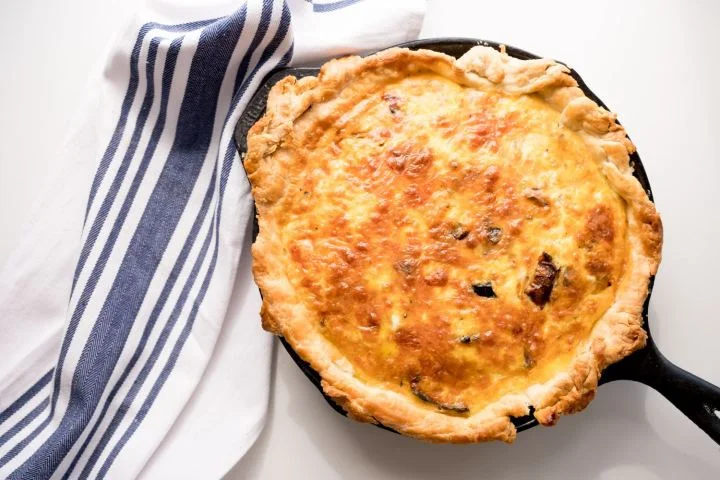 Set the oven on preheat mode to 375 degrees F. 
Take a large bowl to beat egg yolks and cream in it using a high-speed electric mixer. Beat till it gives a light yellow color and becomes thick. Add onions, cheese, and pepper. Keep this mixture aside. 
Take a medium bowl and beat egg whites, cream of tartar and salt in it using a high-speed electric mixer. Beat till soft peaks form. Combine this mixture with the egg yolk mixture kept aside. Do not worry if you see whites in this combined mixture.
Now, take a skillet and melt butter over medium flame. Gently pour the batter and cook for 7-8 minutes or till the bottom sets. During the batter is cooking, lift the edges of the poured batter and tilt the skillet to let the uncooked batter go underneath. 
Transfer this skillet to the preheated oven and bake it for 10 minutes or till it is puffed. Spread the remaining cheese over it.
Serve immediately.
Serve it with a sauce.
Nutritional Breakdown of Farmhouse Cheddar Skillet Pie 
Check out the nutrition value offered by the farmhouse cheddar skillet pie.
| | |
| --- | --- |
| Calories | 286 |
| Protein | 11 g |
| Carbohydrates | 18 g |
| Fat | 21 g |
| Sodium | 1036 mg |
If you have any query, then do not hesitate to ask me in the comment section. Your suggestions are also welcomed. Have a good day!