How To Make Espinacas con Garbanzos At Home
If you are looking for a high protein diet, then espinacas con garbanzos can prove to be a great option because the core ingredients of this recipe are spinach and chickpeas. So let's see how to make it at home.
Espinacas con Garbanzos is also known as spinach and Chickpeas. It is a Spanish dish that was invented by moors as they were the first people to bring spinach, chickpeas and cumin to Spain. It was very popular among Spanish people because this recipe is a treat for all the vegans and this recipe is full of protein as well.
Making espinacas con garbanzos is really easy. Just heat the olive oil and add onion and garlic in it. Now add garbanzo beans, spinach, salt and cumin. Cook it and after some time, mash the beans and keep cooking it. Serve hot.
This Mexican combination of spinach and chickpeas is an amazing treat for everyone's taste bud. But here are some other amazing recipes that you should definitely try.
1. Sous Vide Carrots– I am a very big fan of sous vide recipe because of the sweetness and the flavour filled in this recipe because they are perfectly cooked. I leanred this recipe from one of my friends who is a great chef.
2. Preserved Lemons– These lemons play a vital role in North African kitchens. They use them to bring a great taste to stews, sauces and some other recipes to add a tang to them.
3. Arkansas Green Beans– It is a delectable side dish with your main meal course. This recipe is a makeover of green beans with sweetness.
4. Umami Powder– The recipe is an ancient Japanese savory called Umami Powder and is full of nature in its every pinch. The recipe is a powder that you can use with any meal, food or even drink to detoxify your body.
Ingredients For Espinacas con Garbanzos
4 cloves Minced Garlic
1 tablespoon Extra Virgin Oil
10 ounce Chopped Spinach
½ Diced Onion
1 teaspoon Cumin
12 ounce Garbanzo Beans
½ teaspoon Salt
You can avail all these ingredients very easily. You can find them at your home or you can get them at your nearest markets. Let's see the preparation time for this amazing recipe.
How Much Time It Will Take To Make Espinacas con Garbanzos?
| Preparation Time | Cooking Time | Total Time |
| --- | --- | --- |
| 10 minutes | 15 minutes | 25 minutes |
This Spinach spinach and chickpea recipe are a quickie that can be prepared in just 25 minutes. Now let's check out the stepwise method for cooking it properly.
Steps To Make Espinacas con Garbanzos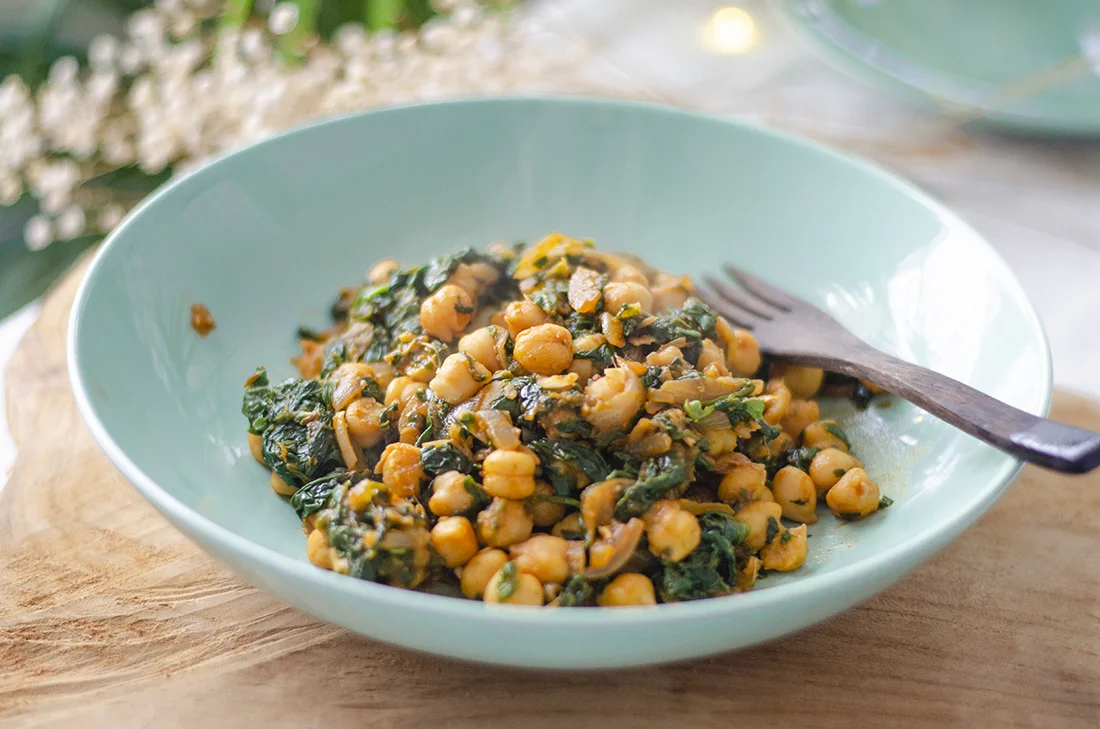 Take a skillet and add in olive oil and heat it over medium flame.
Next, add in the onion and garlic and cook it for over 6 minutes until it gets translucent.
Now you need to add in garbanzo beans, spinach, salt and cumin and stir it properly.
Now with a spoon, mash up the beans and keep cooking it.
At last, when you feel it is properly cooked, serve it hot.
These are the 5 steps you need to follow to prepare this dish. One thing I can assure you is that you are going to add this recipe to your list of favourite once you made it.
Nutritional Breakdown Of Espinacas con Garbanzos
Espinacas con garbanzos are very protein-rich and good for health. So now, let's check out what other nutrients does it provide.
| | |
| --- | --- |
| Calories | 169 |
| Fat | 4.9g |
| Sodium | 600mg |
| Carbohydrates | 26g |
| Protein | 7.3g |
How To Make Espinacas con Garbanzos At Home | Video
For a better understanding of the recipe, do check out the video of the recipe that I've mentioned below.
I hope you enjoyed reading the recipe and would want to create one in your own kitchen. Do recommend it to your friends and family and share our feedback in the comment section down below. We would also love to answer your queries there too.