How to Make Eggnog at Home
There cannot be a better way to celebrate Christmas with your loved ones than having a hearty glass of Eggnog. Check out the recipe so you can make eggnog at your home from scratch.
My mum has been making eggnog for the family for a really long time. Last year, I decided to step up and learn the recipe from here. This recipe is quite simple and if you follow the directions extensively, you will be able to get the hang of it.
To make eggnog, whisk egg yolk and sugar in a bowl and add slowly add milk to this mixture. Heat milk in a saucepan, add cream, nutmeg and salt to it. Pour the whisked mixture into the saucepan and stir constantly. Take it off the heat and vanilla extract to it. Garnish with cinnamon powder. 
Here are some other recipes available on the platform that you might wish to check out.
1. Milk Stout– Milk stout or cream stout is rich, chocolate roasted essences with pints of coffee and caramel present in it. There is only a subtle difference between milk stout and traditional dry stouts. The milk sugar balances the roasted bitterness present in stouts and is a smooth version of it.
2. Thai Iced Coffee– Thai Iced Coffee is somewhat similar to Thai Coffee. "Iced" suggests that it is refrigerated and then drunk. It is my favorite coffee and is capable of refreshing and soothing your dull mind. Thai Iced Coffee is the best stress-buster in summer.
3. Purple Haze Drink– The name of this drink is due to its purple color and this drink looks beautiful once done. Yes, the taste is also mind-blowing. This drink consists of alcohol and I think kids and infants should be kept away from it.
4. Bacardi Mojito– Bacardi is always the favorite of many alcohol lovers and they love to improvise this brand in many ways and here it is, the Bacar di Mojito recipe. This drink is good at the taste and will make you refreshed at the same time.
Ingredients for Eggnog
| Ingredients | Quantity |
| --- | --- |
| Egg Yolks  | 6 |
| Granulated Sugar  | ½ cup |
| Whipping Cream  | 1 cup |
| Milk  | 2 cups  |
| Ground Nutmeg  | ½ teaspoon |
| Salt  | A pinch |
| Vanilla Extract  | ¼ teaspoon |
| Ground Cinnamon  | To garnish |
These ingredients listed above are mandatory and you will get them from any supermarket or grocery store near you. Grab them and let's make this eggnog drink at your home.
How Much Time Will it Take?
| Preparation Time | Cooking Time | Total Time |
| --- | --- | --- |
| 15 Minutes  | 10 Minutes  | 25 Minutes |
The time involved in the whole process of making this egg drink is not that long. It can be easily made in a few minutes.
Now comes the most awaited part of the recipe. Here is the complete procedure of how you make this eggnog recipe at home. Follow the steps given below and make it more delicious.
Eggnog Recipe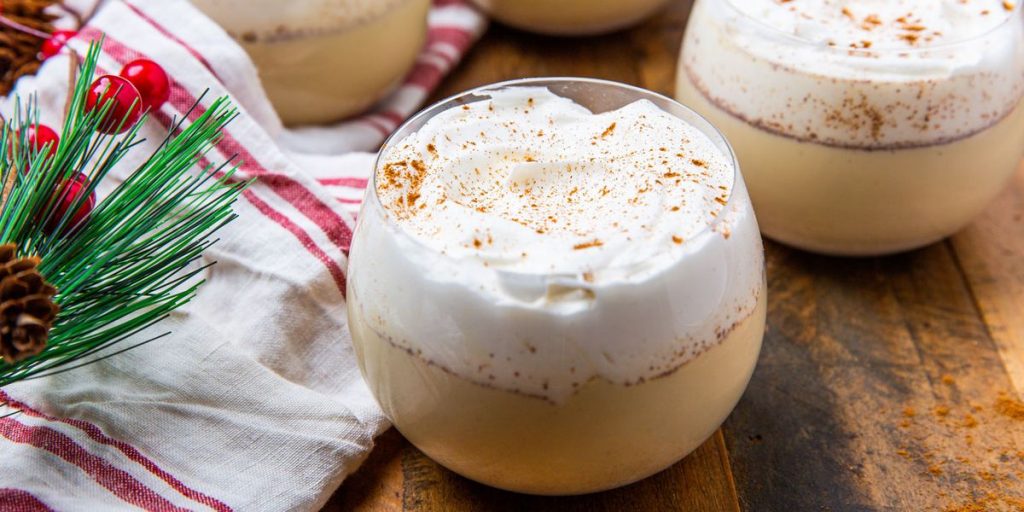 In a medium bowl, add egg yolks and sugar, whisk them together until they turn light and creamy.
Keep a saucepan over medium-high heat and add cream, milk, nutmeg and salt to it. Mix and cook it until it reaches a bare simmer.
In the egg mixture made before, add a spoonful of milk to it and stir it continuously. Add more milk so that the mixture is more light and temper.
After you add the hot milk to the eggs, pour this mixture into the saucepan and keep it on the stove.
Whisk this mixture on medium heat until it becomes thicker. After reaching a good consistency, remove the heat and add vanilla into it.
Now, in a pitcher, add eggnog and cover it with some plastic wrap. Refrigerate it and it will get thicker after it cools.
You can add this mixture into the best mixer grinder and blend it until smooth. Add more milk if you need it.
Sprinkle some cinnamon and fresh whipped cream over the top and it's ready to be served.
And your eggnog drink with lots of health-boosting nutrients is ready. It can be stored for up to one week. Enjoy this delicious and healthy drink with your family and friends.
Nutritional Breakdown of Eggnog
The nutritional breakdown of this drink is provided in the table below. 
| | |
| --- | --- |
| Calories  | 307 |
| Carbohydrates  | 22 gm. |
| Protein  | 6 gm. |
| Fat  | 21 gm.  |
| Cholesterol  | 246 mg. |
| Sugar  | 20 gm. |
How to Make Eggnog at Home | Video
This video will help you to understand this eggnog recipe better. Watch this video and know the exact procedure with more details.
I hope you will like this recipe. Please tell us about its taste and the experiences comments box below. We would love to see your comments and we will surely reply. Till then, take care and stay tuned to see more such amazing recipes.