How to Make Earl Grey Tea Latte at Home
We are all aware of Latte and its wide varieties. I was very much confident that I know all the varieties of latte but, one day, I was at a tea party organized by a very close friend of mine. At that party, I found a wide variety of tea, coffee, lattes. I was aware of most of them, but I was not aware of the latte named Earl Grey Tea Latte.
When I saw the name, I was quite confused but I was excited to drink, so I went to the latte corner and drank Earl Grey Tea Latte. I found it so tasty and a good stress reliever that I could not stop myself from having one more, like how I drink and enjoy chai tea. 
It gives me the flavour of tea and vanilla, too. It's like I am having two drinks together. After the party was finished, I went to my friend to ask her about how to make it and she handed me over the Earl Grey Tea Latte Recipe, which she has written in her recipe dairy and I clicked the picture of the Earl Grey Tea Latte Recipe.
The very next morning, instead of making my usual green tea latte, I made Earl Grey Tea Latte for me. I made it by following all the instructions written over there and, while drinking, I thought to share the Earl Grey Tea Latte Recipe with my lovely latte lovers.
But there are many other drink recipes that we've covered in our blog. You should definitely check them as well.
1. Green Tea Shot– The classic Green Tea Shot (also known as a Jameson Green Tea) is a popular whiskey-based cocktail with peach schnapps. It's actually an excellent balance of sweet and sour that can be especially refreshing in the summertime.
2. Chinese Tea– A tea recipe is the easiest recipe that you can have and learn how to prepare Chinese tea properly is easy enough if you follow a few basic guidelines.
3. Tokyo Tea– Tokyo Tea is one of the best Tea or I must say a cocktail which is very refreshing yet soothing at the same time. Tea is only included in its name to make it sound healthier.
4. Orangeade– Just like we prepare lemonade, orangeade is basically a drink which is made up of oranges and water sugar with some other ingredients. Basically, it's just another lemonade but made with oranges.
Ingredients For Earl Grey Tea Latte
| Ingredients | Amount |
| --- | --- |
| Earl Grey Tea Bag | 1 |
| Boiling Water | ¾ Cup  |
| Milk | ¾ Cup  |
| Vanilla Syrup | 1 tbsp |
| Cinnamon | 1 tsp |
Let's see how much time it will take to make Earl Grey Tea Latte because when I was making it, I thought it would be time-consuming but it was not. Let's see the proper time, it will take.
How Much Time It Will Take?
| | | |
| --- | --- | --- |
| Preparation Time | Cooking Time | Total Time |
| 5 Mins | 5 Mins | 10 Mins |
Without wasting more time, let's check the Earl Grey Tea Latte Recipe because I know you are very excited about this.
Earl Grey Tea Latte Recipe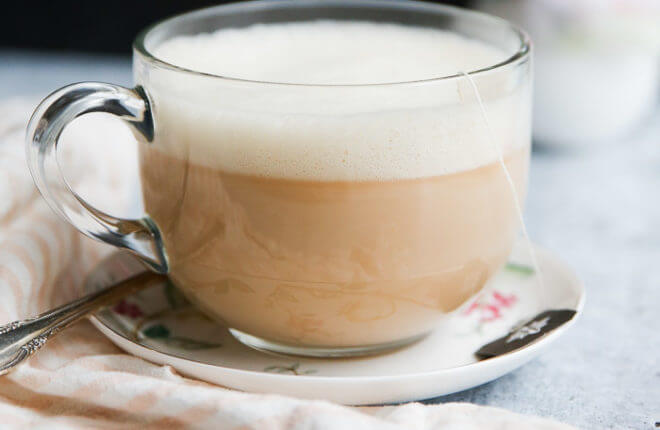 In a mug pour boiling water and add tea bag for about 2-3 minutes.
Remove the teabag from the mug and In a saucepan over the medium heat add milk, heat for 3-4 minutes, and then add it to the mug.
In a mug add vanilla syrup and sprinkle cinnamon over the drink.
Stir it accordingly.
Finally, we are finished with the recipe and you can cater it your guests with this or make it your morning drink also.
Nutritional Facts Of Earl Grey Tea Latte
People nowadays are very health conscious and for those people, I have mentioned nutritional information of Earl Grey Tea Latte.
| | |
| --- | --- |
| Calories | 168 |
| Fat | 4 g |
| Cholesterol | 15 mg |
| Sodium | 103 mg |
| Carbohydrates | 28 g |
| Protein | 6 g |
Moreover, Here Are A Few Health Benefits Of Earl Grey Tea
Combats Oral Infections: Earl Grey Tea contains antioxidants known as 'catechin,' and they're potent in combating oral infections. In addition to that, this tea features fluoride, which defends your teeth from cavities and decay. 
Relieves Colds: Traditionally, people drink tea to fight colds. Earl Grey Tea carries anti-viral compounds that may help toughen you from within. The Bergamot that this tea contains helps boost one's immunity and shields the body from viruses that cause colds, infections, and flu.   
Eases Distress: Compared to coffee, Earl Grey Tea soothes, calms, and loosens up the body. It likewise reduces stress and, at the same time, offers the same focus and clarity as an espresso cup. As such, Earl Grey is an excellent option for people who are avoiding getting jittery from drinking coffee.  
Nourishes Your Body: While drinking coffee may dehydrate you, Earl Grey Tea helps retain your body's liquid proportion and keeps you hydrated. The reason for this is because the tea contains potassium. 
Reduces Weight: Remember, frequent exercise and diet are still essential to losing weight. However, drinking Earl Grey Tea enhances your metabolism and may help shed your extra pounds. This tea contains citrus extract, which boosts your energy consumption and controls your metabolic processes, resulting in weight reduction.
How To Make Earl Grey Tea Latte at Home | Video
You can make delightful Earl Grey Tea Latte while watching it live, so here I have added a video of the recipe of Earl Grey Tea
Lastly, I hope you've liked this recipe of Earl Grey Tea Latte that I learnt this from my friend. Do share this recipe with your friends and share your experience in the comments below. Stay tuned for more.