How to Make Double Cheeseburger at Home
This recipe is quite famous and I am quite sure that all of you would have had this recipe for so many times that you don't even remember. This recipe is one of the favorites among all the foodies and every single guy who is fond of eating outside.
I am talking about the Double cheeseburger. Yes, you heard it right.
I am very much fond of Burgers. I love them; even I sometimes make a burger at home instead of going out to have one. So today, I decided to share a simple recipe of a double cheeseburger with you guys which I learned from my uncle.
My uncle used to make very delicious Double cheeseburgers and he worked at McDonald's during his prime. So I learnt this Double Cheeseburger recipe from him. So let's start making.
To start with, we will need some of the important ingredients that I guess you may have at your home or you can get them easily from the nearest super market. But here are some other amazing recipes that you should definitely try.
1. Turkey Burgers– The one thing that makes this burger different from any other ordinary burger is that it has turkey in it. This combination of turkey with eggs stuffed inside two buns is something that everyone will love.
2. Lamb Burger– Word 'Lamb' was originated from German Lambiz. Lamb is made up of sheep's meat and is quite popular in America because of Lamb Burger.
3. In-N-Out Burger– Have you heard about the In-N-Out restaurant? If yes, then you must know about their burger that I am going to tell you.
4. Granny's Fried Chicken– If you are craving for a crunchy and tasty fried chicken but cannot go all the way to the states to relish this chicken. Then this recipe is going to your savior for sure. With this recipe's help, you can make the best tasting crunchy chicken in your kitchen itself.
Ingredients For Double Cheeseburger
| | |
| --- | --- |
| Ingredients | Quantity |
| Hamburger bun | 1 pc |
| Ground beef | 1/3 pound |
| Salt | A pinch |
| Processed cheese | 4 pc |
| Salad dressing | 1 tsp |
| Tomato | 1 slice |
| Lettuce leaf | 1 pc |
| Onion | 1 slice |
So these ingredients are enough to make a super cool Double Cheese hamburger at home. 
How Much Time It Will Take?
This recipe will be made in some minutes. I mean I haven't seen any recipe which takes so less time without even compromising with the taste. So let's have a look at how much time will this McDonald's Double Cheese hamburger.
| | | |
| --- | --- | --- |
| Preparation time | Cooking time | Total time |
| 5 minutes | 10 minutes | 15 minutes |
Now comes the favorite part. Yes! Let's start making this Double cheeseburger, I am very excited while writing this recipe, I don't know why. Anyways here are the instructions.
Double Cheeseburger Recipe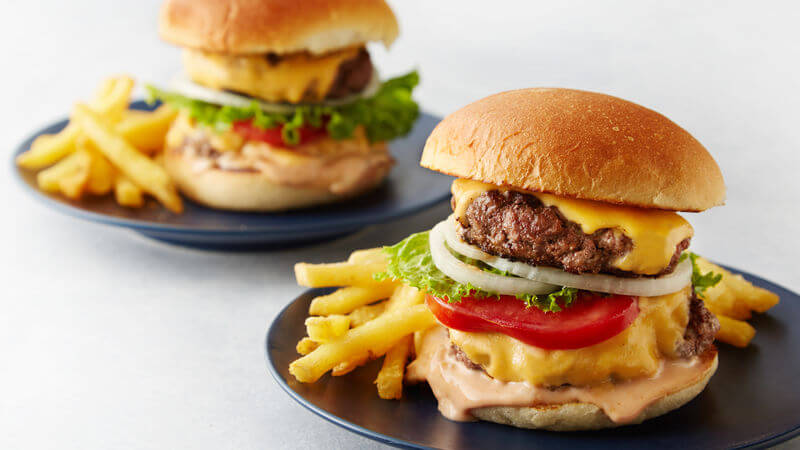 Take a pan or skillet whatever you have at your home.
Preheat it over medium heat, now toast both halves of the burger bun for about 2 minutes.
Make patties by cutting the beef into two parts and add salt to it for taste.
Now Cook these patties on a pan and flip after every 2 minutes. 
Now after flipping the patties, quickly put the cheese on them and cook. for another 2-3 minutes until the meat is cooked properly.
Now the burger is ready for filling. Put the things in order as written: bottom bum, dressing, tomato, a beef patty with cheese, onion, a beef patty with cheese, and top bun.
Your Double Cheeseburger is ready. Serve it on a plate with some ketchup or any other sauce or dressing.
Nutritional Facts Of Double Cheeseburger
This recipe is a made-in-home recipe and doesn't contain any health-harming ingredients. This recipe is healthy and causes no health problems. But still, here is the nutritional breakdown of the recipe in the box below.
| | |
| --- | --- |
| Calories | 757.8 |
| Protein | 45 gm |
| Sugars | 8.5 gm |
| Fat | 49.7 gm |
| Dietary fiber | 1.8 gm |
| Calcium | 1078.7 mg |
| Cholesterol | 157.5 mg |
| Iron | 4 mg |
How To Make Double Cheeseburger at Home | Video
To make this Double cheeseburger at home you may need a video to watch the exact procedure if you are doing it for the first time. So here is a video to help you out.
I hope you like this double cheeseburger recipe and I am pretty sure that you will try this at your home. Please share your valuable reviews with us and let us know in the comment section below.