How to Make Doritos Chicken Casserole at Home
The recipe which I am going to share now is everyone's favorite. This recipe is a combination of both the Chicken and the tacos or I must say Doritos. Yes! Doritos, I don't know about you guys but Doritos is my favorite chips brand from childhood. The recipe which I am going to share is called Doritos chicken casserole. 
I came to know about this Doritos Chicken Casserole recipe when one day my mom suddenly tried to make it and trust me it was so delicious that I told my mom to explain each and every step of this recipe. I was so much impressed by this dish that I tried to make it at home and was successful in my first attempt.
So I thought to share this Doritos Chicken Casserole recipe with you guys. I think this recipe is very easy to make and takes very little time to cook. But here are some other amazing recipes that you should definitely try.
1. Chopped Cheese Sandwich– Chopped cheese, also known as "a chop cheese", is a type of sandwich originating from New York City. This sandwich is made on a grill with ground beef, onions, and topped by melted cheese and served with lettuce, tomatoes, and condiments on a hero roll. 
2. Tacos Al Pastor– Unlike tacos filled with beef, chicken, or even fish, Taco Al Pastor are filled with pork. The recipe got its name from the technique adopted by Mexican shepherds to prepare strips of marinated pork on vertical spits.
3. Beef and Bean Torta– When talking about Mexican dishes, the first thing that comes to our mind is a bean. Yes, beans are used in almost all of the Mexican cuisines. So, I am going to tell you about dish made of beef, tortilla and beans.
4. Chicken Taco– The cuisines of Mexico are world-famous but people love the most is Chicken taco which is the favorite dish of Mexico and everyone loves to eat Chicken taco.
Ingredients for Doritos Chicken Casserole
| | |
| --- | --- |
| Ingredient | Quantity |
| Cooking spray | 1 pc |
| Doritos Cheese flavored | 1 pkt |
| Chopped cooked chicken | 3 cups |
| Corn | 15.25 ounce |
| Mexican blend cheese | 2 cups |
| Salsa | 1 1/2 cups |
| Condensed cream of Mushroom soup | 10.75 ounce |
| Condensed cream of Chicken soup | 10.75 ounce |
| Sour cream | 8 ounces |
I don't think it would be difficult for you guys to fetch these ingredients. They will be available at any supermarket or grocery store. 
This dish as I told you guys takes almost no time to cook but still here is the time distribution table of this recipe. The time it takes to get prepared is worth waiting. It is a very delicious recipe I must say.
How Much Time It Will Take?
| | | |
| --- | --- | --- |
| Preparation time | Cooking time | Total time |
| 15 mins | 30 mins | 45 mins |
I still remember, my mom used to hand over me the packet of Doritos that were left after making this recipe. Anyways let's move to the next part of this recipe which is the most important part of any recipe. Yes! I am also very excited while writing this and trust me I am craving for this dish right now.
Doritos Chicken Casserole Recipe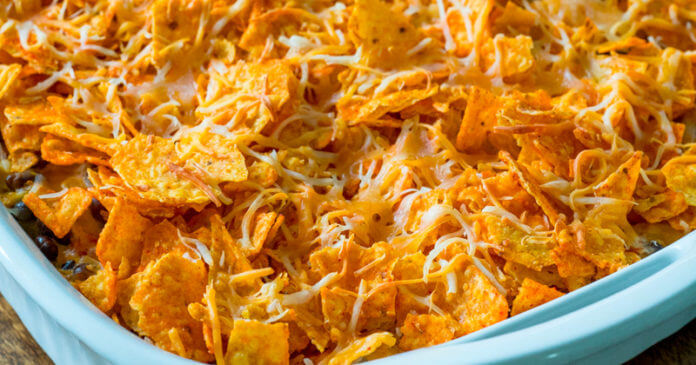 Preheat the oven up to 350 degrees F and sprinkle some cooking sauce slightly into a baking dish.
Crush the Doritos chips and spread them evenly at the bottom of Baking platter which is being
prepared.
Take a bowl, and mix 1 cup of Mexican cheese blend, Chicken, Chicken soup cream, mushroom soup cream, salsa and sour cream well.
Now evenly spread the whole mixture into the baking platter and add crushed chips over it.
Let it bake for about 15 minutes.
After done baking, spread the cheese that you have left, over the top of it and again bake it for at least 10 minutes.
By following all these steps, you will get a be lost in its delicious and rich taste. Do try it once at your home and make every second that you gave to this recipe count.
Nutritional Facts Doritos Chicken Casserole
This dish is really good for health and can be served to everyone in the house of any age group. No need to worry about its nutritional values and amounts. It's not going to cause any bad effect on your family's health. Here is a table of its nutritional breakdown.
| | |
| --- | --- |
| Protein | 38.9 gm |
| Carbohydrates | 69.3 gm |
| Dietary Fiber | 5.5 gm |
| Sugars | 7.8 gm |
| Fat | 55.5 gm |
| Calories | 919 |
| Cholesterol | 120.5 mg |
How to Make Doritos Chicken Casserole at home | Video
I would recommend you guys to watch this video if you are trying this recipe for the first time. This video will guide you and help you to make it perfect.
I hope you will like this recipe and will make this recipe at home. You can share your experiences and reviews with us by commenting down in the comment box below.