How To Make Donauwelle At Home
Donauwelle is a traditional sheet cake with layers of chocolate and plain pound cake with a wavy border between the two. Today, let's see how you can make it at your home.
The cake has sour cherries in it and is topped with buttercream and chocolate glaze. It is very famous in Germany and Austria. The recipe of the cake is similar to that of marble cake. The cake has a very attractive and tempting look. Now, let's have an overview of the recipe.
To prepare donauwelle, mix flour, baking powder, margarine, egg yolks, sugar and vanilla extract. Divide the batter into two and add cocoa powder to one batter bowl. Now, bake the batter and serve with buttercream.
Now, let's see the detailed recipe. But before we jump onto the recipe, let's check out some other desserts that you might like.
1. Bohemian Kolaches– Kolaches are sweet pastries famous in Czech, which are made of yeast dough with a filling of fruit or cheese. Though it is a sweet dish, yet it is healthier than a donut.
2. Chocolate Fondue– It is a great idea to end our meal with a chocolate fondue. From fruits to cakes to cookies and marshmallows, almost everything will pair best with it. Just slide them in the skewer, dip in warm chocolate sauce and you are ready to go. You will taste heaven.
3. Baklava– This honey baklava is flaky, crisp and tender and I love that it isn't overly sweet. It's basically a party in your mouth. I am a huge fan of baklava and this is the best baklava recipe I have ever tried. Hands down.
4. Mughalai Badami Kewra Seviyan– Badami Kewra Seviyan is a festive dish that people mostly prepare during Eid. It is one of the most beloved Indian desserts as it is very easy and quick to make. It is also monsoon season favored dessert.
Ingredients for Donauwelle
| Ingredients | Amount |
| --- | --- |
| All-Purpose Flour | 2 cups |
| Baking Powder | 1 teaspoon |
| Margarine | 1 cup |
| White Sugar | 1 ¼ cups |
| Vanilla Extract | 1 tsp |
| Eggs | 5 separated |
| Unsweetened Cocoa | 2 teaspoon |
| Tart Cherries in Water | 1 can/16 ounce |
| Margarine | 1 cup |
| Margarine | 2 tablespoon |
| Confectioners' Sugar | 1 ½ cups |
| Rum Flavoring | 2 teaspoon |
| Egg Yolks | 2 |
These ingredients are readily available in any supermarket and most probably, you will find all of them in your pantry. It is a recipe which tastes good and is loved by almost everyone. Without any delay, let's see how much time it will take to prepare this yummy cake.
How Much Time It Will Take?
| Preparation Time | Cooking Time | Additional Time | Total Time |
| --- | --- | --- | --- |
| 25 minutes | 25 minutes | 1 hour | 1 hour 50 minutes |
To satiate your cake craving, you have to have the patience for this recipe. It is a time consuming recipe. So don't be sad as this recipe will be worth the wait. The instructions should be followed with all precision to get the best outcome. Take a look at the instructions below.
Donauwelle Recipe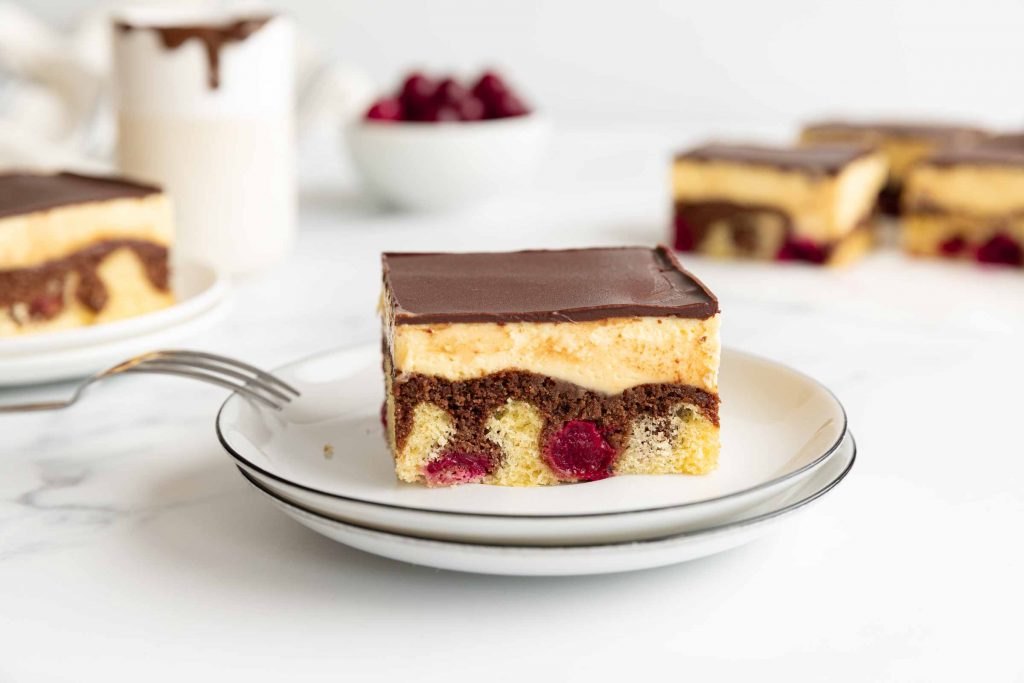 Set the oven on preheat at 350 degrees F (175 degrees C). 
Till the oven preheats, place parchment paper in a 9×13 inch baking dish.
Take a bowl and mix the flour and baking powder in it. In another bowl, beat 1 cup and 2 tablespoons of margarine with an electric mixer until it turns fluffy. 
Now in a bowl, beat 5 egg yolks, sugar and vanilla extract. Mix this in the flour and combine them well.
In a large glass bowl, beat egg whites till they turn foamy and stiff peaks form. With the help of a rubber spatula, mix 1/3 egg whites in the batter and fold them together. Add the remaining egg whites to it and mix them well.
Divide the batter into two bowls. Add cocoa powder to one batter bowl and combine them. Take the prepared baking dish and pour the white batter into it. Top it over with the chocolate batter and add cherries on the top.
Bake it for 25-30 minutes and check with the toothpick. The toothpick should be clean. Cool the cake before removing it from the dish.
For the buttercream, beat 1 cup and 2 tablespoons of margarine, 2 egg yolks, sugar and rum. Beat till they turn fluffy and light. Spread this on the cake and refrigerate the cake till the time to serve.
Note– The moment you take the cake out of the oven and flip it, wipe the parchment paper with a wet, cold towel. This will help in getting the paper off easily.
This cake is also known as snow white cake because of the beautiful red, the white and black color of the cake. You can store this cake in an airtight container for up to 3 days. Keep in mind to put it out of the refrigerator before the serving time so that the glaze gets soft. This will make it taste better.
Nutritional Breakdown of Donauwelle
To check the nutritional breakdown of this Donauwelle cake, check out the table that I've mentioned below.
| | |
| --- | --- |
| Calories | 429 |
| Protein | 4.5g |
| Carbohydrates | 42.5g |
| Fat | 27.4g |
| Cholesterol | 83.7mg |
| Sodium | 349.7mg |
How to Make Donauwelle at Home | Video
Here is the video to help you in every step of cooking. If you want to know more details of the recipe, kindly watch this video as it will help you.
So what are your views about this recipe? Let me know your reviews to help you out if anything has to be made clear. I am happy to help you. Share this recipe with your friends and do comment in the section below with your experience and queries.