How To Make Domino's Cheeseburger Pizza At Home
Note- This post may contain affiliate links, we earn from qualifying purchases made on our website. If you make a purchase through links from this website, we may get a small share of the sale from Amazon and other similar affiliate programs.
Recreating Domino's Cheeseburger pizza at home is super simple. Cheeseburger pizza? Don't let the name fool you. It is a burger pizza sitting atop a perfect crust instead of two halves of a bun. Domino's has added a burgery twist for the ultimate flavors to their cheeseburger pizza. Let's peep out to know more.
Domino's Cheeseburger pizza is one of the feature foods prepared classically! The glorious presentation of toppings indeed is mouth-watering. Starting with ground beef, it has American cheese, cheddar cheese, provolone cheese, pickle juice, diced tomatoes, and onions. The addition of ketchup-mustard sauce adds a subtle vibrance to the cheeseburger pizza.
All the toppings are layered on top of flavorful ketchup-mustard sauce. The sauce further is slathered on top of a 14-inch large hand-tossed crust. Moreover, not only the beef flavor comes out, but the awesomeness of provolone cheese is prevalent indeed. 
It is highly worth making Domino's copycat cheeseburger at home within 30 minutes. Scroll down to know a few steps before you proceed to make this pizza recipe. The list of equipment, ingredients, steps, calorific value, and other information is mentioned below. But before you read out the entire recipe, check out other Domino's copycat recipes from our website. 
1. Domino's Chicken Carbonara – Domino's chicken carbonara is loaded with rich umami flavors. This dish has onions, chicken, mushrooms, and bacon. Garlic adds seasoning flavor to it while parsley gives earthy flavor to this dish. These flavors are perfectly infused in the penne pasta and then, it's tossed with alfredo sauce.
2. Domino's Cheesy Bread – Domino's cheesy bread is a cheesy-licious delight. This bread is filled with Mozzarella and Mexican cheese blend. It's crispy on top and gives a perfect cheese pull in every bite. This dish is easy to make at home and is a perfect snack to satiate the craving for cheese.
3. Domino's Chicken Wings – Do you like chicken wings? You can make Domino's chicken wings easily at home! These baked chicken wings are coated with spicy flavors of hot sauce, cayenne pepper, smoked paprika, garlic powder, etc. Coconut oil and butter add more flavor to this chicken and keep these chicken bites tender.
4. Domino's Breadsticks – Domino's breadsticks are crispy golden from the crust and are loaded with the flavors of butter, garlic powder, and oregano. These breadsticks have heat and oil to keep the bread moist and soft from the inside. The recipe for these breadsticks is simple and can be easily prepared at home.
What Equipment Will You Need To Make Dominos Cheeseburger Pizza?
Frying Pan – Saute the veggies in a frying pan over medium heat.
Oven – Bake your cheeseburger pizza in the oven.
Cling Film – To cover the dough tightly, use a cling film. 
Bowl – Knead the dough in a large bowl. 
Rolling Pin – Roll the pizza dough evenly by using a rolling pin. 
How Much Time Will You Need To Make Dominos Cheeseburger At Home?
| Preparation Time | Resting Time | Cooking Time | Total Time |
| --- | --- | --- | --- |
| 10 Minutes | 1 Hour | 25 Minutes | 1 Hour 35 Minutes |
What Ingredients Will You Need To Make Domino's Cheeseburger pizza?
For Dough
Flour – All-purpose flour is a refined flour used to prepare the dough. 
Yeast – Add a teaspoon of instant yeast in warm water. It will help in the rising of the dough.  
Salt – Add salt to your taste in the dough.
Sugar – Mix a teaspoon of sugar with yeast for its speedy activation. 
Olive Oil – Using oil in the dough will result in a crispy dough.
For Toppings 
Ground Beef – To make cheeseburger pizza, use 200g of ground beef.
American Cheese – You need half a cup of American cheese to spread on top. It will add mild and savory flavors. 
Provolone Cheese – Add half a cup of provolone cheese to add sweet flavors. 
Cheddar Cheese – Cheddar cheese will enhance the flavors. Use half a cup of shredded cheddar cheese.
Onion – Chopped onions get along with the ground beef very well.  
Tomato – Tomatoes will add a tangy flavor to your pizza toppings. Add a cup of chopped tomatoes.
Tomato Ketchup – For spreading sauce on your pizza dough, mix mustard and tomato ketchup.
Mustard Sauce – Mustard sauce combined with salty and sweet ketchup is a popular top-up. 
Pickle Juice – Pickle juice compliments the other spices and flavors on the base. 
Butter – Slather some butter on the top of your pizza dough.
Italian Seasoning – Add a teaspoon of Italian seasoning on the top of your pizza to add subtle spice.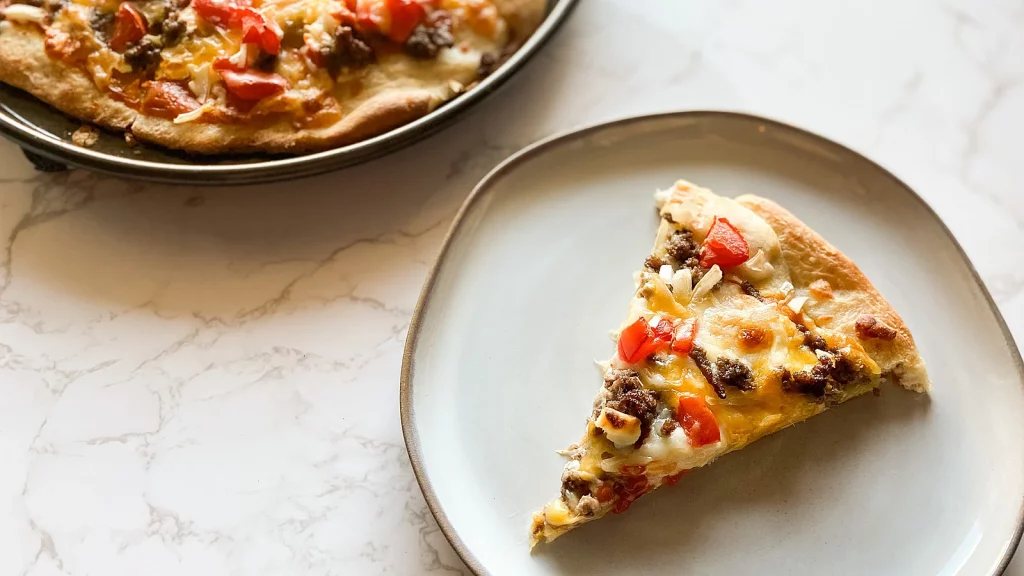 Steps To Make Domino's Cheeseburger Pizza
1. Dough
Activate the yeast by mixing yeast and sugar in warm water. Then take a bowl, add flour, yeast mixture, a teaspoon of oil, and a teaspoon of salt. Mix it well until it is combined. Punch down the dough to knead steadily. Let it rest for an hour or 30 minutes. 
2. Toppings 
Take the ground beef and roast it in a frying pan with oil greased. Get it cooked to add it as a topping. Further, mix your tomato ketchup with mustard sauce. It is a popular combination and tastes amazing. Chop tomatoes and onions. 
3. Assemble and dress 
While dressing your base pizza, gather everything around. Begin with slathering the mustard and ketchup mix sauce on the first layer. Add ground beef, a little shredded cheese, onion, and tomatoes. At last, put some more cheese and a teaspoon of pickle juice on the top. Place it in the baking tray in the oven for 15 minutes at 425 ℉.
Nutritional Information
| | |
| --- | --- |
| Calories | 1252 kcal |
| Carbohydrates | 147 g |
| Fat | 68 g |
| Protein | 54 g |
| Sodium | 2366 mg |
| Dietary Fiber | 4 g |
| Sugar | 20 g |
How Will Your Domino's Cheeseburger Pizza Look And Taste Like?
Domino's cheeseburger pizza is delicious and paired well with ground beef and other veggies. The aroma of beef, tomato, mustard, and cheese delivers all the flavors. It is a burger pizza sitting atop a perfect crust instead of two halves of a bun. 
Dominos Cheeseburger Pizza
Dominos cheeseburger pizza is incredibly delish and it is well paired with ground beef and other veggies. The ketchup-mustard aroma adds dynamic flavors to the cheeseburger pizza. A cheeseburger sets atop on a fine thin crust.
For Dough
4

cup

All-Purpose Flour

1

tablespoon

Salt

1

teaspoon

Yeast

1

teaspoon

Sugar

1

teaspoon

Olive Oil
For Toppings
250

g

Ground Beef

1

cup

American Cheese

1

cup

Provolone Cheese

1

cup

Cheddar Cheese

1

cup

Onion (diced)

1

cup

Tomatoes (diced)

1

tablespoon

Tomato Ketchup

1

tablepsoon

Mustard Sauce
Take a bowl, add all-purpose flour, a mixture of yeast, salt, and a teaspoon of olive oil. Mix it well until it is combined evenly.

Knead the dough on a floured surface for about 10 minutes. Cover it up with cling film and put it in a warm place to rest.

Once the size of the dough is doubled, knead it for another 5 minutes and divide it into dough balls.

Roll the dough with a rolling pin or hands. Put it in the pan for an airy and bubbly crust.

Once you have pre-baked your pizza base, get ready for the toppings. Slather ketchup and mustard sauce mixture, then ground beef, tomato, onions, and a mixture of cheese blend. Season your pizza with Pickle juice and Italian seasoning.

Put it in the oven for 15 minutes at 425 degrees.
Frequently Asked Questions (FAQs)
1. What is in a cheeseburger pizza from Dominos?
The first layer of Ketchup-mustard sauce brings out rich flavors. On top of that, there is ground beef, American cheese, provolone cheese, cheddar cheese, onions, tomatoes, and pickle juice.  
2. What is the sauce on Domino's cheeseburger pizza?
The Ketchup-mustard sauce adds dynamic flavors to the cheeseburger pizza. It is pretty basic but delicious. 
3. Are there pickles on Dominos cheeseburger pizza?
Dominos adds sliced pickle on the top of cheeseburger pizza. However, pickle juice can also be added instead. 
4. Which crust is best in Dominos?
Dominos offers a variety of crusts. However, the choice of Domino's best crusts includes cheese burst, thin-crust, classic hand-tossed, wheat thin-crust, and the pan crust. 
Prepare Domino's Cheeseburger pizza copycat recipe with the help of this article. Refer to all the information given. Share your experience with us in the comments section below.