How To Make Dirty Monkey Drink At Home
Dirty Monkey Drink is a popular tropical cocktail. The key flavors of this drink are banana and chocolate. Whenever you make the recipe, remember banana is the key ingredient to be used. If you need a creamy tropical beverage, the dirty monkey is the right choice for you. You can make this drink easily at home in less than 10 minutes.
To make the dirty monkey drink, add a ripe banana (sliced), coconut cream, aged rum, banana liqueur, Kahlua, and pineapple juice to a blender. Add ice cubes and blend well until you see smooth consistency. Add the mixture to a tall glass with chocolate syrup drizzled in it. Garnish it with whipped cream and some more chocolate syrup on the top.
This relaxing drink contains the sweetness of chocolate along with the spark of rum and banana liqueur. Aged rum has an improved and refined taste. You can also use different types of alcohol to make this drink. Stick with this article to know about the whole recipe.
Read the instructions in the recipe card below to make the dirty monkey drink. You can also watch a similar video. If you like it, don't forget to rate this recipe and share it with your friends. But before you check it out, explore some other beverages from the drinks section of our blog.
1. Starbucks Medicine Ball– Do you want to try a famous drink with healing properties? Then you should go for the Starbucks medicine ball. It has the freshness of lemonade with a hint of citrus mint and peach. It's a perfect mood booster and eases cough and cold.
2. Frozen Watermelon Vodka Slush– Frozen watermelon vodka slush is one of the best summertime drinks. It has frozen watermelon mixed with vodka and lemon juice along with lemon soda. The melon liqueur gives some extra lift to this drink. It's a famous tropical drink infused with the flavors of watermelon and vodka with a twist of lemon.
3. Plum Smoothie– Plum smoothie is a perfect relaxing drink and a brilliant immunity booster. It's loaded with the flavors of plum, ginger, yogurt, and citrusy orange. This delicious drink is filled with antioxidants which makes it a perfect alternative for carbonated drinks.
4. Wassail– Wassail is a British traditional holiday drink. It contains orange juice with apple cider vinegar in it. This warm drink is spiced up with cinnamon, cloves, ginger, and nutmeg. This warm aromatic drink is a perfect holiday hit.
What Equipment Will You Need To Make Dirty Monkey Drink?
Blender – Take banana, Kahula, banana liqueur, aged rum, ice, and coconut cream to blend until it is smooth.
Hurricane Glass – Hurricane glass is tall that's typically used to serve tropical drinks. 
How Much Will You Need To Make Dirty Monkey Drink?
| Preparation Time | Cooking Time | Total Time |
| --- | --- | --- |
| 5 Minutes | 5 Minutes | 10 Minutes |
What Ingredients Will You Need To Make Dirty Monkey Drink?
Banana – Banana is the major ingredient used in this drink. Use the number of bananas according to the servings. 
Pineapple Juice – Add a cup of pineapple juice. It pairs well with white rum. 
Kahula – Kahula is a rum based coffee flavored liquor. It adds a nutty flavor to the drink.
Banana Liqueur – A liqueur that has banana-based spirit added is known as banana liqueur. It has a distinctive banana flavor.
Aged Rum – Use any aged rum to improve and enhance the flavors of dirty monkey drink. 
Coconut Cream – The coconut cream will add a thick consistency to the drink. Moreover, it is often used to make tropical drinks. 
Chocolate syrup – Drizzle a splash of chocolate syrup to garnish the drink.
Whipped Cream – Garnish your dirty monkey drink with whipped cream. You can also top maraschino cherries with whipped cream. It is optional.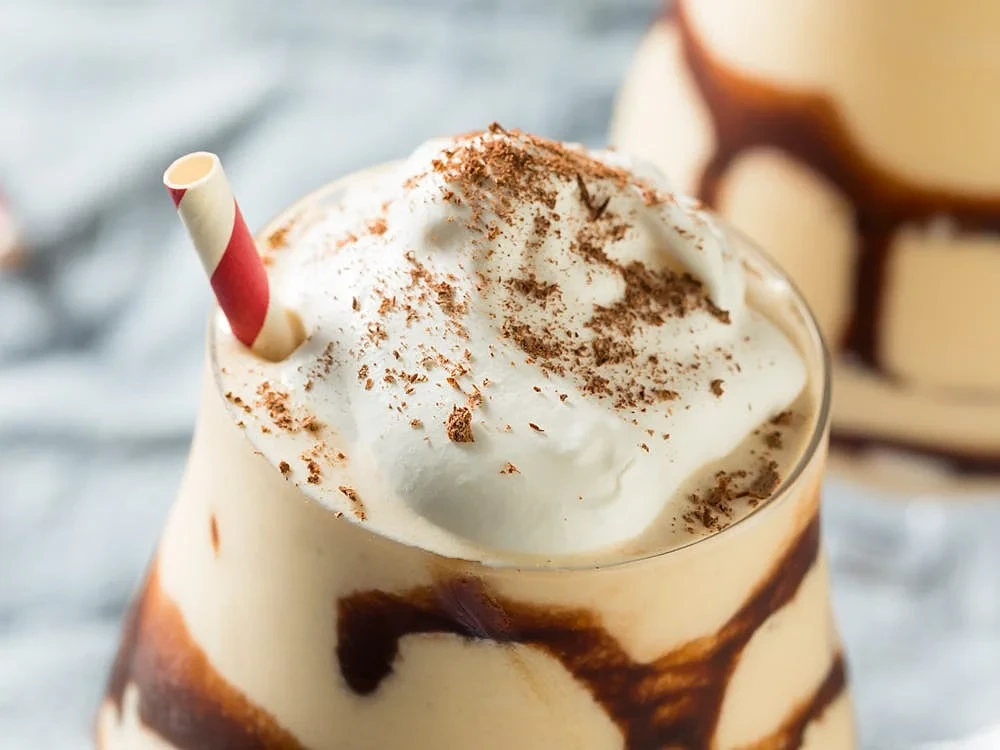 Steps To Make Dirty Monkey Drink 
1. Blend
Take a blender, add banana, Kahula, banana liqueur, aged rum, ice, and coconut cream. Blend all of it for 2 minutes and your drink will be ready.
2. Garnish
Drizzle the chocolate syrup around the glass. Pour the drink into the glass. Add a spoon of whipped cream on the top and drizzle the chocolate syrup at last.
Nutritional Information
| | |
| --- | --- |
| Calories | 105 kcal |
| Protein | 1.3 g |
| Dietary Fiber | 3.1 g |
| Carbohydrates | 27 g |
| Sodium | 1.3 g |
| Sugar | 20 |
| Saturated Fat | 1 g |
How Will Dirty Monkey Drink Look And Taste Like?
Dirty monkey drink prepared with luscious concoctions of aged rum, Kahlua, and banana liqueur. This tropical drink tastes creamy and appetizing. 
Recipe Card
Dirty Monkey Drink Recipe
Dirty Monkey Drink is a famous creamy tropical drink. It contains a delicious creamy texture from ripe bananas and coconut cream blended together with aged rum and a splash of banana liqueur.
1

Banana

1.5

ounce

Aged Rum

2

tablespoon

Banana Liqueur

1/2

ounce

Kahlua

1

dollop

Coconut Cream

2

ounces

Pineapple Juice

Chocolate Syrup (for garnish)

Whipped Cream
.Take a blender, add banana, Kahula, banana liqueur, aged rum, ice, and coconut cream.

Blend until smooth and creamy.

Drizzle some chocolate syrup inside a glass.

Pour mixture into the hurricane glass.

Garnish it with whipped cream, chocolate syrup.
Prefer using ripe banana than green bananas. Ripe banana adds better flavor to the drink.
Make this delicious creamy tropical drink at home and tell how much everybody liked it in the comments below.