How to Make Dahi Palak Patta Chaat at Home
Are you a type of person who doesn't like eating palak, even if they were told all the healthy benefits from it. If yes, then you and I belong to the same category. We know that Spinach (Palak) is very good for health as that contains very important nutrients that a human body needs. But still, it is one of those things that most people don't like to eat, especially kids.
If you facing the same problem, then I have a very interesting recipe for you that with reigniting your love for Palak. Today, I will tell you the Dahi Palak Patta Chaat recipe.
This Palak Patta Chaat is an eye delighting dish and an extreme tasted dish to make you feel connected to real-life situations. It's a delightful mix of aromatic spices, pakodas and heart-wrenching chutney's. Also, there are other recipes that you can have as starters, let's check them out.
1. Peanut Butter Crunch I have a recipe of Peanut Buttercrunch in my mind which will add a crunch in your snack menu and bring a smile on your face while munching it.
2. Potato Masoor Dal Ki Patties This tikki is very healthy. It does not have potato. It has paneer and hence has goodness of calcium. Masoor is good in proteins, hence it is diabetic friendly, good for growing kids and a good source of calcium and proteins for pregnant ladies.
3. Red Pepper-Pistachio Bisque This creamy, paprika-laced red bell pepper bisque, along with a parsley-pistachio pistou for the topping; makes you the lavish combination.
4. Chinese Spring Rolls These Chicken Spring Rolls are light with crisp-crackly skin and small enough to enjoy in 4 bites. The filling is also light, full of tender-crisp vegetables and you should be able to taste and distinguish every single ingredient in the filling.
Ingredients for Dahi Palak Patta Chaat Recipe
| | |
| --- | --- |
| Ingredients | Quantity |
| Oil | 3 cups |
| Chickpea flour | ¾ cup |
| Corn flour | ¼ tbsp |
| Salt | 1 tsp |
| Red chilly powder | ½ tsp |
| Chaat masala | ½ tsp |
| Ajvain | ¼ tsp |
| Baking soda | ¼ tsp |
| Water | Enough to make a thick batter |
| Palak leaves | Enough to make pakodas |
| Beaten curd | ½ cup |
| Tamarind chutney and green chutney | According to your taste |
| Finely chopped tomato | 1 medium unit |
| Finely chopped onion | 1 medium unit |
| Chopped coriander | 1 tsp |
| Chopped green chilli | 2 tsp |
| Roasted cumin seeds, red chilli powder, chaat masala | ¼ tsp each |
| Haldiram seviyaan | To garnish |
How much time it will Take?
| | | |
| --- | --- | --- |
| Preparation | Cooking | Total |
| 20 minutes | 30 minutes | 50 minutes |
Dahi Palak Patta Chaat Recipe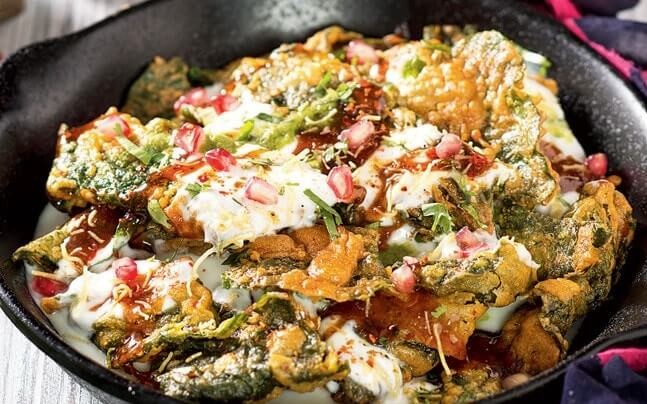 In a bowl add ¾ cup chickpea flour, ¼ tbsp cornflour, ½ tsp salt, ½ tsp red chilly powder, ½ tsp chaat masala, ¼ tsp ajwain, ¼ tsp baking soda and some water.
Mix it all thoroughly and make a thick batter.
Now in a preheated pan add 3-4 cups oil. Heat it. Now add palak leaves in the above-made batter and put them in heated oil.
Deep fry them.
On a brownish colour and crispy texture put them in a plate.
On it spread some curd and sprinkles some salt.
Now put tamarind chutney and green chutney on it.
You can make green chutney by grinding coriander leaves, green chillies and pudina in definite proportions.
Now put chopped tomato and chopped onion on it. Put coriander leaves, green chillies and roasted cumin seeds.
Sprinkle red chilly powder and chaat masala on it. Now put seviyaan on it and serve cold.
This delicious Palak Patta Chaat recipe is sure to pop out taste buds with absolute delight. An unforgettable experience well put on a plate to make it more memorable. Enjoy life enjoy great food.
Nutritional Information in Palak Patta Chaat Recipe
| | |
| --- | --- |
| Calories | 201 |
| Protein | 9.5 g |
| Carbohydrates | 26 g |
| Fiber | 7.5 g |
| Fat | 6.6 g |
| Cholesterol | o mg |
How to Make Palak Patta Chaat at Home | Video