How To Make Curry Couscous At Home
Note- This post may contain affiliate links, we earn from qualifying purchases made on our website. If you make a purchase through links from this website, we may get a small share of the sale from Amazon and other similar affiliate programs.
The recipe I am going to share today is a side dish. It is Curry Couscous. It can be made really quick and is healthy.
You need the most underrated ingredient couscous for this recipe. It is a low-fat dish filled with flavours served as a side dish with any form of meat or fish. It is a great recipe for all those who are working on their weight loss because of the low fat in it.
Curry Couscous is made easily at home. All you have to do is, mix chicken, curry powder, salt, black pepper, olive oil, raisins, cilantro and almonds. Bring them to boil. Pour this liquid over the couscous and let it rest. Fluff them up and garnish before serving. Serve hot.
It is a really quick recipe to make. This makes it the best option to prepare when you have surprise visitors at your place. The above-mentioned process is just a brief of the recipe. More details are given below in the recipe. Starting with the list of ingredients you need. Also, there are other recipes that you can have as starters, let's check them out.
1. Patatas Bravas– Patatas bravas is a great option to try if you are going for a Spanish cuisine. The original recipe consisted of bite-sized, irregular chunks of fried potatoes dressed with a spicy sauce consisting of a lot of tomatoes and served hot.
2. Cullen Skink- This soup basically originated in Scotland and is very famous over there and is considered a local specialty. Cullen skink got its name from a town named 'Cullen' in the Moray area of Scotland.
3. Low Country Boil– This Low Country Boil is a blend of shrimp, crab, sausage, corn and potatoes, all cooked together to create a hearty dinner. A complete meal in one pot that's perfect for feeding a large group of people.
4. Beer Battered Halibut– This Beer Battered Fish Recipe was so good I couldn't resist sharing right away. This recipe is all about the crisp, crunchy exterior, and this easy recipe shows you precisely how to get it. 
Ingredients For Curry Couscous
1 ½ cups Couscous
3 cups Chicken Stock
1 tablespoon Curry Powder
2 teaspoons Salt
1 teaspoon Ground Black Pepper
2 tablespoons Extra-Virgin Olive Oil
½ cup Raisins
1 bunch Cilantro (chopped)
½ cup Slivered Almonds (toasted)
The ingredients you need are all available at home. If you are out of stock, no worries you can fetch them from the grocery store. Let's see how quickly you can make this dish.
How Much Time It Will Take To Make Curry Couscous?
| Preparation Time | Cooking Time | Additional Time | Total Time |
| --- | --- | --- | --- |
| 10 minutes | 10 minutes | 10 minutes | 30 minutes |
This recipe will be ready in half-hour. Actually, it is for 20 minutes. 10 minutes is the time to rest it aside. Well, that's great then. Take note of how it is done.
Steps To Make Curry Couscous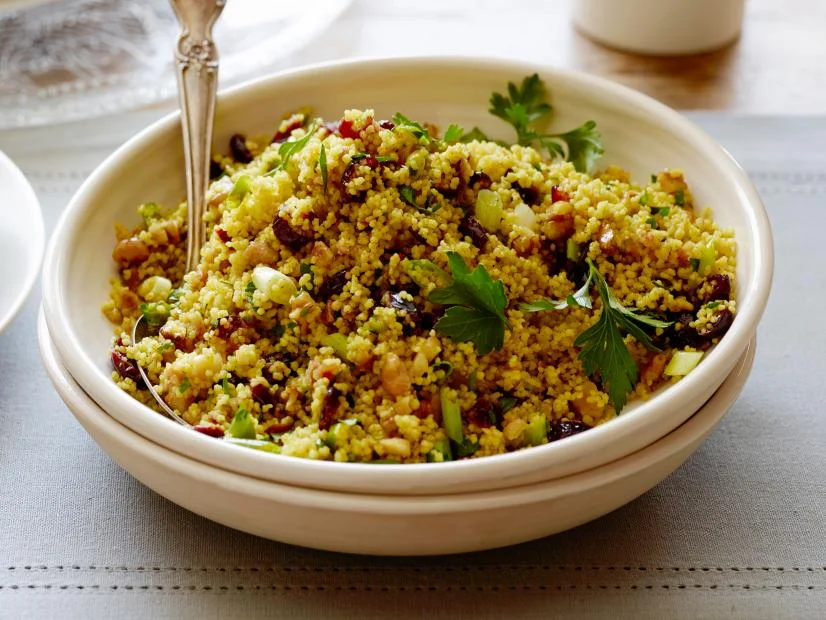 Take a bowl and add couscous to it. Take a saucepan and add chicken stock, curry powder, salt, pepper, olive oil, and raisins. Bring them to boil.
Remove the pan and pour this mixture on the couscous. Seal the bowl with a plastic wrap and let it rest for 10 minutes. 
Using a fork, fluff the couscous. Top it with cilantro and almonds.
Serve hot.
Note– You can add your choice of vegetables to this dish to make it a meal and a more healthy option.
Serve this with a lemon wedge as lemon will add a great flavor to this dish.
Nutritional Breakdown Of Curry Couscous
Don't worry if you are unclear about some steps. I have uploaded the video of the steps involved in this recipe so watch it and cook it as per it.
If you have any question regarding the dish, you can ask in the section below. If you like this recipe and want more such recipes, write some suggestions in the comment section. I will try to get back to you. I hope you will like it. So have fun making them. I would love to hear from you the reviews. Enjoy!